Home to a true spectrum of entertainment — from the Billy Graham Library to the NASCAR Hall of Fame — Charlotte, North Carolina is worth far more than a temporary visit. Kid-friendly entertainment and a vibrant arts and culture scene together make it a living destination that the entire family can enjoy.
Serving more than 885,000 current residents — the highest in North Carolina and fifteenth-highest in the U.S. —  Charlotte was only recently ranked as America's fastest-growing metro area. Defined by rapid growth, Charlotte today serves as a diversified melting pot for individuals and families seeking employment and finding a home.
Among other accolades, North Carolina was named Business Facilities' 2020 State of the Year for sustaining its comprehensive population increases, thanks to economic development that continues to support an influx of new individuals to the area.
Its career scene is dominated by Bank of America and Trust Financial corporate headquarters, alongside the home for east coast Wells Fargo operations, where employees can enjoy a subtropical climate and access to several high-profile lakes.
1. Cost of Living in Charlotte
The creation of new jobs wasn't the only factor responsible for generating fast metropolitan growth; Charlotte is also home to a cost of living that ranks nearly in the middle, in terms of U.S. averages. PayScale's salary aggregation program ranks Charlotte's average utility payments as 14 percent below the national average. The same source identifies Charlotte healthcare payments as three percent above what the average American is paying.
Consult the below pricing averages for commonplace purchases for a better idea of the affordability that Charlotte, North Carolina can offer residents.
Home prices in Charlotte can average $290,402. Slightly higher than the $269,039 national average home price, a 13.7 percent home price increase in the last year alone indicates the possibility of strong home value growth over time.
Rent in Charlotte will depend on both apartment size and relative location. While statistics vary according to the source, rent in Charlotte hovers around $1,300, a three percent year-over-year change.
Gas prices in Charlotte remain well below the climbing $2.85 per gallon national average. Recent gas price data from Charlotte indicate that pricing is holding steady at around $2.34 per gallon, with exact pricing fluctuating depending on a resident's proximity to downtown Charlotte.
A gallon of milk can cost $3.01 in Charlotte, below the $3.13 national average. 
A carton of eggs in Charlotte is $0.15 above national pricing averages, at $2.45 for 12 eggs.
A doctor's visit in Charlotte will vary in total pricing, depending on your healthcare professional, treatment costs and insurance co-pay amounts. Physical therapy in Charlotte can cost $51 per visit, while a regular physical exam can run $174 per appointment. 
A dentist's visit in Charlotte is typically affordable, though visits to a specialist will likely cost more. Fillings can cost $82.97 per composite resin filling, and dental implants will run a patient roughly $3,000 per tooth.
Incrementally above or below national averages depending on the item, pricing in Charlotte means residents can live comfortably without paying exorbitant rates for basic products and services.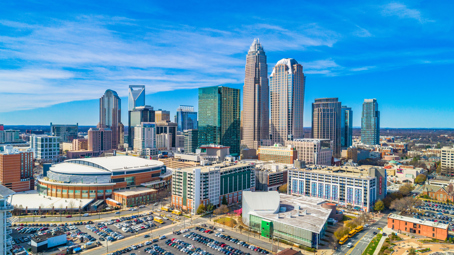 2. Neighborhoods in Charlotte
A wide variety of real estate tastes in Charlotte means you can expect an equally wide spectrum of available housing. While younger demographics enjoy affordable city housing and apartment rent, many argue that housing rates — and quality — improve as residents approach the suburbs. You can reference a brief outline of renowned local neighborhoods below:
Ballantyne East and West together serve as the home to nearly 30,000 residents. The eastern district is defined by some of the city's finest schools, near highly-ranked restaurants like The Blue Taj and Duckworth's Grill and Taphouse in Ballantyne West. Ballantyne today also houses Ballantyne Corporate Park, home to businesses like ESPN, an amphitheater and several parks.
Dilworth houses more than 10,000 satisfied Charlotte residents, who enjoy unbeatable proximity to more restaurants, coffee shops and wine bars than perhaps any other regional neighborhood. You'll also find the Carowinds theme park nestled nearby, near a walkable neighborhood marked on the National Register of Historic Places.
Fourth Ward is the neighborhood for history buffs. Brewpubs characterize friendly streets, alongside an IMAX theater inside the Discovery Place Science museum. Just over 6,000 residents call Fourth Ward home.
Uptown Charlotte plays home to a variety of the city's business districts, perfect for any individual looking to live close to their place of employment. Of course, Uptown is more than its 28 million square feet of office space. You'll also find access to Bank of America Stadium — home to the Carolina Panthers — as well as the Charlotte Convention Center nearby.
3. Charlotte Job Market
Heavily influenced by the corporate focus of its downtown districts, Charlotte offers a variety of career options to new and established residents. Popular industries hiring in Charlotte include banking, business development and aerospace. You'll also find a concentration of automotive and machinery-based careers, which together have fueled much of the city's growth as of late.
Charlotte is currently experiencing a 5.9 percent unemployment rate, down from recent months. Salaries in the region average $68,000, and will easily eclipse that figure as the heavy population of young professionals continue to gain relevant job experience.
Common occupations in the area include:
Financial Analyst — $62,000 per year
Software Engineer — $87,000 per year
Operations Manager — $66,500 per year
Aerospace Engineer — $93,000 per year
Loan Officer — $78,000 per year
Top hirers in the area include large-scale banking and engineering firms, offering a wide variety of financial management and aerospace engineering careers. Reference the below details for more information on some of the most popular private employers in Charlotte:
Wells Fargo & Co. (Financial asset management), $29,000 to $119,000
Bank of America Corp. (Financial asset management), $33,000 to $127,000
Atrium Health (Nonprofit medical health), $27,500 to $263,500
Northrop Grumman (Aerospace and defense), $41,000 to $164,500
Microsoft (Technology manufacturing and licensing), $30,000 to $195,000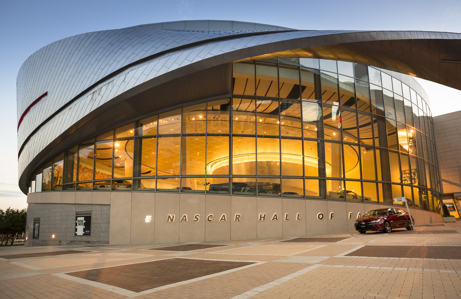 4. Things to Do in Charlotte
Charlotte has no shortage of popular indoor and outdoor attractions. Residents experience a wider variety of things to do, whether they're looking to frequent local gastropubs or introduce their children to the great outdoors. Hands-on science, local fitness, miniature golf, lakeside hiking and retail venues are only steps away in Charlotte.
Outdoor Activities
Wherever residents look in Charlotte, opportunities abound to lose yourself outdoors. Paved and unpaved hiking opportunities, curated pathways, even state-sponsored trailheads mean outdoor activities are easy to come by — and even easier to enjoy — in Charlotte.
Parks and Attractions
Charlotte has also taken steps to satisfy a growing demand for entertainment. Museums, parks and excitement find residents of Charlotte early and often, no matter your respective interests.
Whether you're looking to lose yourself in a local art installation or familiarize yourself with NASCAR history, there's always an attraction worth your time in Charlotte, North Carolina.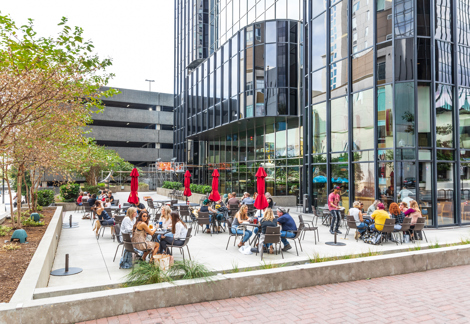 Food and Drink
Known for its strong barbecue, seafood, Cheerwine, and Mount Olive pickle flavors, Charlotte delivers a variety of culinary options nearly as diversified as the residents themselves. Younger residents often gravitate toward the social wine bars and downtown districts, while families can find sit-down restaurant options anywhere in the city.
Charlotte plays host to some of the best Southern foods you'll find nationwide, offered by the location's renowned eateries. Their rich restaurant options include:
No matter your budget or your neighborhood in Charlotte, there's a restaurant that can pair southern-style cooking with your tastes — whether you're looking for a solo, group or family experience.
5. Things to Know Before Moving to Charlotte
Charlotte is already well-known as a destination worth the visit, for its dedication to preserved southern cuisine, high-end thrills, thriving culture and overall hospitality. We've collected other items of note below, to help provide more of a comprehensive understanding of the Charlotte area. Before you move to Charlotte, here are a few things to know:
Summer days can see heats exceed 90° Fahrenheit, though overall highs typically hover around a more favorable 71°.
While most residents drive themselves, the CATS (Charlotte Area Transit System) bus system makes for a comprehensive network of public transportation.
Craft beers have taken off in Charlotte as of late, as the town is currently home to more than 25 individual breweries.
Between the NASCAR following, Carolina Panthers, Charlotte Hornets and minor league Charlotte Knights baseball team, sports are a big deal in Charlotte.
A high number of restaurants and stores are dog-friendly, though you'll want to check the specifics before bringing your pet along.
Moving anywhere is a complicated process. Physically, you're packaging belongings, accounting for details and ensuring the safety of your valuables. Emotionally, you're preparing to leave a place you've called home, while welcoming a new adventure.
No matter where you're moving, storage can take much of the stress out of the procedure. Convenient storage options throughout the Charlotte area make it easier than ever to keep possessions safe and cool during warmer Charlotte summers.
In Charlotte, storage options near you include: 
With multiple storage options, new and established Charlotte residents can quickly access possessions at storage locations whenever necessary, without cluttering homes with unnecessary items.