Occasionally, the amount of stuff we own gets a touch out of hand, and we ultimately realize it's time to downsize. Getting rid of things can be part of moving on (or perhaps forward) into a new period of life. Whatever the reason, there are times we just need to clear out some clutter.
Even if you've come to the decision that certain things just need to go, it can feel uncomfortable to just throw items away, especially if they're still in good condition. The good news is, sometimes you can sell these items for a substantial enough sum to be worth the effort. It's important to get a handle on what you can sell for a reasonable amount. It's also ideal to familiarize yourself with the pros and cons of different marketplace services and to take extra security steps to reduce the risk of getting scammed.
1. What Can You Sell Online?
Just to be clear, you should never try to sell anything illegal online. If you ship something to someone in another city, state, or country, remember that there are restrictions on what you can send through the mail, even for items that are otherwise legal to own. Check those restrictions before you promise to sell something through shipping.
Apart from legality, the big question to consider is: what is worth selling online? This will depend on your preferences, and how much legwork (emails, calls, meeting people), you have time to negotiate for the price of your item.
Selling Your Clothing
Clothing can be a tough sell, unless it's not been used, is very lightly used, is highly valuable, is or sold in bulk. Most clothing loses its value pretty much immediately once you buy and wear it, but you could potentially sell several pairs of jeans or an item that had a high price when new and make it worth your while.
For the hassle involved in finding a buyer, however, it might be better to consider donating your used clothes. There are a number of thrift and charity stores that accept certain kinds of used clothing. It's also possible to find consignment shops for things like clothing. A consignment shop sells items for you and gives you a cut of the profit.
Anything that has been well used, has holes, stains, or significant fraying, should probably just be thrown away. On the other hand, if you have vintage or high-end brand clothing, it could be very much worth your while to sell.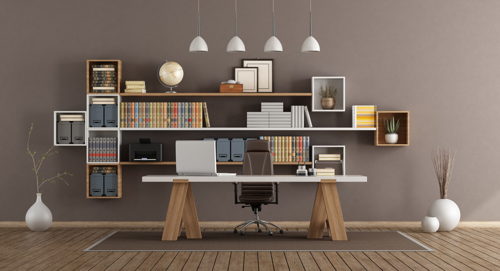 Selling Your Furniture
Furniture is a better candidate for online sales. If you can get someone to come and pick it up, and have them give you money too — that's a win-win.
Profitability will depend largely on how much you originally paid for the items, and how well used they are. Cheaply made furniture could sell way below its original price; however, some furniture will sell for as much as 80 percent of its original price. If the furniture is considered "antique" — or even if you suspect it might be — get it appraised before you sell it. It could be more valuable than you realize.
Most furniture depreciates in value, so the older it is, the more likely you'll have to lower the price.
Selling Animals
Pets are a tricky subject. Sometimes, for whatever reason, you might no longer be able to take care of an animal. Perhaps you're moving and can't take your pet with you, or maybe a loved one passed away and left a pet behind. Selling pets for profit is an industry rife with unscrupulous actors who prioritize profit over animal welfare, and people who abuse animals for their own gain aren't limited to backyard breeders. People often browse online classifieds for free or cheap animals, and there's no guarantee, even with an adoption fee, that your animal will go to a loving home.
As difficult as it may be, it's often better to give a pet to an adoption center, or even a shelter, as an organization that specializes in rehoming pets is more likely to find a good home for an animal than you can on your own. If you do choose to adopt out a pet privately, use a service like Petfinder, not Craigslist.
If you're thinking about breeding pets to sell, think carefully. Breeding pets responsibly and ethically takes a dedicated amount of effort and knowledge, and starting a breeding business requires an investment of time, energy, money, training, as well as appropriate licensing in your state.
Selling Used Sports Equipment
It's doable to sell lightly used sports equipment, with an emphasis on "lightly" used. If kids outgrow sporting items you buy them, or you lose interest in a sport yourself, there are stores and private buyers willing to buy the gear at a discount.
It's important to keep in mind that any equipment you're selling should be free from damage, excessive wear, and have any safety features intact. Faulty sports equipment is unlikely to be valuable because it won't protect the person using it from injury in the same way. Protective gear (such as a helmet) that has suffered an impact, for example, no longer performs a protective function and should be discarded.
2. Where Should You Sell Your Unwanted Items?
There many online marketplaces, and it can be difficult to decide which one to use in order to sell your stuff. Services like Craigslist are largely ad space and messaging; the actual process of the sale is up to you. eBay, Amazon, Etsy, and other "e-commerce" style services provide more assistance through the process, but depending on what you're selling, people may not want to buy something used without having a chance to look at it personally.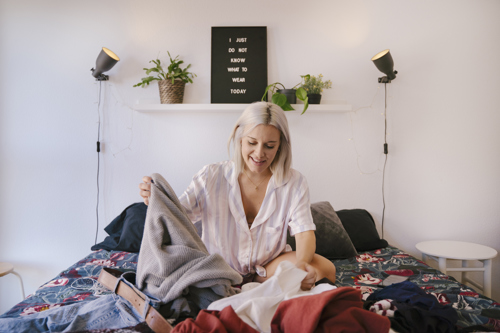 Craigslist
Craigslist is the quintessential site for selling your unwanted things online. You should approach Craigslist with a degree of caution since you're frequently dealing with strangers both online and face-to-face to make a sale. However, Craigslist is so ubiquitous and popular that the chances of finding a legitimate buyer are quite high. In order to maximize your Craigslist experience, be sure that you follow the points below:
Facebook Marketplace
Facebook Marketplace has become extremely popular because its advanced location algorithms connect people locally. When you load the page, it populates local sales automatically.
As Facebook Marketplace is still local, many of the same safety measures should be taken as Craigslist. It is not anonymous, like Craigslist, however, so you have the opportunity to evaluate an individual's profile before pursuing business with them.
E-Commerce Platforms and Mobile Apps
The popularity of mobile has given rise to a number of mobile-exclusive apps that can be used to buy and sell things. Whenever you use an app to perform commerce, always check the privacy, and what measures the developers are taking to protect people from scams.
These are just a few of the apps and e-commerce services you can use to sell things. Always read about privacy and security when using a new service to sell something.
3. How to Sell Your Things Online
Once you've picked your service, it's time to actually list and sell the item. Here are a few tips for success when selling used items online.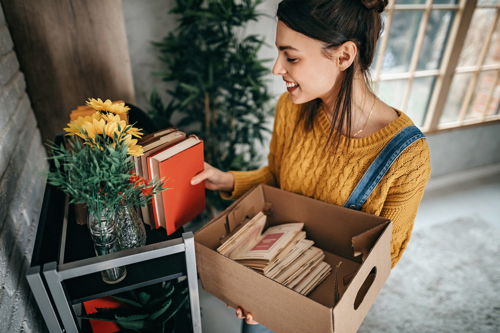 Store Them Safely
If you have a lot to sell, it's a good idea to store items in a location away from home. That helps ensure that things don't get lost, that your items are on hand when you need them, and that they remain in a controlled environment. Personal storage units work extremely well for these purposes, and they double as a safe location to meet with buyers when you're doing face to face transactions. If you're shipping items, they can double as a place to store shipping supplies.
Make sure to keep your storage unit organized if you're using one to store an inventory of things you want to sell. Especially if you have a variety of items or multiples of a type of item, it's easy to forget what you've gotten rid of and what still needs to find a new home.
Take Amazing Pictures
Take multiple detailed, clear photographs to accompany the listing. The more clearly someone can see what you're selling, the more likely they are to get in touch. Look up guides to photographing products and consider borrowing a good camera. Your phone may not cut it.
Photos should display the item from multiple angles, the lighting should be even so that it's easy to see in detail. The more thorough you can be, the more trust a user has that you're not trying to scam them or sell them something that's fake. It's also a good idea to take photos from multiple viewing angles and to use a simple background that makes the item "pop" out in a list of similar products.
Write Attractive, but Honest, Descriptions
Your item descriptions should strike a balance of convincing people that the item is a good buy, and honesty about its level of use, wear, and damage. Try not to use pretty euphemisms like "gently loved" — be a little more helpfully descriptive about exactly how "used" it is and what condition it's in. "Some scratches," "worn around the edges," as examples.
That doesn't mean you can't use language to try and sell it. If it's in good condition, say so! Feel free to talk up the advantages of the item and explain clearly why it's a good deal.
Whether or not selling something is worth your while depends a great deal upon the specifics of the item itself. It's often not the general type of item, but the condition, age, and potential interest to a buyer that makes something worth selling. For something that's obviously antique, it might be a good idea to get it appraised before trying to sell it, to know exactly how much it's worth. Be smart, and get as much information as possible before you sell something online.