Do you need affordable boat storage near you? SmartStop Self Storage can help you with the perfect solution to store your boat or other recreational vehicle.
Whether you own a wave runner or jet ski, small sailboat, or larger boat for fishing or other recreational activities, finding a place to store your boat when not in use can be challenging. Many homeowners associations have regulations preventing the storage of a boat on a homeowner's property, and trying to find space in the driveway or garage may seem impossible. Renting self storage is an excellent option for boats of any size, and SmartStop has the secure and affordable options to meet your needs. Store your boat with SmartStop…The Smarter Way To Store®!
Self-Storage Options for Boats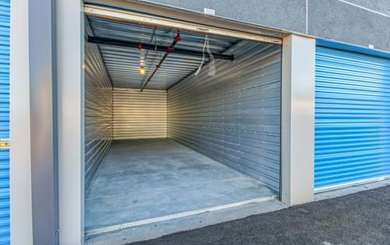 Indoor Boat Storage
Indoor storage options will provide the most protection for your boat. These drive-up storage units offer a space similar to a garage allowing you to back your boat with trailer directly into the self-storage unit. SmartStop offers many different sizes of drive-up storage units to fit many types and sizes of boats ranging from 10x10 up to 10x30 sizes.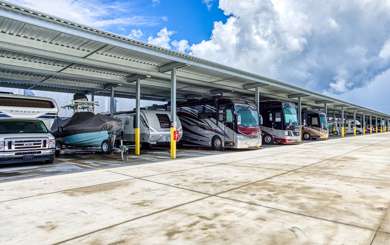 Covered Boat Parking
Our covered boat storage spaces provide protection from the sun and other elements while offering you the freedom to store larger watercraft at an affordable price. These spaces typically offer lengths of 30 to 40 feet and are usually less expensive than an indoor storage unit.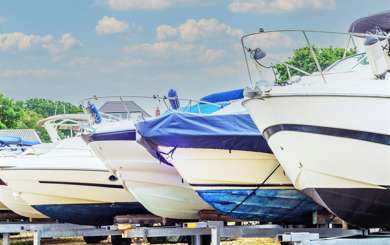 Uncovered Boat Parking
Our most common storage option for boats is our outdoor self-storage parking spaces. Popular for all sizes and types of boats, outdoor parking is more cost-effective than covered storage or indoor storage without worrying about the height of your boat. Outdoor parking space options can be as large as 10x30 to 12x40 feet in length, giving you plenty of space to store your boat securely.
Boat Storage Considerations
Security
Securing your boat while in storage is very important, and that is why we offer state-of-the-art 24-hour video surveillance, electronic gate access, and on-site property managers at many locations. You can rest easy knowing your prized watercraft is in good hands when you store with SmartStop.
Access Hours
Having access to your boat when you want to retrieve it from your self-storage unit should be a strong consideration when deciding what company to store with. SmartStop Self Storage locations offer extended access hours as a standard feature for most of our properties so that you can retrieve your boat at a time convenient for you.
Location
A convenient location for your boat storage is also important in deciding where to self store your boat. Do you want your self-storage location to be close to home or close to your favorite water destination? Make sure you select the location that best fits how you will use and access your fishing boat, pontoon boat, skiff, sailboat, or jet ski.
Weather Conditions
Outdoor boat storage may be perfect if your local weather is mild all year round. However, if you live in an area where the weather varies widely from season to season, consider covered or indoor self-storage options and remember to winterize your vessel before putting it into storage.
What Size Boat Storage Do You Need?
Boats come in many shapes, styles, and sizes, so understanding the size of your watercraft and its trailer will be very important for selecting the correct size and type of storage to fit your vessel. SmartStop offers indoor storage units as large as 10x30, but be sure that the indoor unit you select has a ceiling height tall enough to accommodate your boat and trailer. In addition, there are many options for outdoor boat self-storage spaces for covered or uncovered parking, including space sizes up to 12x40. 
Preparing Your Boat for Storage
Thoroughly Clean Your Boat
Whether you use your boat in freshwater or saltwater, you should always thoroughly wash it before planning to place it into storage. This will remove any salt or residue that builds up every time you use your boat. Be sure to clean the interior and remove any food items that could spoil while it is in storage.
Disconnect the Battery
Disconnect or even remove the battery from your boat while it is in storage. This will prevent any electronics from draining the battery's charge when not in use. If you do remove the battery, keep it on a slow charger to ensure it will be ready to perform once you place it back into the boat.
Top Off All Your fluids
Be sure to top off all your key fluids before placing your boat into storage to prevent condensation and keep the seals from drying out. This would include filling up your fuel, oil, propane, and anti-freeze/coolant. If you live in a colder climate, you will want to winterize your boat to protect it during the winter months.
Winterize Your Boat
Anytime you plan to store your boat for long periods, it is important to winterize it. Change the oil and oil filter, flush the engine, fill the gas tank, and add a fuel stabilizer. If you have an outboard motor, fog the engine with lubricant, and be sure to store the boat with the engine fully trimmed down. 
Properly Cover Your Boat
Purchase a quality boat cover to protect your boat from sun damage, moisture, and other elements. This is especially important if you are storing your boat outside in covered or uncovered storage parking spaces.