If you're a fan of home makeover shows, you already know — your garage can hold so much more than your car. Transforming this often under-utilized space into a fun and functional room is one of the smartest ways to upgrade your home to better fit your current (or aspirational) lifestyle. With a little imagination and planning, your garage can become the room you need to help you live your best life. From garage entertainment ideas to a fully outfitted home studio, the possibilities are limited only by your vision.
1. Start by Getting Organized
Chances are that your garage has been serving as an informal storage unit — a space that collects your out-of-season clothes, your seasonal decorations and anything that doesn't have a dedicated place of its own in your other rooms. If you're not starting out with a clean slate, the first step in transforming your garage into a functional room is to get it all organized neatly. Our blog post on garage storage organization has a smart blueprint to get you off on the right foot, but here's a quick summary of the major points.
Sort your items into piles based on how often you use them: frequently, seldom and never.
Now it's time for the great declutter. Whatever it is you no longer need — from outgrown kids' clothing to the sofa you replaced when you remodeled the den — there's someone out there who needs it in their lives. Consider listing them for sale on Craigslist or Facebook Marketplace, organizing a community swap party, or donating it to an organization that will put them to good use.
Seasonal items, such as your snowblower, your boat or your Christmas decorations don't need to take up room in your garage. Consider renting a personal storage unit to safely hold those items until you need them again.
Finally, make use of shelves, racks, pegboards, and other organization tools to give everything its own place, close at hand and easy to find. 
Keep in mind that most of these garage conversion ideas start with adding insulation and drywall to make your garage more livable and comfortable, but what you do from there is up to you. Your garage makeover should fit your lifestyle, providing room for the ways you like to relax and spend time with friends. Take inspiration from these ways to turn your garage into a room your friends and family will love to hang out.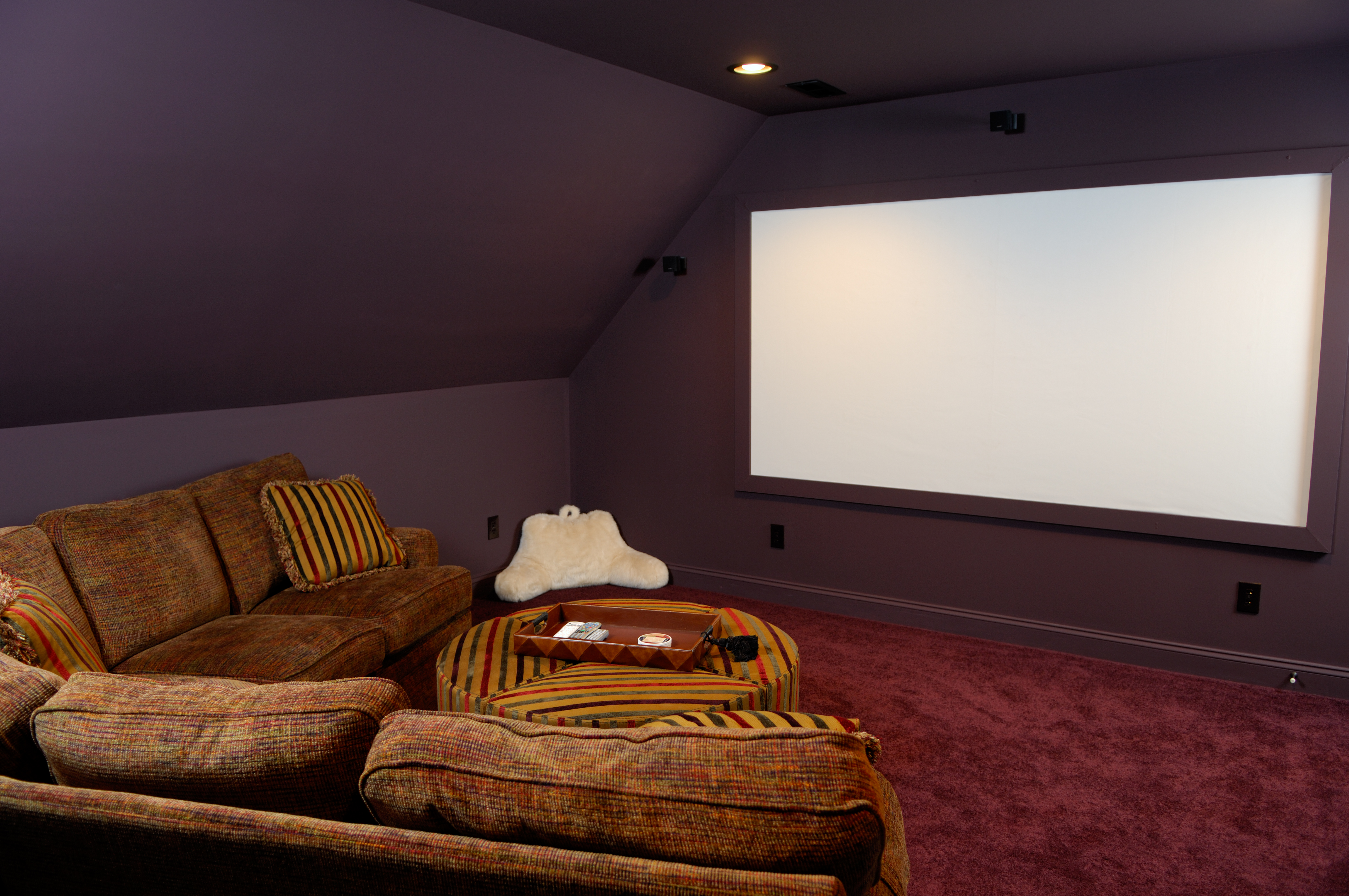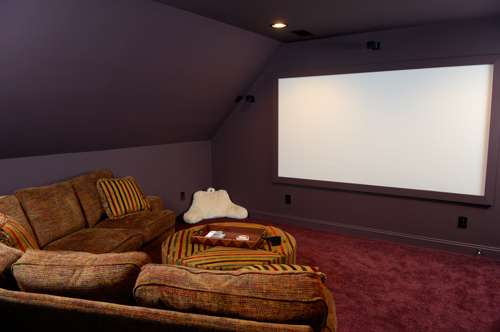 2. 5 Garage Entertainment Ideas
Build a Home Theater
Imagine a cinema experience in your own home. Add insulation and carpeting, a killer sound system, and the best large-screen TV you can find. Decorate with a coat of lush paint and hang movie posters to add to the vibe. Finish it off with seating — theater-style or your favorite lounge chairs and floor cushions — and you'll have the perfect space to host movie nights or binge-watch your latest obsession.
Create an Indoor/Outdoor Flex Room
A flex room blurs the space between indoor and outdoor spaces in your home. What better place to do that than the garage, which often bridges the space between the kitchen and the backyard? Cover the concrete floor with indoor-outdoor carpeting, furnish it with conversational groupings of chairs and settees, and create a dedicated food prep and bar area that opens out onto the patio or into your backyard.
Turn Your Garage Into a Party Room
Whether you host intimate dinner parties, evening soirees or game nights, the humble garage can be the ideal space with just a little work. Choose a suitable floor, cover the walls, and add a good sound system and mood lighting. Finish it off with furniture that suits your style — and don't forget to add a refrigerator for keeping drinks and snacks at the right temperature.
Design the Ultimate Garage Game Room
Why go out to shoot a game of pool or play some pinball when you've got all that floor space in your garage? With some insulation and smart design, you can turn your garage into the ultimate garage game room. There's plenty of space for a ping pong or pool table or your favorite arcade game. Create a gaming nook with a convertible poker table and chairs, along with shelving to hold your favorite board games for family game night.
Convert Your Garage Into a Sports Den
What do you get when you cross a home theater with a game room? It could be the perfect place to hang out and watch the game with your buddies. All you need is some comfortable seating, a wide-screen TV (with cable or internet access, of course), and some tables to hold the snacks and drinks. A mini-fridge makes it easy to refresh your snacks without missing any key plays, and shelving or display cases let you show off your sports memorabilia and collections.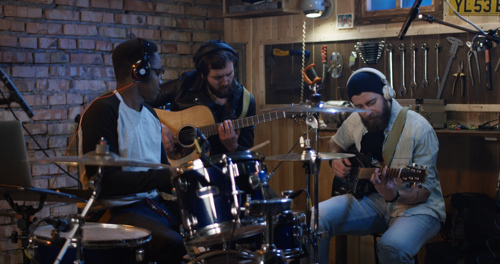 3. 5 Garage Hangout Ideas 
Design a Kids' Playroom
A few changes and upgrades can turn your garage into a dedicated playroom where kids can roughhouse and get active without knocking over your favorite lamp. Check out design ideas from daycare centers to help you plan out activity centers that will keep kids entertained and active. A few ideas to spark your inspiration include:
a carpeted corner with bookshelves and floor cushions for reading,
a kid-size table and chairs next to a storage unit full of art supplies,
a tire swing or hanging chair suspended from a sturdy beam,
a platform stage or puppet theater to encourage imaginative play and
a console game system and space for playing active video games.
Create a Band Practice Space
Garage bands are part of band culture for a reason — the garage is (almost) the perfect place to get the noise out of your house. If you want to make it more neighborhood-friendly, though, consider adding soundproofing, which will do double duty by improving the acoustics inside the room. You may also want to get an electrician to add circuits for amps and other electronics equipment, and make it more band-friendly by adding a dorm fridge and comfortable furniture for hanging out and brainstorming before and after practice.
Turn Your Garage Into a Teen Hangout
Older kids want a cool place to hang out with their friends, and parents want to know they're safe and (somewhat) supervised. The solution is as close as your garage. Convert your garage into a teen hangout space by stocking it with fun activities and amenities. Build in dedicated areas for gaming, watching TV or just hanging out, and be sure to include a well-stocked mini-fridge and snack shelf.
Build Out a Family Activity Room
When your favorite family activities need more room than your house holds, a converted garage is the smart way to expand its capacity. Include comfortable lounges and chairs for watching TV or gaming and  a table for playing board games or crafting together. For more active pursuits, pad the floor with gym or yoga mats and install some basic gym fixtures for exercising.
Convert Your Garage Into a Multi-Function Space
When designing a family room, keep in mind that a garage can hold multiple spaces. You can even add interior walls and screens to separate different types of activities. With smart planning and the right storage solutions, your garage can hold a home office space, extra storage, a laundry/mudroom and a kids' playroom.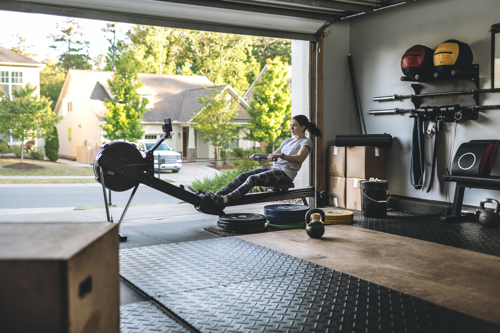 4. 5 Ways to Expand Your Living Space
Add a Guest Bedroom
Whether they're spending the night or vacationing for a week, your guests deserve more than a pull-out couch in the living room. If you frequently host overnight guests — or need space for mom, or just want a nice, new bedroom — converting your garage is a smart way to add an extra room without building onto your house. Your guests will have privacy, and so will you. Check with your local code department to be sure your new space meets the necessary standards for a bedroom. 
Extend Your Pantry
Kitchen storage space is at a premium in most modern houses. If your stockpile of Costco bargains is cluttering up your kitchen and taking up valuable counter space, add a pantry extension in your garage. It can be as simple as a dedicated set of shelves to hold extra paper towels and non-perishables, or you can go all out to create the ultimate butler's pantry, complete with food prep and wine storage areas. 
Convert Your Garage Into a Studio Apartment
Why stop at a bedroom when you can convert your garage into a compact studio apartment. Most garages have as much square footage as the typical tiny house, making them the smart way to add a mother-in-law suite or extra rental unit to your property. 
Build a Home Gym
Converting your garage into a home gym offers a lot of benefits beyond the obvious. You'll save money on gym fees and might be more motivated to work out if you don't have to travel across town before you even start. From the most basic space to a fully outfitted home workout center, check out our blog post on how to build a home gym for specific ideas. 
Create a Yoga Studio
While you can practice yoga in nearly any area, having a dedicated space to practice yoga can help you get into the right mindset. Design your yoga space with soothing colors taken from nature. Add some mood lighting and storage space for yoga mats, candles, incense and other accessories that help enhance your experience. Decorate with plants and other natural elements, including a tabletop water feature to inspire balance and create calm.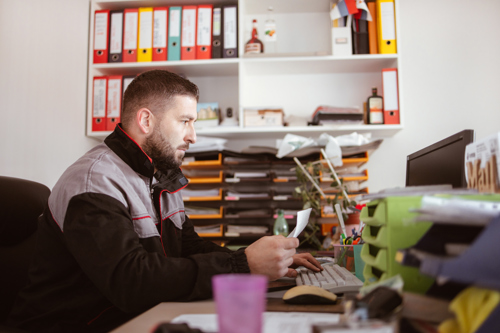 5. 5 Ways to Use Your Garage for Hobbies and Business 
Design Smart Office Space
Creating a home office may be one of the most popular — if not the most popular — garage conversion idea, especially as more and more people find themselves working from home. Make your garage office an appealing place to work with some paint, a carpet and an office mat for your office chair. Add shelves and file cabinets for storage, and, if necessary, a wifi range extender to make sure you have a good signal for those Zoom meetings. If your business includes in-person meetings and consultations, up your decor game with a comfortable seating area and a conference table with chairs.
Create a Sound or Video Studio in Your Garage
Join the podcasting trend by converting space in your garage into a home recording studio for video or audio. For good sound quality,  section off a part of the garage and soundproof it with acoustical tiles or wall hangings to absorb sound. For video recording, invest in a good lighting setup and a backdrop. The equipment you need will vary, depending on your intended use, but there are a lot of budget-friendly options to get you started creating your own creative content channel.
Build a Crafting Space
Has your Cricut taken over your dining room table? Is your guest room overflowing with your yarn collection? Move your crafts out into your garage to reclaim the living areas in your home — and give you the room you need to stretch your skills to the next level. Whether you craft for the fun of it or have a growing business, converting your garage into a dedicated crafting space allows you to declutter your home and keep your tools, supplies and equipment ready to use whenever you're ready.
Turn Your Garage Into a Year-Round Garden
Do you crave fresh tomatoes in the middle of winter? Are you a hobbyist who delights in producing showy tropical plants? You don't have to give up your garden when the temperatures dip below the frost line. With the right equipment, you can create a setup in your garage to grow fresh vegetables, herbs and flowers year-round. 
Convert Your Garage Into a Micro Business
Your unused garage space could be the starting point for your very own microbrewery, coffee roasterie or soap-making enterprise. Garages are a smart way to scale up from roasting coffee on the kitchen counter to small-batch roasting of specialty coffees or experimenting with different types of ale and beer brewing. 
A garage conversion is a smart way to gain that bonus room you've been imagining. If you've been using your garage to store off-season items, consider moving them to a SmartStop storage unit and freeing up the space for more productive — and fun — uses.