If you've ever found a soup can in the corner of your pantry months past the expiration date, or ended up buying pasta sauce without knowing that you already had a jar buried in the back, you're not alone. Your pantry is a great all-purpose storage unit, but a messy one can throw off your kitchen groove. Organizing your pantry is a matter of developing a consistent system that allows you to optimize space, easily access the items you use the most and know exactly when things are nearing their toss-out date. Read on to learn our pantry shelving ideas and other (small) pantry organization tips.
1. Develop a System That Addresses Your Needs
Organizing your pantry begins with assessing your needs. During your next kitchen deep clean, take everything out of your pantry and throw away any expired foods. Ask yourself:
What are the most popular snacks, ingredients and spices in my pantry? (Which ones do I go through frequently?)
How often do I go grocery shopping, and what items do I buy regularly?
What items are about to expire — and how long before they do?
Which ingredients in my pantry do I use only during certain seasons?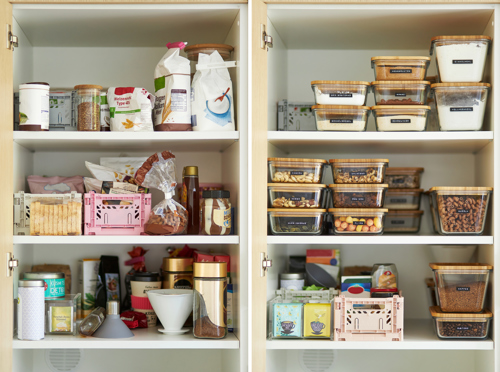 These questions alone can help you start to create a system that works with (and not against) your kitchen habits.
For example, conventional wisdom states that "like" should go with "like" in your pantry (i.e., you should keep things like spices together), but this may not be the best option for you.
Instead, consider keeping the spices you use on a daily basis on a shelf close at hand, and the others in a corner tray. Think about who in your household eats what — if you have small kids who like the granola bars and gummies, keep them lower to the ground so they don't have to climb on top of a chair or accidentally knock things over to reach them. And if you have foods that are about to expire, store them front and center so you remember to use them up.