Hosting a backyard wedding can be a great way to save a bit of cash, customize the wedding of your dreams and bring another layer of personal meaning and intimacy to your big day. Though a backyard wedding may seem straightforward at a glance, you'll need to consider all the logistics that an established venue might have otherwise handled for you, including permits, insurance, electrical and more. Here, we'll share our seven top backyard wedding ideas and tips to help you plan an unforgettable (and hiccup-free) event.
1. Think About How Much Space You'll Need
Though a backyard wedding can be as low-key or extravagant as you want it to be, it's important to crunch some numbers, assess your space and determine whether it's the right option for you. Don't be fooled — you'll need lots of space, probably more than you think. Depending on the size of your guest list and the kind of food, drink and entertainment you hope to provide, it's a good idea to hire a wedding planner who can help you examine your backyard and schedule site visits with potential vendors who will tell you whether or not it's feasible to set things up in your space. If you're planning on making a part of your ceremony indoors, consider storing some of your bulky furniture or belongings outside of your home to clear up room.
2. Get the Right Permits and Insurance ASAP
You have a lot more control over your ceremony when you have a backyard wedding, but hosting it will require additional permits and insurance. Though the exact rules depend on where you live, it's a good idea to get the right clearances as soon as possible. Local jurisdictions will vary in what they need to inspect, but typically the zoning department will need to examine your wedding tent and there may be noise ordinances you need to follow. If you plan on serving alcohol at your wedding, you'll also need a liquor license. As with all events that involve alcohol, accidents may happen, so it's worth looking into liability insurance or property coverage.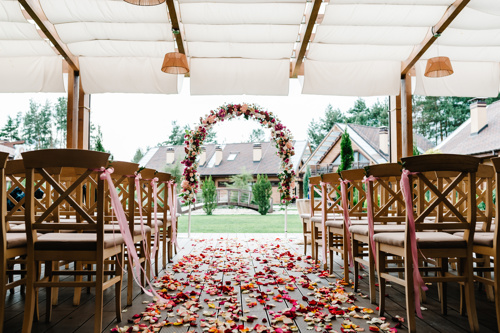 3. Rent a Tent and Dance Floor
Your backyard may seem picture-perfect in your head — sun, breeze and flowers — but having some protection from the elements is far from a bad idea. Renting a tent is the perfect way to provide shelter. A tent can help keep your decorations from blowing off the tables and give your guests some much-needed shade. Keep in mind, too, that your backyard grass, as level as it may seem, may have hard-to-see holes or uneven bumps. This is kryptonite for your guests in high heels, so do them a favor and rent a dance floor for easy, ankle-safe grooving.
4. Rent a Generator (or Two)
Between extra lighting (think about all the string lights!), sound system, food prep equipment and more, you'll likely need a few generators to handle all the power your backyard wedding will need. You and your planner should consult with your vendors — DJ, band, caterer, etc. — about the exact amps they'll need to make sure you're renting the right electrical equipment. You'll also want to opt for an inverter generator over a smaller non-inverter generator, which may not have enough juice to last through both the ceremony and the reception.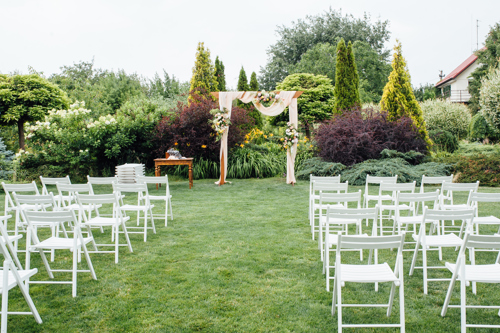 5. Design Around a Focal Point
When it comes to designing and decorating your dream backyard ceremony, it helps to center your efforts around a focal point. Think about your guests' view of the wedding vows, and what will end up on camera, if you're hiring a professional photographer. If your house itself is architecturally unique, you may want to make it the backdrop itself. Tall backyard trees can also provide a stunning focal point. Don't be afraid to get creative: your pool can add another dimension to your wedding if you turn it into a walkway, and there are infinite possibilities for DIY arches for any aesthetic or theme.
6. Choose Between a DJ or Live Band
Your music choice will set the vibe for your wedding reception, but do you go the DJ route or hire a live band? DJs are often less expensive, take up less space and can offer a balanced mix of songs from any genre or mood. Live music, while more expensive (depending on the number of band members), is essentially treating your guests to the thrill of a private performance, and adds a level of excitement and immediacy to the event. At the end of the day, go with what works best for your space and budget — you can even have major success DJing your own wedding with your phone, iPod and an excellent speaker.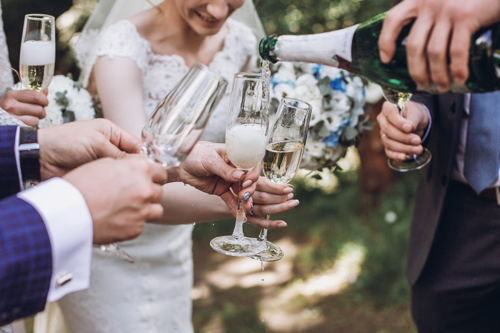 7. Get Creative With Food and Drink
A fancy catering company that offers full service is a great route to go if your wedding is more on the formal side, but you can get a bit more creative with a casual ceremony by hiring a food truck or asking your favorite local restaurant if they'll set up a food cart at your reception. In cities where food truck culture is a major part of the culinary scene, this might be a great way to introduce your out-of-town guests to some unforgettable eats. In most cases, you don't need a special food truck permit for events on private property, but double-check with your local municipality. For drinks, you can have self-serve stations with refreshments in ice-packed rustic wheelbarrows or hire bartenders to make drinks behind DIY pallet bars.
8. Offer Additional Restroom Facilities
If your guest list has more than 15 or so individuals, it's a good idea to invest in additional bathroom facilities to avoid backed-up lines and guests walking through your house. Thankfully, your traditional cramped blue porta potties aren't the only option — there are plenty of high-end toilets that provide comfortable, upscale amenities including mirrors, sinks with faucets and pleasant overhead lighting. As a thoughtful touch, you can add flowers, air freshener, breath mints, stain remover sticks and first aid kits for guests to use.
9. Make Parking Easy for Your Guests
Some off-site venues come with ample parking spots, but hosting your wedding in your backyard means your guests will need to use street parking, ride-share services or other options. Be sure to check local street parking rules and give your neighbors a heads up long before the event (some might even be kind enough to let you use their driveway). If you have room in your budget, consider hiring a complimentary valet service, providing a shuttle from a nearby lot or offering guests Uber or Lyft credit from local hotels.