With the Atlantic on one side and the Gulf of Mexico on the other, Florida is perhaps best known for its hundreds of miles of sugary sand beaches. Dubbed the Sunshine State, it's also beloved for its year-round sunny weather, Latin-American influence and world-famous theme parks. If you're thinking about moving to the Sunshine State, here are nine of the best places to live, depending on what life stage you're in and what you're looking for.
Best Places for Young Working Professionals 
Whether you're a recent college graduate or a single professional, Florida has a number of metropolitan areas that are perfect for a balanced work-fun lifestyle.
​​Miami
As the second-largest city in Florida, Miami has an endless supply of things to do, so it's a great choice for young professionals looking to soak up the best of city living. Thanks to its location on the southern tip of Florida, it boasts tropical, balmy weather year-round. There are hundreds of shops, restaurants and clubs, and the city's transit system (which includes buses, trolleys, trains and the Metrorail) makes it easy to get around. Little Havana is the go-to spot for Cuban food and live Latin music, while the Miami Design District is a must-see destination for anyone who loves modern architecture, high-end art galleries and luxury fashion boutiques. The median home price is $560,000.
Ocoee
Located just 20 minutes from Orlando, Ocoee is a great choice for young working professionals who want to enjoy a quieter pace of life without having to sacrifice the conveniences of living near a city. With a population that skews more liberal and an influx of job opportunities, it's also a good springboard for young adults who want to forge new friendships and further their careers. While Ocoee is not a very walkable area, residents can take advantage of public transit options thanks to the Lynx bus routes. Homes there are selling for around $449,000. 
St. Petersburg
Located around half an hour from Tampa Bay, St. Petersburg features all the fun-in-the-sun activities you could ever want and then some, from boating and fishing to sunbathing and kayaking. Residents can see the Florida Orchestra in concert at Mahaffey Theater, admire the artwork at the Museum of Fine Arts or see some of the oldest plants in the area at the 100-year-old Sunken Gardens. Buses and trolleys make it easy to navigate the city, while its excellent public schools make it a good option for those thinking about starting a family in the next few years. With an average home price of $435,000, it also offers a slightly more affordable entry point into the Floridian real estate market than many other cities.
Best Places for Couples and Families
If you're looking for a place in the Sunshine State to settle down with a partner or plant new roots, consider the following three cities.
Orlando
Orlando is probably best known for its theme parks (which include Disney World, Universal Studios and the Wizarding World of Harry Potter), but that's not the only reason why it's a great place to raise kids. It's also known for having excellent schools, affordable homes (with a median price of $399,000) and low crimes rates. In addition, its parks, playgrounds and museums (including the Orlando Science Center and Orlando Museum of Art) are great places for families with kids to explore.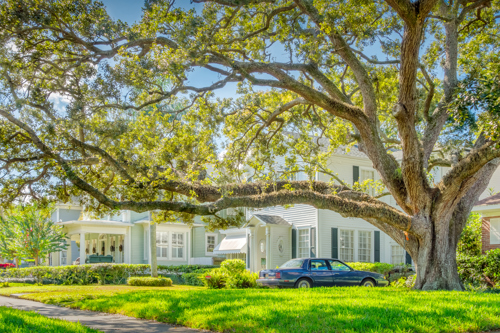 Tampa
Built along the water's edge on Florida's Gulf Coast, Tampa is known as a major business hub and cultural center. But it's also a great place to raise a family. In fact, it was recently named one of the best places in Florida to raise a family because of its cost of living, school quality, crime rate, commute times and parks. In addition to being a walkable and safe area, Tampa has plenty of activities that families of all ages will enjoy — from Busch Gardens (an amusement park with rides, rollercoasters, and animals like lions, gorillas and rhinos) to Glazer Children's Museum (an interactive learning lab where kids can do everything from creating color and sound to making their own pizzas). The median home price in Tampa is $425,000.
Jupiter
Set on a hill overlooking the Loxahatchee River, Jupiter offers striking panoramic views as far as the eye can see. From the Jupiter Inlet Lighthouse & Museum (which was built in 1860 and features a preserved pioneer-era home) to Busch Wildlife Sanctuary (a nature center that hosts weekly alligator talks and wildlife encounters), there's no shortage of family-friendly activities. Thanks to the excellent public school system, public transit bus system and influx of shops and parks, it's a great place for families with kids of all ages. Because of the high quality of living, homes are on the higher side, with an average median price of $799,000.
Best Places for Seniors
With no state income tax, mild winters and plenty of leisure activities, it's no surprise that Florida is the most popular retirement state in the United States. Here are three cities to consider if you're looking to make the most of your golden years. 
Naples
Nestled next to the Gulf of Mexico, Naples is a picturesque town known for its sugar-sand beaches and crystal-clear waters. Originally constructed in 1888, the Naples Pier serves as a focal point of the city (and it's also a great place to go fishing or dolphin-watching). With a population of just over 21,000, it's big enough to have plenty of attractions (think golf courses, high-end shopping outlets and even a swamp sanctuary).
For several years in a row, Naples had the highest overall well-being of over 150 U.S. cities, which ranks residents' views about financial security, community, purpose and health. Over 40% of the population is 65 years of age or older, which means it's a great place for retirees and others looking for a more laid-back lifestyle. Bonus: the trolleys and buses make it easy to get around. The median home price is $699,000.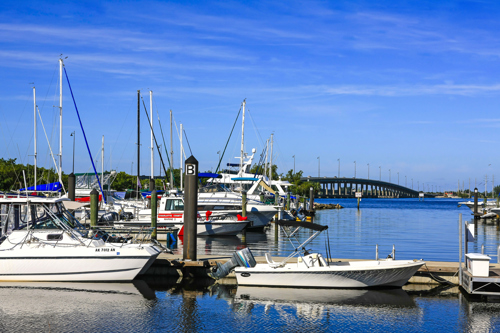 Punta Gorda
Over half of Punta Gorda's population is 65 or older, and if you spend just a few minutes there it's easy to see why it appeals to seniors. Punta Gorda boasts picturesque canal-front homes as well as multiple retirement communities geared toward those who are 55 and older. Residents can bid their time at the local golf courses or the Fisherman's Village waterfront complex, which has over 30 shops and restaurants. They can also stay active by heading to the miles of bike trails and pedestrian pathways that wind along the waterfront. With the median home priced at just over $469,000, it's a more affordable alternative to many other Floridian cities.
Venice
From its 14 miles of beachfront to its multi-use biking and hiking trails that unfurl along Venetian Waterway Park, life in Venice revolves around the water. While the community is best known for its beautiful beaches and offshore coral reef, it also has plenty of green spaces (including Centennial Park and Oscar Scherer State Park). After perusing the historic downtown (where boutique shops and art galleries promise to delight), residents can head to the local farmer's market or the historic Venice Train Depot to admire artifacts from the 1920s. Over 60% of the population is over 65, and homes sell for around $522,000 on average. The Sarasota County Area Transit operates buses on routes to Sarasota and Venice.
If you're planning to move to Florida, here are some resources to refer to as you prepare to pack up and start afresh in the Sunshine State: