Whether you're traveling for work or enjoying a blissful vacation, unexpected obstacles and emergencies can take all the fun out of your day in a hurry. There's nothing like losing your passport, having your luggage disappear or finding that you forgot your phone charger at home to really put a damper on things. Luckily, you can avoid the most common travel stresses with a little advance planning and preparation. Check out our list of the best travel gadgets to take along for a stress-free travel experience.
1. Travel Security Gadgets
One of the most important things to consider when you're getting ready to travel is how to keep yourself and all of your belongings safe. These six travel items will all help prevent mishaps and add to your peace of mind when you're on a road trip.
Portable Door Lock 
Standard hotel room locks are often pretty secure, but portable door locks add an extra layer of security for peace of mind. Typically, they slide between the door and the frame, hooking into the strike plate. Once engaged, the door can't be opened until you remove it. The original portable door lock, the Addalock, has been around since 2003 and is still one of the most highly rated travel locks on the market. 
Luggage Locks 
These handy travel accessories protect your belongings from thieves — and prevent your bag from popping open when it gets tossed around. Your best bet is a TSA-approved keyless luggage lock. They're not foolproof, but most people won't bother trying to get around them. 
Passport Wallet or Document Organizer 
A passport wallet or document organizer is designed to protect the most important thing you're carrying with you — your identification papers. The best options are RFID-lined to protect your identity and have pockets for your cash, cards, boarding passes, vaccination records and anything else you might need to have on hand when you travel. 
Cable Lock
A cable lock is one of the best ways to keep your backpack, laptop and other important gear from wandering off with someone else. They work just like a bike lock — loop the cable through the handles of your bag and around a post, click the lock closed and voila! Your bag isn't going anywhere until you unlock it.
Tip: Consider a portable safe for travel and home needs (or for protecting your most valuable items when you have them in storage).
2. Smart Tech Travel Gadgets
From staying powered and connected to keeping track of your lost stuff, these are some of the best travel gadgets that play nice with the latest technology.
Smart Luggage 
The earliest versions of smart carry-on and smart checked bags featured one big selling point — they could charge your electronics. Over the years, they've gotten more and more sophisticated, with added features like app tracking, notifications when your bag is opened and smart locks to keep everything safe and secure. You'll find a huge range of options at prices starting at about $200. If you're looking for a bargain with all the most important options, the Samsara Smart Tag line comes in two (soon to be three) sizes and has all the features you need to travel smart and stay connected for just under $300*.
The top-or-the-line Modobag is an absolute game-changer, too. Touted as the world's first motorized luggage, this nifty smart travel gadget has a motor, memory foam seat and handlebars. It lives up to its tagline — the carry-on luggage that carries you. It's not as sleek and pretty as some of the other options, but the cool factor is through the roof.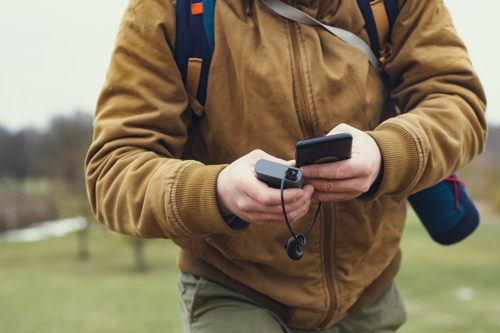 Portable Power Bank 
These may be one of the best investments you'll make in smart travel gear — they can keep you connected and entertained and in the loop when you can't find a handy power outlet to recharge your devices. There are literally dozens of styles with varying options in power capacity, size, number of charging ports and more. This Techradar article has some of the most comprehensive power bank reviews and advice we've seen — it even includes solar-powered and wireless chargers. 
Travel Adapter Kit
If your travels are going to take you outside the U.S., you're really going to want to pack a travel adapter kit to make your life easier. Today's best power adapters pack all the options you need to plug in your appliances and charge your devices in just about any country. While there are dozens of models and brands, all offering different options, the OneWorld PD all-in-one world adapter is one of the sweetest power adapters on the market. It will get you connected and powered up in 150 countries, can charge up to 5 devices at a time, includes USB-A and USB-C charging ports (including a quick charge port) and, to top it all off, every plug is grounded for your safety. 
Luggage Tracker
Did your checked luggage never make it to your destination? A luggage tracker is a handy way of keeping tabs on exactly where your suitcase, backpack or other luggage is. There are a few different types available, ranging from Air Tags ro Tile trackers, each of them offering specific benefits. The Expert World Travel website not only features reviews of the top luggage trackers, it also has a great explanation of how the different tracking technologies work so you can figure out which ones are best for your needs.
Mobile Hotspot
Staying connected can get tricky when you're a global traveler. Public wifi can be insecure, slow or completely unavailable, if it's available at all. A mobile hotspot can free up your phone and let you connect your other devices for communication, uploading to your Insta or watching the latest episode of your current binge-able show. As with most tech devices, there are lots of available options, each with its upsides and drawbacks. If your plans include travel outside North America, though, consider one of the global WiFi plans that offer prepaid and subscription services in multiple countries so you can stay connected anywhere you can find a WiFi signal.
3. Travel Convenience Gadgets
Compression Packing Cubes
Stuff these soft-sided zipper bags with your clothes and other gear, then zip to compress into a much, much smaller size. Compression packing cubes come in sets designed to fit into standard luggage sizes, from carry-on bags to ginormous rolling suitcases.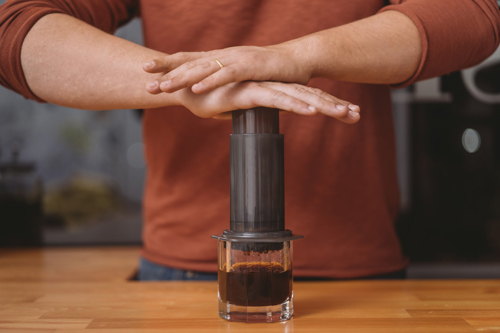 Portable Coffee
Travel is stressful enough without being stuck with hotel room coffee. The solution? Carry your own coffee-making equipment. Whatever your preferred style of coffee, there are travel options available to suit your needs, but the Aeropress Go stands out as one of the easiest and best portable coffee gadgets. Add a portable coffee grinder (check out the JavaPresse) and a travel tea kettle (Gourmia makes one that's collapsible and operates on dual voltages, making it ideal for overseas travel), and you'll never have to brew coffee in your hotel bathroom again.
Collapsible Water Bottle
A collapsible water bottle is one of the best travel accessories you can buy. Standard water bottles take up a lot of room — and are easy to lose. With a collapsible bottle, you finish your water, roll up your bottle and tuck it away in your bag.
Transit Comfort Kit
Whether you're driving with friends, traveling on a train or bus or winging across the ocean, staying comfortable in transit is important. Here's a bonus list of five items that will help keep you rested, unstressed and ready to enjoy your destination when you arrive.
A travel pillow and blanket combo is the ideal way to get comfy for an in-flight nap. 
Noise-canceling earbuds will shut out the annoying conversations around you and let you focus on your favorite music, audiobooks, podcasts or just about anything else. Add a sleep mask to really tune out your surroundings and relax.
Compression socks aren't just about comfort. They can be a literal lifesaver. Deep vein thrombosis can develop on long flights and become a life-threatening emergency. Compression socks can help keep your blood circulating — and are a must if you're diabetic or have peripheral artery disease.
Invest in a toiletry bag filled with your favorite little luxury items to freshen you up on landing. Include a toothbrush, facial cleanser wipes, moisturizer, and a refreshing body spray to perk you up.
Have trouble falling asleep in a strange bed? Pack a bottle of pillow spray made with real essential oils to help you settle in and relax.
NEED HELP PLANNING AN UPCOMING VACATION?
DOWNLOAD OUR PRE-TRAVEL CHECKLIST.