Moving has always been an expensive endeavor, but rising gas costs and inflation are making it even harder on the wallet. If you're hoping to move in the coming months, it's important to plan ahead and budget carefully to cut down on costs. Here are 10 tips to follow if you're trying to figure out how to move cheaply.
1. Create a Budgeting Spreadsheet First
Your first step when moving should be to create a budgeting spreadsheet so you can account for every expense at a moment's notice. Be sure to input any expected expenses, including cleaning fees, movers and repairs (you can use a guide like this as a reference point). Budget at least 5% for unexpected costs that will inevitably crop up during the process. (Some of the unexpected costs that you may have to deal with include lost security deposits and utility deposits for your new place.) 
Once you have a rough budget outlined, consider whether you can reduce costs. For example, can you enlist some of your family and friends to help you pack items or disassemble furniture ahead of time so you only have to pay the movers to physically move items rather than packing them? Do you have any friends along the way that you can stay with so you don't have to book an Airbnb or hotel? By planning ahead and thinking about how you can save money, you can create a realistic budget and make the moving process much less stressful.
2. Decide What to Take With You (and What to Get Rid Of)
One of the hardest parts of moving is deciding what to keep and what to throw away. Start by walking through your place room by room and making a list of the items you're planning to bring to your new house. This includes larger pieces like desks and beds and smaller things like jewelry and artwork. Next, think through whether it might be cheaper to purchase some of those items in your new city instead of taking them cross-country in a U-haul. 
While many of your belongings may have sentimental value that makes them worth their weight in gold, it may be better to replace certain things like dinnerware, towels and books so you don't have to pay as much in moving fees. Consider having a garage sale or listing some of your excess items on Facebook Marketplace. You can then use that money to pay for some of the moving costs. If you don't have the time and energy to have a garage sale or list the items online, you can donate them to a local thrift store.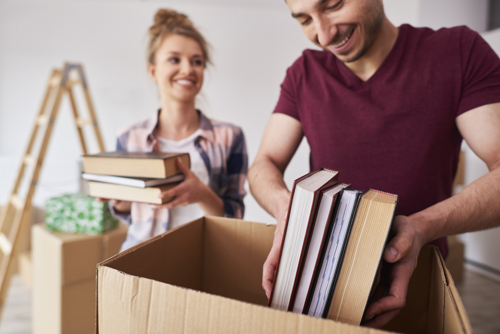 3. Reconsider a Rental
Instead of renting a U-haul, it may be cheaper to ship some of your belongings via UPS or FedEx. You can also look into taking bags via checked luggage on a plane or using freight shipping. If you do still decide to go with a U-haul, make sure to pare down your items in advance so you can get a smaller, less expensive vehicle.
Tips for Shipping Books
Shipping books via Media Mail is an excellent way to cut back on moving costs if you own a large personal library. Media Mail starts at $3.19 for the first pound and increases by $0.63 per pound after that — up to 70 pounds total. That means shipping a 70-pound box of books may total you $46.66. To qualify for Media Mail, your box can only contain the following items:
Books (8 pages minimum)
16-millimeter or narrower width films
Printed music and test materials
Video and sound recordings
Playscripts and manuscripts
Printed educational reference charts
Medical loose-leaf pages and binders
Computer-readable media
Magazines or materials with advertisements are not permitted.
4. Move at a Less Expensive Time
The majority of Americans move in the summer months, which means that October through April is usually a cheaper timeframe. If your move date is flexible, consider pushing it back a bit so you can move during the off-season. Bonus points: booking a moving company at least a month in advance usually means you will get a better deal. Plus, some apartment buildings offer reduced rent during off months, which means you may be able to save on that front too.
5. Shop Around for Movers 
To make sure your valuable items are safely ferried from one home to the next, it's important to hire trustworthy movers. Request at least three written quotes from moving companies to determine which one is right for you. Read online reviews about the company to see unfiltered commentary from past customers, and read the quotes carefully to make sure there are no hidden fees that will cost you in the long run. If possible, book movers and moving vans during the week since weekend moves generally cost more. 
Alternately, if you're looking for the cheapest way to move, you can enlist family and friends to help you pack and move items rather than hiring people to do it for you. (Make sure to provide them with dinner as a thank you!)
6. Watch Out for Scams
When it comes to finding movers and rental vans, the old adage rings true: if it feels too good to be true, it probably is. Make sure the movers you are planning to book have been licensed by the U.S. Department of Transportation and that they belong to reputable professional organizations such as BBB. This way, you can rest assured that everyone has been pre-vetted by reputable sources.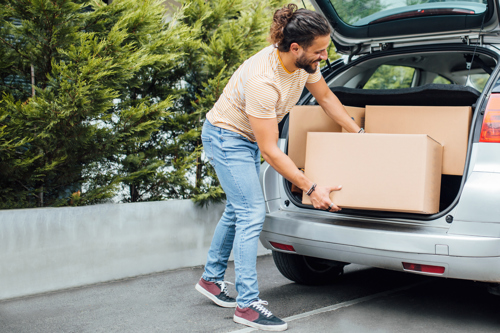 7. Buy a Used Car (and Sell It in Your New City)
If you're planning to move across the country, it may be cheaper to purchase a used car, pack your belongings into it and drive it to your new destination. This will not only prevent you from needing to rent a U-haul; it will likely also save on gas money since cars get better gas mileage. After you settle into your new city, you can sell the car.
8. Provide Your Own Packing Supplies
Moving companies often charge exorbitant amounts for packing supplies. To cut down on costs, see if you can get as many boxes as possible for free from local shops and stores. You can also use containers that you already own (like duffel bags and plastic bins) to store some of your belongings in. Wrap more fragile items in your sheets, blankets, and linens. You can also post in local neighborhood Facebook groups to see if anyone has spare packing supplies that they are willing to give away for free. This is a win-win for both sides — they get rid of something they no longer need, and you save money.
Pro Tip: If you're shipping fragile items, be sure to pad them well with packing paper and bubblewrap or opt to buy a new box. Used boxes that have already been shipped through rough conditions may not hold up to another round of stacking.
9. Get Moving Insurance
Accidents happen to everyone — even the most skilled movers. Purchase moving insurance to guarantee peace of mind from point A to point B. Even if your belongings end up lost or damaged, you will still be reimbursed for the losses rather than having to forfeit that money.
10. Take Proper Precautions 
While you are likely focused on moving into your new home, it's important not to neglect the old one as you move out. Scratched floors, broken railings and other moving mishaps will eat into your security deposit, so make sure to carefully package everything to reduce these risks. If you have heavy boxes, make sure they are properly taped and reinforced so the contents don't spill out on your way to the moving truck. Making sure your belongings are packaged properly will ensure you can move into your new home quickly and without incident.