Whether you're visiting for a sunny beach getaway or packing up your home to plant new roots in Southern California, Los Angeles has something for everyone to enjoy. With a diverse mix of cultures, cuisines, neighborhoods, and natural landmarks including beaches in one direction and snow-capped mountains in the other, the City of Angels is a sprawling mesh of daytime excursions, nightlife galore and everything in between. If most of what you know about the city is from blockbuster flicks, read on. In this city guide, we'll give you the (comprehensive) lowdown on everything you need to know about living in Los Angeles or heading there on your next vacation.
1. Living in LA: An Overview
LA is just one of 88 total cities in the epic sweep of LA County, which hosts 10.2 million people who speak a combined total of 224 languages. (With a GDP of $707 billion, LA County is the biggest manufacturing center in the U.S., and would rank the 19th largest economy in the world if it were a nation — beating Sweden, Saudi Arabia and Belgium in the process.) That said, LA city itself is large, at 469 square miles, and encircles 114 neighborhoods loosely connected to downtown (DTLA) by a tangle of freeways. But before we tell you all about the best neighborhoods, activities and eateries to do on both sides of the 405, let's get a few basic facts out of the way.
Population: 3,979,576

Diversity: 52.1 percent white, 8.9 percent Black or African American, 11.6 percent Asian, 48.5 percent Hispanic or Latino
Median age: 35.9

Weather:

Best time to visit: spring to early summer (April to June) or fall (September to November) to experience the best temperatures and least amount of rain
Cool season: November to April (though let's be real — it's LA, so winter is fairly temperate and spring-like, with moderate showers here and there)
February is the rainiest month; August is the hottest month
Population
Los Angeles is the second-largest city in the U.S., after New York. As of the 2019 census, LA had a population of 3,979,576, a 4.7 percent increase since the 2010 count. About 52.1 percent of the population is white (non-Hispanic), closely trailed by the Hispanic and Latino population, at 48.5 percent. Black/African American and Asian communities make up 8.9 percent and 11.6 percent of the population, respectively. The most common non-English languages are Spanish, Korean and Tagalog. With people from more than 140 countries calling LA home, it's no wonder that the city has become the quintessential melting pot of the Pacific Rim. The city's population, over time, has gotten older, too — in 2019, the median age was 35.9. (The median age of native-born Angeleanos was 28, and the median age of foreign-born Angeleanos was 49.)
Weather
In many ways, Los Angeles has "postcard" Southern California weather, with a semiarid, Mediterranean climate that is regulated by a cooling marine layer and mountain ranges that block off desert heat blasts and wind chills. The city has essentially two seasons: a dry and warm stretch that lasts from April to November, and a slightly cooler, damper season from November to April. August is the hottest month of the year, with temperatures averaging 85 degrees Fahrenheit, though temperatures can climb to the 90s and even low 100s or 110s during the occasional summer heat wave. Temperatures in winter rarely drop below 40 degrees.
Since LA is so large, it can be hard to characterize the weather — on any given day, you can drive fifteen minutes in one direction and enter a completely different microclimate. Typically, Santa Monica and beach cities will always be about 10-15 degrees cooler than inland regions like DTLA, Hollywood, Baldwin Hills or Echo Park.
Tip: If you're planning a beach trip in Santa Monica or Venice and want to know what the weather's like, search Instagram Stories by location (such as Muscle Beach) and view the curated public Stories. You may notice that your destination appears to be foggy and cool, even though your neighborhood is enjoying blue skies and blazing heat.
2. What's the Cost of Living in Los Angeles?
Los Angeles can be expensive. But due to its sheer size you're much more likely to find a reasonable deal on housing compared to smaller, more uniformly expensive cities like San Francisco and New York. 
The cost of living in LA is 43 percent higher than the national average — with housing prices that might make some feel disillusioned about the prospects of buying a home and raising a family in the city. The median property value in 2019 was $697,200, about a two percent increase from the year before. This figure is on par with New York City's median property value of $680,800 and significantly lower than the $1.2 million median property value in San Francisco. Compared to the national median home value in 2020 — which was $336,900, according to the U.S. Census Bureau — LA's prices are almost 53 percent higher.
Housing: $697,200
Rent: $1,577
Energy Bill: $180.74 per month
Phone Bill: $192.66 per month
Gas: $3.42 per gallon
Public Transit: $1.75 per ride
Storage Rental: $117+
How Expensive Is Renting in Los Angeles?
Some sources consider Los Angeles to be the third most unaffordable city in the country, since the cost of rent has increased steadily while wages have remained comparatively stagnant. According to census data, the median monthly rent in the city was $1,577 in 2019, with two-bedrooms going for $1,760 (though adjacent independent cities like Santa Monica and West Hollywood, which are often lumped together along with the rest of LA, were more expensive at $2,190 and $2,680, respectively). If you're a college student at UCLA or USC looking to move into an apartment during the school year or after you graduate — or moving to the big city to start an entry-level job — you may want to look at options in Mid-City for more affordable options and proximity to the rest of town.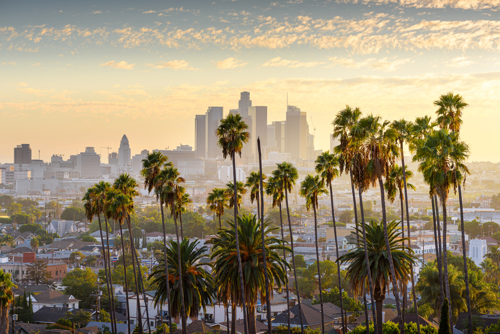 3. The Best Neighborhoods in Los Angeles
One of the incredible benefits of living in LA is its geographically spread-out neighborhoods, which co-exist side by side but have entirely unique demographics, proximity to nature and city landmarks, and access to the hottest restaurants, bars, coffee shops, museums and more. Even with your work commute, budget and preferences factored into your decision-making process, you'll still have plenty of neighborhood options to choose from. Here are some of the most popular ones:
Culver City
Santa Monica
Beverly Grove
Echo Park
DTLA
Culver City
Culver City was a big film studio hub in the 20th century, but with a recent influx of startups, tech giants, restaurants, bars, apartments and more — not to mention the construction of the Expo line that connects DTLA to Santa Monica, with a stop right in the heart of downtown Culver — the city has become a favorite destination for young professionals and couples who are willing to spend money on good coffee shops, bars and restaurants. Much of the dynamic energy is concentrated around the Platform, a huge outdoor mall with a Sweetgreen, SoulCycle, coworking spaces and other retail and restaurant hits. With so many things to do, eat and see, as well as its midpoint location, Culver is one of the best places in the LA area to visit and live.
Population: 39,185
Cost of living: $1.35M median house price, $2,538 per month for a one-bedroom apartment
Safety: Culver City, especially the downtown area, is relatively safe and on par with the U.S. national average. During weekdays, when the area is bustling with workers and visitors, Culver feels especially safe. Crime as a whole has decreased since 2016, though earlier this year there was a hate crime committed against an Asian American woman. According to the City-Data crime index, Culver experiences slightly more crime than Beverly Hills but less than Santa Monica and West Hollywood.
Things to do on a weekend: After a refreshing morning hike up the steep Baldwin Hills Scenic Overlook (with great views of the city), grab coffee at Bar Nine (@barninela) to start the day. For lunch, enjoy handmade Mexican food at Loqui (@eatloqui), browse the shops in the downtown area (or peruse the books at the Helms Bakery District), and grab sushi at K-ZO. Finish off the night by grabbing a drink and dancing to live music at the swanky Culver Hotel (@culverhotel).
Nearby neighborhoods to consider: Culver is on the pricey side, but nearby Palms and Pico-Robertson have more affordable housing just a mile away from the downtown hubbub.
Santa Monica
Once a sleepy blue-collar town in the '80s, Santa Monica is now a popular tourist destination with a crowded downtown area and quieter residential blocks in close proximity to the beach. Its famous 3rd Street Promenade — an open-air, car-free retail haven where street performers post up outside of dozens of high-end and fast-casual shops, movie theaters and restaurants — is a Santa Monica landmark, you'll also find plenty of other things to do along Montana Avenue, Main Street and other blocks on the outer reaches of the area. And with miles of beaches and a robust network of public transit that can take you to Venice, Brentwood, Westwood and beyond, you'll have little reason to venture far.
Population: 92,105
Cost of living: $1.46M median house price, $2,635 per month for a one-bedroom apartment
Safety: Santa Monica has a crime rate that is 1.5 times greater than the national average. Though crime has lessened slightly since 2018, we'd recommend being vigilant while walking around in the evening, especially near the downtown blocks by 3rd Street Promenade or Main Street.
Things to do on a weekend: In the morning, grab a pour-over at Philz Coffee (@philzcoffeesm) or a brew made from beans roasted in-house at Demitasse (@cafe_demitasse) before strolling through the Santa Monica Farmers Market between 8 a.m. and 1 p.m. In the afternoon, put on sunscreen and get a game of volleyball on at Santa Monica Beach, enjoy Caribbean-Latin fusion at Cha Cha Chicken (@chachachickensm) and finish of the night with a glass of wine at Bodega Wine Bar (@bodegasantamonica).
Nearby neighborhoods to consider: Next-door Venice may seem like a "hipster" town for the rich — it's undergone rapid gentrification over the past few decades — but the look and feel of the neighborhood is completely different from that of Santa Monica, with quaint shops and galleries along Abbot Kinney. For a more inland option with plenty of trendy brunch spots, give Brentwood a try.
Beverly Grove
For a lively region of the city with old LA charm flecked by new high-rises, eateries, art galleries, bars and more, Beverly Grove is a great place to be. With a prime central location that's right next to Melrose, Fairfax and West Hollywood (WeHo), Beverly Grove is a shopping and entertainment paradise, with days' worth of activities within walking distance of one another. Though plenty of college grads and young professionals share apartments in this neighborhood, it's also home to plenty of older, established couples and professionals as well, with higher-than-average house prices and rents compared to the rest of LA.
Population: 21,417 (according to the last census report)
Cost of living: $1.71M median house price, $2,409 per month for a one-bedroom apartment
Safety: In the first half of 2021, Beverly Grove experienced 295.3 crimes per 10,000 people — a figure that ranks it higher than nearby West Hollywood, Pico-Robertson and Mid-Wilshire, but lower than Fairfax. There are about 4.62 times more property crimes than violent crimes in this neighborhood.
Things to do on a weekend: Spend the morning and early afternoon at LACMA, the largest art museum in the western U.S., before walking over to explore the shops at the Grove, an enormous open-air shopping center with retailers, candy stores, restaurants and even a Barnes & Noble. Hungry? Get takeout at the Original Farmers Market (@farmersmarketla), a permanent collection of food vendors, and if the tables are full then walk over to Pan Pacific Park to enjoy your meal on the grass. Grab dinner and natural wine at Night + Market WeHo (@ntmrkt) for incredible takes on Thai cuisine, then party it up at the bars in nearby WeHo.
Nearby neighborhoods to consider: Beverly Grove is surrounded by plenty of desirable LA areas: Beverly Hills, Mid-City, Melrose, Fairfax and West Hollywood to name a few. Though these areas are all generally pricey, you'll likely have luck finding options that connect you to an abundance of daytime and nighttime activities in Central and West LA.
Echo Park
Echo Park has become a funky, vibrant neighborhood synonymous with "hipster" in the city, but don't let that deter you from exploring its indie music venues, queer-owned storefronts, renowned eateries, parks and more. Centered around Echo Park Lake (where you can rent a pedal boat or lounge on a blanket in the grass), Echo Park is home to a dynamic strip of exciting and trendy retail and restaurant spaces along Sunset Boulevard as well as a longstanding, important Cuban presence (it's where many Cuban immigrants and refugees settled in the '60s). Echo Park is very gentrified, so don't expect to pay "bohemian" prices for this otherwise artsy and independent section of LA.
Population: 43,832 (according to the last census report)
Cost of living: $1.3M median house price, $2,425 per month for a one-bedroom apartment
Safety: According to city data of a six-month period in 2020, Echo Park experienced 124.3 crimes per 10,000 people — which is less crime than nearby Silver Lake and DTLA experienced in the same period of time. There were about 5.62 times more property crimes than violent crimes in this neighborhood.
Things to do on a weekend: Grab breakfast or brunch at Honey Hi (@honeyhi) on Sunset Boulevard (plus a cold-pressed juice across the street at Lassen's, if you wish) and walk a few blocks to Echo Park Lake to eat on the grass and people-watch. Later, browse the shelves at Stories Books and Café (@storiesbooksandcafe) and get a bit of reading done on the lovely patio outside. Finish off the afternoon and evening with Chicago deep dish pizza at Masa of Echo Park (@masaofechopark) and a concert at the Echoplex.
Nearby neighborhoods to consider: Silver Lake, Frogtown (officially known as Elysian Valley) and DTLA flank Echo Park, with Los Feliz not too far away either.
Downtown LA (DTLA)
DTLA is where LA feels most like a traditional city, with a cluster of skyscrapers, grid-like streets and a condensed city "feel." In recent years, downtown — which not too long ago was full of abandoned buildings and warehouses — has undergone a transformation that has led to a rise in young creatives and professionals looking for modern, upscale urban dwellings. Now, you'll be paying top dollar for some of the nicest apartments, but many argue that it's worth the cost. After all, you're right in the heart of a thriving community of restaurants, clubs, bars, coffee shops and galleries all within walking distance or easily accessible by public transit.
Population: 34,811 (according to the last census report)
Cost of living: $622.5K median house price, $2,890 per month for a one-bedroom apartment
Safety: According to city data of a six-month period in 2020, DTLA experienced 160.6 crimes per 10,000 people, higher than nearby Silver Lake, Echo Park, Westlake and Lincoln Heights. There were about 2.93 times more property crimes than violent crimes in DTLA.
Things to do on a weekend: Head to Grand Central Market and treat yourself to one of Eggslut's (@eggslut) famous breakfast sandwiches and a coffee from G&B (@gandbcoffee) before wandering through Grand Park. Check out the art at MOCA (or head to the Arts District for cool independent galleries like Hauser & Wirth), browse the shops in Little Tokyo and grab Indian food at Badmaash (@badmaashla) before you hit the bars.
Nearby neighborhoods to consider: Located near the eastern border of LA, downtown connects the swath of West LA with the San Gabriel Valley, Alhambra, Highland Park and other East LA neighborhoods. Other neighborhoods to consider include Echo Park (see above), Hollywood, Bunker South and South Los Angeles.
More Neighborhoods Worth Checking Out
Atwater Village
Mar Vista
Marina Del Rey
North Hollywood
Miracle Mile
Westwood
4. What Are the Best High Schools in Los Angeles?
LA is a massive city, and the quality of public schools varies widely from neighborhood to neighborhood. Though the Los Angeles Unified School District (LAUSD) faces general challenges including large class sizes of 40 students or more (which prompted 30,000 teachers to go on strike in 2019) and low completion rates (78.1 percent of high schools seniors in 2019 earned diplomas on time), there are plenty of top-performing options that are highly ranked statewide. Here are the best high schools in Los Angeles according to "U.S. News & World Report":
Los Angeles Center for Enriched Studies in Faircrest Heights (#2 in LAUSC rankings)
Graduation rate = 95 percent
College readiness = 82.9
Enrollment 9-12 = 925
Downtown Magnets High in DTLA (#3 in LAUSD rankings)
Graduation rate = 96 percent
College readiness = 68.7
Enrollment 9-12 = 1,037
Stem Academy at Bernstein High in Hollywood (#11 in LAUSD rankings)
Graduation rate = 95 percent
College readiness = 46.6
Enrollment 9-12 = 555
Middle College High in South Los Angeles (#12 in LAUSD rankings)
Graduation rate = 95 percent
College readiness = 38.5
Enrollment 9-12 = 404
North Hollywood Senior High in North Hollywood (#13 in LAUSD rankings)
Graduation rate = 91 percent
College readiness = 39.5
Enrollment 9-12 = 2,522
John Marshall Senior High in Los Feliz (#15 in LAUSD rankings)
Graduation rate = 90 percent
College readiness = 43.8
Enrollment 9-12 = 2,381
Fairfax Senior High in Fairfax (#18 in LAUSD rankings)
Graduation rate = 86 percent
College readiness = 38.4
Enrollment 9-12 = 1,827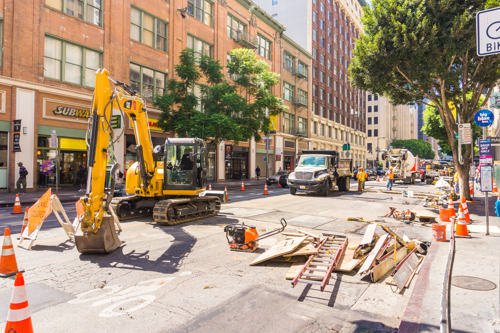 5. The Job Market in Los Angeles
The median income for Angelenos is $62,142, according to census data from 2019, just shy of the national median. After a difficult year for the LA economy, open jobs have been back on the rise as of winter 2020, according to a report from Glassdoor Economic Research. Though LA is most known for being the entertainment capital of the U.S., there are 7,959,103 total employer establishments in the city in over a dozen major industries including: 
Health care and social assistance — average salary = $65,287 a year
Professional, scientific and technical services — average salary =  $70,588 a year
Accommodation and food service — average salary = $59,886 a year 
Retail trade — average salary = $60,859 a year
Manufacturing — average salary = $68,039 a year
Construction — average salary = $66,685 a year
Here are some places you can find open positions in Los Angeles: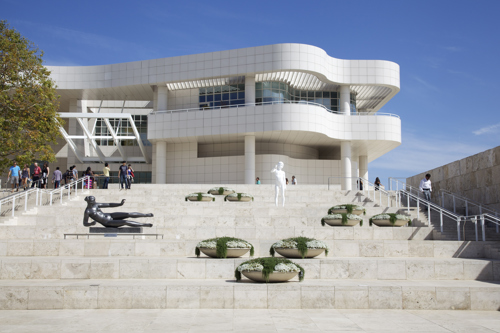 6. The Best Things to Do in Los Angeles
You won't run out of things to do in Los Angeles, with its options for nature lovers, art aficionados, film enthusiasts, foodies and night owls alike.
Outdoor Activities
Lounge on the beach. LA's beaches are world-class, and the sheer number of shores that you can rest on (and waters where you can surf, kayak, snorkel and swim) is more than you can count on two hands. Head to Malibu (Point Dume, Zuma or El Matador are great bets) for scenic sands with tide pools, cliffs and some of the cleanest ocean water in the U.S., or beach-hop in Santa Monica and Venice with close access to food and drinks, should you need them. Cost? The price of gas and parking (less than $10).
Go for a hike. LA indeed has plenty of smog and traffic, but nature is often only a few miles away (or at your doorstep, if you're lucky). While you can make a day trip of the Santa Monica Mountains, locals and tourists still flock to Griffith Park, Runyon Canyon, Franklin Canyon Park and Will Rogers for classic trails with famous city photo ops. Cost? The price of gas (less than $10).
Shop at farmers markets. California is known for its fresh, unparalleled produce, and LA reflects the best of the region's farmers. The most popular markets are in Santa Monica on Wednesday from 8 a.m. to 1 p.m. (it's the largest grower-only market in Southern California); the Hollywood Farmers Market from 8 a.m. to 1 p.m. on Sunday (with produce, events and food trucks); and the Mar Vista Farmers Market on Sunday from 9 a.m. to 2 p.m. (with DJs, live music, food trucks and plentiful vendors). Cost? Free, except for whatever you put in your tote bag.
Visit open-air flea markets and swap meets. LA's flea markets and swap meets gather hundreds of people searching for wardrobe gems and one-of-a-kind decor. The Rose Bowl Flea Market on the second Sunday of every month from 9 a.m. to 3 p.m. is the biggest (with admission tickets ranging from $9 to $20), though Melrose Trading Post, which meets weekly on Sunday from 9 a.m. to 5 p.m. ($5 admission) is another great option. Cost? The price of admission and parking (less than $25).
Get out of LA. LA is a massive city with everything you'd need within its borders, but sometimes you just need to get out to clear your head. With mountains and deserts just a quick drive away, you'll never run out of opportunities to leave the city grind behind and replenish your batteries. Some easy options include renting an Airbnb in Joshua Tree for a beautiful desert escape, heading to Big Bear in the winter for skiing and snow, planning a day trip on Catalina Island or booking a weekend getaway in Palm Springs. Cost? The price of gas, hotels/Airbnbs, airline tickets (if you're flying to Palm Springs), food and equipment. It's totally possible to get out of LA for a two-day trip for cheap, if you drive and bring your own food and camping supplies along.
Parks & Attractions
Universal Studios Theme Park for classic rides for kids, teens and adults alike, plus a bustling CityWalk entertainment area with food, drinks and more.
Griffith Observatory for free exhibits and telescopes that allow you to moongaze and see the planets.
The Getty Center — a hilltop art museum with a vast collection and sprawling museum grounds that offer an unbeatable view.
La Brea Tar Pits for direct views of 40,000-year-old tar pits as well as fully reconstructed fossils of extinct mammals.
Other attractions mentioned in this guide: The Original Farmers Market at the Grove, Third Street Promenade (and Santa Monica Pier), Grand Central Market in DTLA
Best Places to Eat
7. Traffic and Transportation
Traffic ends up being a part of every decision you make in LA, whether you're heading to your nine to five or running errands. If you're looking to move to the city, our advice is to try to live as close as possible to where you're working. Long commutes can use up hours of your day and take a toll on your mental health, even with all the playlists and podcasts to keep you company. The same logic applies if you're planning your first vacation to LA. If your sightseeing and leisure goals involve the beach, stay in Santa Monica or Venice to avoid Uber surcharges and long drive times.
Public Transportation in LA
Public transportation in LA has a reputation for being subpar, especially when compared to cities like San Francisco and New York. While much of that has to do with the gargantuan nature of the city itself, LA has been investing a lot of money into expanding its public transit infrastructure. The truth is that it's not that hard to get by without a car in LA, and as long as you're near a major thoroughfare with bus lines or the light rail/subways, you can get around effectively and for cheap (a one-way ride is only $1.75). Still, not having a car will prevent you from going out to Malibu, Pasadena and the outer reaches of LA, where often the best nature is.
8. Planning Your Move
Planning your move to Los Angeles can involve a lot of coordination and stress, but we've made it easy for you to check things off your list and get your packing, moving and storage needs all in place. Check out our helpful guides to moving out of your current home:
Be sure to download our checklists, too:
The Ultimate Moving Checklist - includes a guide to cleaning your home before the move, all the reminders for changing your address, and how to pack up the family for a smooth transition.