There's an art to selling your house quickly and getting your asking price. Most real estate professionals would recommend that you stage your home before you list it on the market — in other words, declutter, furnish and decorate your space to give buyers an easy time imagining what it would be like to live there. In fact, data shows that staged houses sell 88 percent faster and for 20 percent more profit than non-staged houses. If you're ready to sell your home, read on to learn our best tips for staging your house on a budget.
1. Declutter
First thing's first — before you can stage your space with new furniture or statement art, you'll need to declutter your home. As Ginger Brokaw, a senior vice president at Town Residential, notes, no buyer wants to walk into a bathroom "and see somebody's toothbrush and 11 bottles of shampoo." Plus, clutter can make your house hard to clean and get in the way when it comes to putting on the finishing touches.
To declutter your home for staging, start by selling or donating any items you no longer need and finding a storage facility for bulky objects you still want to keep. What's left in your home should be essential items such as furniture, your best decorations and appliances.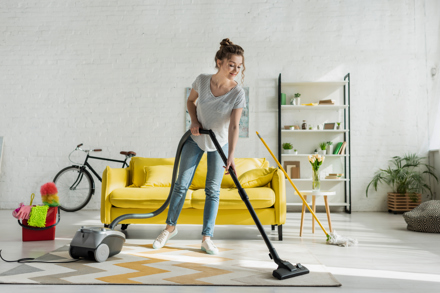 2. Perform a Deep Clean
Now that you've decluttered your home, it's time to make it shine. While a quick wipe-down is better than nothing, preparing for staging should involve a dedicated day or weekend of deep cleaning. Apart from the standard polishing, disinfecting and vacuuming, here are some other key to-dos to add to your cleaning checklist:
Pressure wash the exterior and walkways.
Scrub baseboards, walls, fixtures and all visible surfaces.
Clean out the refrigerator.
Shampoo carpets and remove stains.
Make sure bathrooms are pristine.
Wipe down windows.
Use an upholstery cleaner for furniture.
Remove all dust and polish wooden surfaces.
Looking for a complete list of the most important cleaning tasks? Download our cleaning checklist for every room of your house.
Cleaning Resources for Every Room of Your House:
Remember, you don't have to do everything by yourself. Consider hiring a professional cleaning service to make your house look as new as possible.
3. Stage the Most Important Rooms First
According to the National Association of Realtors, the most common rooms that people stage are the living room, kitchen, master bedroom and dining room. If you're on a budget, concentrate on these four rooms alone, which will have the greatest influence on a buyer's decision-making process. You should still tidy and clean the guest bedroom, bathroom and home office, but don't spend unnecessary time fussing over them. 
The goal of staging your house is to de-personalize it — in other words, to help buyers imagine themselves in the space. You can increase your home value by painting the walls in neutral hues, such as warm grays, soft whites, light pastels, velvety beiges or creamy off-whites before adding any minimalist artwork and decorations to give the space an attractive pop.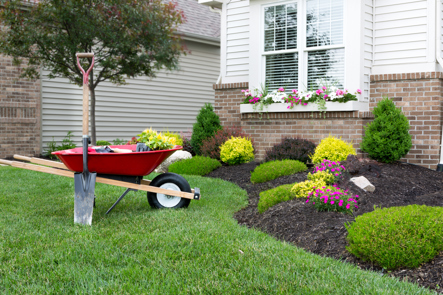 4. Create Curb Appeal
First impressions matter, and boosting your curb appeal is a key way to entice potential buyers before they even enter through the door. In fact, the National Association of Realtors reports that 63 percent of homebuyers will drive by your home after viewing it online, so take the time to stage your front yard as thoroughly as you would your living room. In addition to making sure your lawn is well-manicured, you can add flowers, shrubs and other plants to add color and character to your property. Landscaping, research shows, can improve a home's value by as much as 5.5 to 12.7 percent, depending on the type (and scope) of landscaping you do. All told, a $300,000 home can see anywhere from $16,500 to $38,100 in value appreciation from landscaping alone.
Some other curb appeal ideas include:
Paint the front door an attractive color that stands while complimenting the scenery.
Refresh the trim on your house or paint it a new color.
Consider repainting the entire house.
Fix cracks in the driveway and walkway, or install new materials, such as brick.
Lay down fresh bark, stones or other xeriscape materials where appropriate.
Need more inspiration? Read 9 Simple Ways to Boost Your Home's Curb Appeal.
5. Float the Furniture
You don't have to go broke staging your house with completely new or original furniture. Applying a keen eye, creativity and a bit of finesse can elevate your existing pieces with strategic placements. Floating furniture is one easy way to make your space seem bigger and improve its flow at the same time. To "float furniture" means to position it away from walls in a way that creates natural focal points and pathways through your room. Here are some benefits of floating furniture:
It improves the flow of traffic through the room.
It divides a room, which is particularly useful if you have a large room that has several purposes (for example, a living room and dining room with no partition between them).
It makes a room cozier for times when you're sitting down and chatting with guests.
It creates a focal point — floating furniture can be arranged around a fireplace or ornate coffee table.
It creates an illusion of space by giving the walls room to breathe.
You don't need to be an interior designer to float furniture — use your instincts as you arrange your largest pieces. How can the shape of the furniture complement the room? Can you create a focal point with a piece of art or a window with a view and arrange furniture in a way that benefits the flow of traffic?
6. Make the Lighting Inviting
A simple adjustment to the lighting in your space can make a space feel twice as inviting. It can be as quick as sweeping the curtains aside or opening the blinds to let as much natural light in as possible. (To that end, try to schedule viewings of your house during hours with maximum sunlight.) For an extra touch, you can also place lamps in areas without overhead lighting and swap old bulbs out for higher-wattage alternatives. Use warm, inviting incandescent or energy-friendly compact fluorescent bulbs in your primary showrooms; bright fluorescent lights for your attic and basement; LED bulbs for directional lighting; and halogen bulbs beneath cabinets and in compact, dark spaces.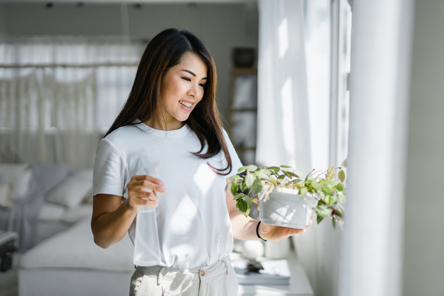 7. Add Plants and Other Visual Flourishes
Almost any room can benefit from some greenery. Plants help purify the air and add a burst of color that can bring a room to life, whether it's a corner Dracaena or a hanging fern. You can also lay out a wooden bowl full of fresh fruit in your kitchen, and a vase full of colorful flowers on the coffee table in your living room. If you have a small home and are struggling to find a spot to stash any miscellaneous items out of view, check out our guide on living room storage hacks to see how you can make a chic ottoman or wicker basket double as storage.
8. Implement Smart Home Products for Added Value
Smart technology can add value to your home and give it a leg up compared to similar listings that are  "tech-deficient," according to Master Appraisal Services. From smart appliances (refrigerators and washing machines) to advanced thermostats and tech-enabled watering and lighting systems, smart home tech is an investment that can increase a sense of "move-in readiness." For ideas on how to make your home "smarter" — and several of our favorite home products — check out 7 Ways to Create a Smarter Home in 2022.
9. How to Stage a Home While Living in It
Once you've put in the effort to declutter, clean and arrange furniture in your house, you'll want to keep it as clean as possible (with minimal effort) for showings. The less time you spend in your house, the cleaner it will stay, so now's the time to schedule outdoor activities, plan picnics at the park or beach, try new restaurants in town that have been on your bucket list. Here are some other tips to keep your house clean and presentable at a moment's notice:
Do your laundry at a laundromat to avoid dirtying your washer and dryer.
Keep cleaning products close at hand to wipe down surfaces immediately after a mess is made.
Use tablecloths or placemats during dinner, and avoid taking food to the couch, bedrooms and other common areas.
Keep the windows open while cooking and wipe down the stovetop and range hood regularly.
Store Febreeze in the bathroom and extra rolls of toilet paper/paper towels in close reach.
Take off shoes immediately after entering the house.
10. Other Staging Tips for a Quick Sale
Books can be a classy and timeless way to make a space seem homey — read our guide on how to organize your bookshelves.​
79 percent of pet-owning homebuyers would pass on the perfect home if it doesn't meet the needs of their pet, so think about unique aspects of your house that would help a pet feel right at home.
For more home organizing and decorating tips and hacks, check out our blog.