When it comes to staging your home, your front yard may not seem like priority number one. But a recent study revealed that homes with high curb appeal (i.e., an attractive street presence) increased sales by up to seven percent. Some real estate experts even argue that curb appeal is "everything." It makes sense — first impressions matter, and helping potential buyers feel at home from the moment they pull into the driveway is a surefire way to get your property off the market in no time. Follow along as we share our favorite ways to kick up your curbside appeal — without breaking the bank in the process.
1. Upgrade Your Mailbox
Your mailbox is often an afterthought, but upgrading it is a simple way to convey to potential buyers that you're a stickler for details. Whether you have a post-mounted mailbox or a letter slot on your front door, giving your mailbox a makeover with a DIY cottage-style design or freestanding Victorian finish can add plenty of character and charm to your front yard. Best of all, a project like this will likely run you no more than 100 dollars.
2. Add New House Numbers
Faded house numbers are a pain for guests, and adding new ones is an easy way to give your home's exterior a fresh appeal. Curbside painted numbers are always an option, but for a modern look find digits constructed from a durable, sleek metal like steel or brass — and be sure to coordinate with any external light fixtures for a streamlined aesthetic. You also have plenty of options when it comes to placement: your mailbox, front door and gate are all great canvases. Just make sure it's clearly visible from the street, and can be illuminated by a light fixture when it's dark.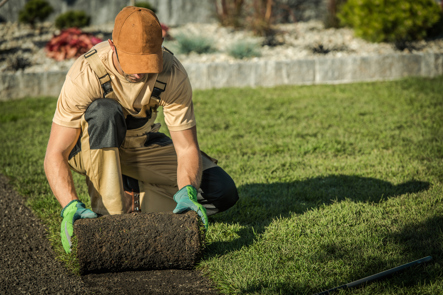 3. Keep Your Lawn Uniform
Yardwork is probably a part of your weekly chores, but double down on lawn mowing and landscaping when your house is up for sale. If you have a grass alternative such as drought-resistant gravel and stone or a dry creek bed, add a pop of color and life with succulents, cacti or unique monkey grass. Likewise, a mix of large and small planters full of flowers, herbs and other greens can elevate your lawn to a 10 out of 10.
4. Clean Out the Gutter
Cleaning your gutters can be a tedious task, but keeping them clear is a plus for your home and curbside appeal. Though all you might need is a garden hose to spray off dirt and debris, you may want to get your hands dirty and remove leaf and twig bulk with a leaf blower, power washer or even by hand (with a trusty gutter scoop and heavy-duty gloves). In the fall, check up on your downspouts more regularly and consider installing a gutter guard (or, if your gutters are saggy and old, replacing them altogether) to help prevent blockages.
5. Add Exterior Lighting
A well-lit exterior can add pizzazz and appeal to any home, and with options like solar-powered LED lights or smart lighting, you can illuminate your porch, walkway and garden without having to sort out electrical details. Try adding a handsome set of low-sitting path lights to accent your cobblestone driveway or well lights to draw attention to plants and decorations. And swap out an ancient, insect-littered porch light for a fresh sconce or chandelier. Lastly, don't be afraid to incorporate a mix of warm and cool lights to create a balanced, eye-catching allure to your front yard.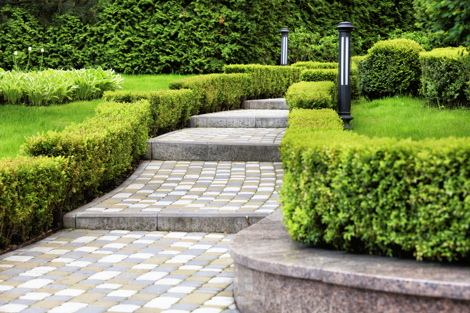 6. Repave the Walkway
If your current walkway is looking a bit ragged and unloved, consider creating a "red carpet" experience for your potential home buyers by touching it up or giving it a total redesign. There are dozens of ways you can upgrade your walkway to be an attractive statement piece of its own, whether it's a basket-weave brick pattern, DIY stepping stone path, low-maintenance pavers or eye-popping tumbled glass mulch. In your planning process, you'll want to evaluate your budget (hiring a professional crew for a fancy installation can get expensive quickly on top of material costs) and ensure that the architectural style of your home matches that of your dream walkway.
7. Give Your House a Fresh Coat of Paint
A fresh coat of paint can give your home an immediate brand-new feel, and it doesn't have to drain your wallet either. Instead of repainting your entire home, add character and contrast by applying a new shade to the trim, or elevating your front door and shutters with bold, complementary hues. If you do go the route of a whole-house repainting, be sure to plan meticulously. Wash your walls, repair any surface damages, remove loose paint, and protect your doors, windows, and lights before you spray on your new color.
8. Pressure Wash Your Driveway
Pressure washers offer a strong blast, use less water than your traditional garden hose and can be a great tool in helping you rid your driveway of unsightly stains. To start, sweep any loose stones and dirt from your driveway with a broom, and lay protective tarp around the perimeter to prevent any delicate gardening or light fixtures from accidentally getting hit. Degrease your driveway with a detergent (be sure to let it sit), then power wash the concrete and apply a coating of sealant to keep your driveway clean.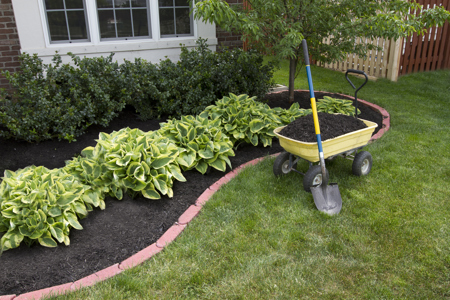 9. Do Some Front Yard Landscaping
Fresh landscaping can do wonders for a plain front lawn, whether it's an array of vibrant flowers along the border of your home, a classy pathway edged by boxwoods or even topiary evergreens that add a sculpted pop to your lawn with practically zero hassle to maintain. Keep in mind that too much going on in your front yard can quickly turn into a cluttered eyesore, so be sure to keep any flourishes minimal or near your house to strike a pleasing balance with the rest of your lawn.