Inspired by a yearning for a simpler, more sustainable lifestyle and powered by social media, cottagecore is one of the hottest decorating trends to emerge from the past two years. Defined by textures and colors taken from historic English cottage gardens, it features natural materials, vintage styles and lovely, homemade touches — think botanical prints, live plants and hand-crocheted doilies on the sideboard. It's a huge step away from the hard lines of recent interior design trends, such as Modern Urban and Industrial, reflecting a desire to return to an idealized, bucolic past, far from the worries and uncertainties of the modern world. You don't have to live in a country cottage to enjoy the cozy vibes of this delightful design trend. These cottagecore decor ideas will help you bring touches of natural simplicity to any space in your home.
1. How to Be Cottagecore: The Basics
According to online fashion magazine The Vou, the word cottagecore comes from "cottage," a stand-in for simple, rustic and rural, and "core," taken from the hardcore punk music scene of the 1980s, used to define a genre or category. 
For many, cottagecore is more than a design aesthetic — it's a step toward living a simpler, more fulfilled life in harmony with nature. It encompasses raising your own food, enjoying natural settings, creating and crafting the things you use, and enjoying a simpler, more sustainable lifestyle. 
Where Did Cottagecore Come From?
While the earliest inklings of the country cottage movement showed up in the early 2010s, the cottagecore design aesthetic has really blossomed into a lifestyle movement over the past couple of years. As the world shrunk to the size of our homes, it became more important than ever to transform those homes into cozy, inviting spaces that provided a respite from the rest of the world. It encouraged many to build out home gyms, create home offices and try out crafts and DIY projects they'd always wanted to try. 
It also left lots of time to browse TikTok, Instagram and Pinterest for design inspiration. There, they found a ready and welcoming community of #cottagecore enthusiasts featuring idyllic photos of women and children in romantic vintage clothing tending gardens, feeding chickens and otherwise living an idealized, romantic lifestyle that harkened back to the French and English countryside. The cottagecore interpretation may gloss over the hardships of rural living, but principles that form the basis of the aesthetic embrace the necessity of living a more sustainable lifestyle in today's interconnected world.
Elements of Cottagecore
That said, you don't have to live a cottagecore lifestyle to embrace and enjoy cottagecore interior design. All it takes to create the homey, cozy style is some attention to the elements of cottagecore decorating.
Rustic or country-inspired vintage furniture.
Vintage fabrics and lace.
Botanical prints or pastoral scenes. 
Fresh fruits and ingredients as decor.
Plants, plants and more plants.
Vintage rugs and floor coverings.
Wicker and wood baskets and accent items.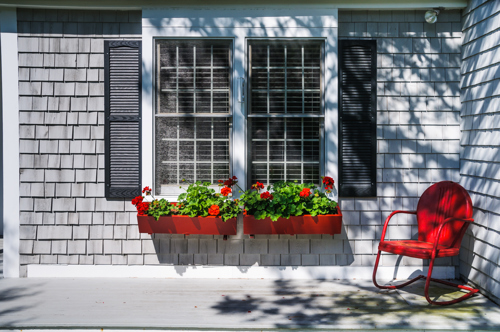 2. Cottagecore Decor Ideas for All Your Rooms
Now that you've got the basics down, let's dive into cottagecore ideas for every room in your home. 
Tip: Whether you choose to adopt just a few or transform your entire home into an idyllic countryside escape, the first step is to get organized and declutter your space. A personal storage unit is a smart, affordable option for all those off-season and currently-unused items.
Basic Cottagecore Interior Design
The cottagecore color palette draws from soft, natural neutrals — taupe, vanilla, cream and brown, for example — and uses accent colors found in a country garden — lilac and pink, violet and blue, and of course, lots of rich greens. It also embraces natural materials of all kinds, including wicker and wood — left natural, painted or distressed for that casual, lived-in look. 
Here are some surefire ways to make your home more cottagecore:
Soften hardwood and tile floors with rugs and floorcloths that feature floral or nautical designs. 
Repurpose dressers and cabinets into storage shelves to display art, crafts, books and your favorite collections. 
Hang botanical prints on the wall or feature a painting of a pastoral countryside over the sofa, and decorate liberally with embroidered samplers, cross-stitch, and dried flower arrangements. 
Put your green thumb on display with houseplants and windowsill herb gardens. 
Fill your house with fresh flowers to evoke the summer sunshine even on the dreariest winter day.
3. Cottagecore Living Room Ideas
Inviting, warm, cozy. These are all words that describe a living room in this design style. Start with a palette of warm neutrals — if you can't repaint your walls, you can warm them by hanging sheers in yellow, orange, peach, or rose in the windows, or take advantage of color-changing LEDs to give the walls a soft blush. From there, consider these ideas to add a little more country-chic flavor to your living room.
Give your couch a makeover. You don't have to ditch your leather sofa or minimalist Ikea futon. Just soften its spare lines with a cozy crocheted afghan or a tufted quilt featuring flowers and lace. Add a few throw pillows and cushions — embroidered or lavished with lace, cross-stitched or decorated with crewel tapestry patterns to stay in theme.
Create a collage wall. Use framed prints of your favorite natural — or whimsical — subjects, including frogs, mushrooms, and other fairytale subjects or dragonflies, butterflies, and hummingbirds. Choose frames in different sizes and shapes so you can mix and match, or lay everything out symmetrically. The key is that it should be something that YOU like to look at.
Transform your corners. Position an overstuffed armchair or vintage fainting couch in a cozy corner, flanked by an occasional table piled with books or your favorite crafting equipment. Add a huge wicker basket to collect magazines, balls of yarn, or the toys that never quite make it back to the toybox. Don't forget a vintage-style table lamp, complete with a simple linen lampshade — or give a nod to the dark side with a vintage hand-styled Victorian lamp.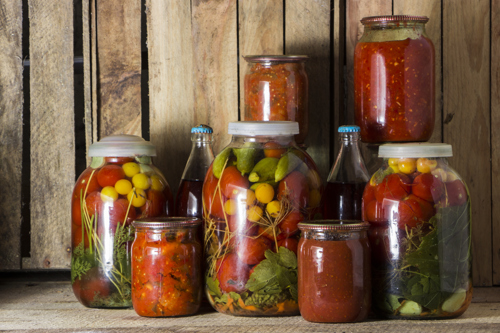 4. The Quintessential Cottagecore Kitchen
A country cottage kitchen is a working kitchen, with all the elements of your kitchen witchery on display. Wood, glass and stone all have their particular place in the cottagecore kitchen (think wooden trays and spoons, glass apothecary and storage jars, and lots of workspace for baking and cooking). 
Whether you have a small galley-style kitchenette or an ample farmhouse cookery, these simple and budget-friendly ideas can help you bring the charm of a country retreat into your kitchen.
Add plants — everywhere. Thriving plants are the very essence of cottagecore. If you're lucky enough to have a sunny windowsill, install an herb garden with the herbs you use most. It can be as simple as a few clay pots on a wood and pebble drainage tray, or as elaborate as tiered shelves loaded with all your favorite greens. If you don't get that lovely natural light, an Aerogarden (or an Aerogarden knockoff) is the way to go. Not only do you get the decorating accent, you also have access to your favorite fresh herbs, greens, and veggies.
Put everything in Mason jars. Display your ingredients on open shelves in airtight glass jars. If you've indulged your DIY decor gene with a Cricut, embellish plain dollar store jars with fanciful labels to help you stay organized with style.
Turn your cooking implements into a style statement. A set of wire coat hooks can cradle a treasured wooden rolling pin on the wall or hold an assortment of wire whisks and wooden spoons. Give your mortar and pestle or crockery jar a dedicated home on your counter or sideboard, and invest in a corner shelf organizer to hold your pots and pans.
Get out the table linens. Homespun cotton tea towels and napkins add a note of charm to your table, while a simple table runner is the perfect backdrop for a bowl of fresh-cut flowers or a basket of fresh fruit.
5. Cottagecore Bathroom Inspiration
Even the tiniest bathroom can shine with the right organization and accessories. Here are some ways to extend the cottagecore vibe to your bath.
Add some green to the bathroom. With a little research, you'll find lots of (inexpensive) plants that love the humidity as much as you love a hot shower. From air plants for tiny spaces to stately palms and bamboo for those spa-size baths, you'll find plants that will thrive in your bathroom and bring in that country garden feel. 
Pick the right accessories. Organize your shelves with wicker baskets and wooden trays, or choose bathroom accessories that feature delicate floral prints on soft, neutral colors. Invest in a couple of small, machine-washable rag rugs to soften the floor in front of your shower or tub.
6. The Cottagecore Bedroom Retreat
The cottagecore bedroom celebrates romance, but not in an ostentatious way. The key to achieving this aesthetic in your bedroom is natural materials, simple designs and lots of lush greenery, though not necessarily in potted plants.
Opt for bedding with botanical patterns (prints with leaves or flowers, for example) and delicate lace or eyelet edging. Keep the window dressing light and airy, especially if your bedroom windows look out on a pretty view. Swap out heavy nightstands for a pair of simple wood shelves to hold a reading lamp, books and other necessities. Once you've got the basics covered, try one of these ideas to add more cottage charm to your decor.
Decorate with fairy lights and ivy leaves. LED fairy curtain lights add a magical, whimsical note to any bedroom. Hang them behind a sheer curtain and twine a garland of ivy leaves — real or artificial — around the curtain rod for an enchanted garden feel.
Create a cozy nook for relaxing. Position a side table beside a comfy chair piled with a snug blanket and fluffy pillows. Add a bamboo or wood tea tray, complete with a vintage tea set — scored from a thrift shop, of course — and a small vase to hold a nosegay of flowers fresh from the garden. 
Now more than ever, your home should be a refuge where you can rest, recharge, and refresh yourself. We hope these ideas inspire you to create your own sanctuary that soothes your spirit and adds beauty to your life.