Elevating your living room doesn't have to break the bank. If you're tired of staring at the same four blank walls and searching for some design inspiration, there are many affordable options that can transform your home in just a few easy steps.
In this article, we'll walk you through a few key things to consider to help you choose the living room accent wall ideas that best match your home, then share our nine favorite ways to spruce up your space.
1. Getting Started With Your DIY Accent Wall Ideas
Before embarking on your design journey, it's important to ensure that your accent wall ideas complement your overall aesthetic or design theme.
If you've implemented a more neutral, classic look throughout your home, you may want to go for the same aesthetic when choosing accents so it doesn't feel like your choices clash. 
On the flip side, if you're looking to spice up your style, a living room accent wall can be the perfect opportunity to add some pizzazz without going overboard.
Be sure to take the size of your room into account when imagining design plans, and don't forget to keep feng shui in mind so that the flow of the space feels right.
Lastly, if you're planning to hang some seasonal items on your walls, it's important to make sure you have enough space to stow them when they're out of season. If you're short on space in your living room, consider keeping them in a self-storage unit so you can easily access them once you're ready to switch up your space. 
Once you've checked those basic to-do's off your list, it's time to start on the fun part — deciding which DIY accent wall idea you want to implement.
2. Painted Accent Wall or Stenciled Wall
Giving one of your walls a fresh coat of paint is a simple, inexpensive way to give the space a new lease on life (and an entirely different look). Because the accent wall will be balanced out by three neutral walls, it's also fun to experiment with a bolder or entirely different shade of paint such as a maroon red or forest green. If you prefer, you can stencil a drawing on the wall to add some originality to the space.
3. Wallpaper
Wallpaper isn't just for your grandparents' house. In recent years, wallpaper has made a resurgence thanks to the seemingly endlessly supply of choices — from floral looks to jungle motifs to animal prints. Playing around with wallpaper is a fun way to showcase your personality without undergoing a huge renovation. 
If you rent, consider springing for removable wallpaper instead of traditional wallpaper so it's easy to remove once you're ready to move on to the next place. Removable wallpaper is also a great choice if you want to play around with fun new looks on a semi-regular basis or swap out styles with the changing seasons.
4. Fabric or a Tapestry
If you like the idea of wallpaper but prefer a different texture, hanging fabric or a tapestry over one wall is a great way to achieve this signature style. (And it's also easy to replace should you want to switch things up at a later date.) You can find some affordable and stylish tapestry options online, or browse your local thrift stores for unique vintage pieces. Depending on the weight of the tapestry or piece of fabric, you can use nails and pushpins or opt for a sturdier mounting solution like a curtain road.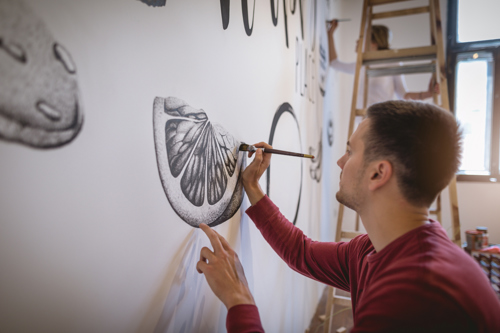 5. Mural
While murals might traditionally be thought of as an outdoor attraction, they're a great way to transform your interiors as well. From landscapes to cityscapes, painting a mural can recreate one of your favorite memories or spots. In addition to evoking fond memories whenever you see it, it's sure to be a great conversation starter when you have guests over. You can even make it a collaborative project and involve your artistic friends to help you bring it to life. And you can easily paint over the mural when you move, which means you don't have to worry about a time-consuming removal process.
6. Gallery Wall
If you're an art connoisseur or want to display more photos of your loved ones, a gallery wall is the perfect solution. From large gold frames to chrome, chic black, and even wood, you can easily find some that match your aesthetic and artwork. Mixing tones and colors is also a great way to add a subtle nuance and complexity to your living room accent wall.
Tip:
Frames can be expensive. Finding already-framed art at Goodwill or a thrift store — or browsing your local Freecycle or
buy nothing group
for people donating frames — can be a great way to cut back on costs.
7. Reclaimed Wood or Wood-Like Paneling
If you love rustic-themed decor, why not use reclaimed wood or wood-like paneling to create a rustic, textured accent wall? While it may seem cost-prohibitive at first glance, this can be a budget-friendly option if you source materials from construction site leftovers, pallets, or repurposed furniture. You can also sand the wood and paint it a different color to change the look and feel.
8. Open Shelving Display
Bookshelves have long been a classic way to store books, plants, and other decorative items, but if you're looking for a more modern alternative, consider open shelves. Available in a range of linear or geometric shapes (as well as several different lengths and colors), open shelves are a fun way to showcase some of your favorite belongings. You can also purchase cute boxes to put on the shelf for closed storage options if you want to hide TV remotes, computer cables, and other less-than-picture-perfect items.
9. Mirrors and Reflective Surfaces
For a living room accent wall idea that's both functional and aesthetically pleasing, look to mirrors. From sunburst-shaped styles to metal-framed accent mirrors, you can switch up the size, style, and color of the shapes to add visual interest to your walls and make your space seem bigger.
10. Lighting
Lighting is one of the most simple yet effective ways to switch up the look and feel of your place. Dimmable wall sconces are a great choice if you want to be able to easily set some mood lighting, but minimalist LED wall lamps are a great alternative if you prefer something a bit more understated. Regardless of which lighting solution you choose, it's sure to add a soft, gentle glow to the space, which will make it even more inviting for your guests.