SmartStop customers count on us for their RV storage because we provide a secure space with the right size for storing their recreation vehicle. If you have a full-size Class A motorhome, Class C motorhome, smaller Class B camper van, or even a toy hauler/fifth wheel camper, our customer service team can help you select the correct type and size storage unit to fit your needs.
Whether it's outdoor parking, covered parking or an enclosed storage unit, SmartStop's RV self-storage solutions provide you with peace of mind knowing your vehicle is protected with our 24-hour video surveillance, electronic keypad gate access and on-site property management.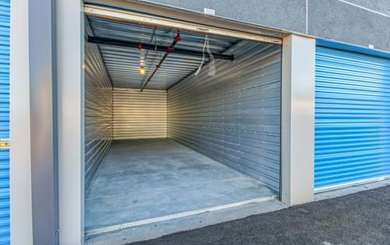 Indoor RV Storage
Class B and Class C RVs range in length from about 22 to 32 feet making some 10x25 or 10x30 drive-up storage units an option. However, it is important to check with the SmartStop facility near you to ensure the storage unit ceiling height is tall enough to accommodate your RV. Finding indoor storage for a Class A size motorhome will be more difficult due to their height of 12 feet or taller.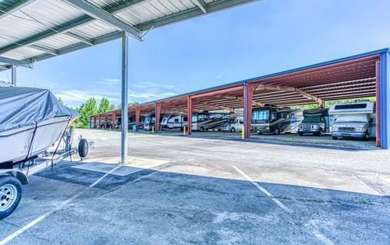 Covered RV Parking
Covered parking storage spaces will likely accommodate the size of a Class A, B or C RV, motorhome or toy hauler. These spaces typically offer lengths of at least 40 feet and they provide more protection from the elements than outdoor parking, while offering an affordable storage solution for most RVs.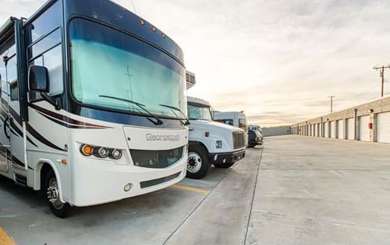 Uncovered RV Parking
Outdoor self-storage parking spaces are popular options for all sizes and types of RVs, trailers,

cars

and boats. Outdoor storage is more cost-effective than covered or indoor storage without having to worry about the height of your RV. Parking space options can be as large as from 10x30 up to 12x50 feet in size, giving you plenty of space to securely store your RV.
RV Storage Considerations
Security
The security of your recreational vehicle is as important to us as it is to you. We offer state-of-the-art video surveillance, electronic gate access and on-site property managers at many locations to ensure your RV, motorhome or camper trailer is stored both safe and secure.
Access Hours
Having access to your RV when you need it should be a strong consideration when selecting where to store your recreation vehicle. SmartStop Self Storage locations offer extended access hours as a standard feature for most of our properties, so you can retrieve your RV at your convenience.
Location
Finding a convenient location for your RV storage is an important consideration. Do you want your RV storage location to be close to home, close to the highway leading out of town or in a location close to your favorite vacation destination? Make sure you select the location that best fits how you will use and access your RV, motorhome or camper trailer.
Weather Conditions
Local weather conditions should help guide your RV self-storage choices. Outdoor storage may be perfect you if your local weather is mild year-round. If the weather conditions vary widely throughout the year, you may want to consider covered or indoor self-storage options for your RV, camper or travel trailer.
Preparing Your RV for Storage
Thoroughly Clean Your RV
Deep cleaning your RV inside and out will help protect your investment. Be sure to fully clean the refrigerator and remove any perishables to avoid having anything spoil while your RV in storage.
Remove the Battery
Be sure to remove the battery from your RV and keep it in a safe place at home while your recreational vehicle is in storage. Keeping the battery on a slow charger will help to ensure it will be ready to perform once you place it back into the RV when taking it out of storage.
Top Off All Your fluids
Changing your oil before placing your RV into storage will help protect your vehicle's engine. Then, be sure to top off all your key fluids. If you live in a colder climate, add anti-freeze to your coolant system during the winter months. Lastly, fill up your RV with fuel before putting into storage.
Disconnect Propane and Empty Tanks
Disconnecting your propane tank is an important step to complete before dropping off your RV storage. Also, visit your local RV dumping station to drain your waste tanks and clear out the pipes. This is very important if storing over the cold winter months to avoid any surprises that may be caused from freezing temperatures.
Close up Entrances
Block your exhaust and any other entrances to the RV to protect against rodents and other pests trying to get in. I will be important to have a vent that you can leave open to allow some fresh air into the RV during its stay in storage.
Cover Your RV
Protect your RV vehicle with a high-quality RV cover to protect it from the elements, especially if you are storing your RV outside with no covered parking.