Between your towels, skincare products, makeup and cleaning supplies, there's a lot to make room for in a tiny bathroom — and rarely enough space. While decluttering is the first step to any home organization project, you'll need to get creative to hack your way to more storage around your shower and sink. If you've ever wondered how to organize a small bathroom, check out our favorite storage hacks for every home
1. Use a Spinning Turntable in Your Cabinet
It's easy for small creams and accessories to get buried in the back of your standing cabinet or linen closet. Instead of knocking everything over trying to reach for what you need, invest in a spinning turntable, or lazy susan, to effortlessly bring your items to the front. Opt for two-tiered turntables for tiny items like skin serums, nail polish and cotton swabs to make efficient use of vertical shelving space. If possible, get a table with a "lip" to prevent items from falling off.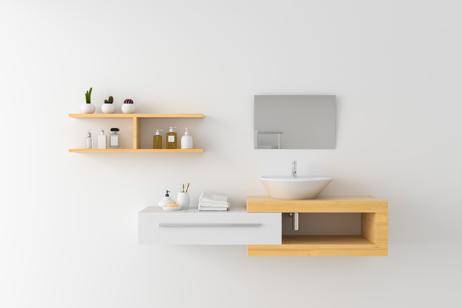 2. Hang Basket Caddies or Shelves on Your Walls
For an affordable storage solution that adds a pop of wicker to your walls, grab a few small storage baskets to hang alongside your mirror. They're perfect for items like creams, oils, toners, cotton balls and wipes, and a convenient way to store your rolled-up washcloths. Since the weave of the wicker has natural gaps, you can simply hammer nails straight through the corners of the basket into your wall. If you're not about the rattan aesthetic, install minimalist wood floating shelves — and corner shelves, if they work with your floorplan — for chic storage. (Some shelves even come with a towel bar.)
3. Mount Storage to the Inside of Cabinet Doors
The inside panels of your cabinet doors are an underrated vertical storage canvas. For under-the-sink cabinets, install magnetic strips (the same kind for your kitchen knives) to keep oft-lost tiny metal items like hair pins, scissors and nail clippers in place. You can also make use of under-the-sink caddies with deeper baskets for brushes, hairspray and other bottles, or even a sleek suction sponge holder for miscellaneous accessories.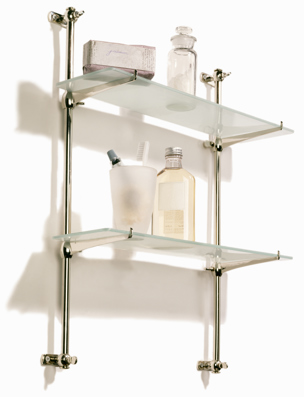 4. Use Over-the-Toilet Storage
Many people overlook the toilet area when it comes to storage, but there's plenty of vertical wall space that can make any bathroom more space-efficient (and still look pretty). Over-the-toilet storage can come in a variety of designs to complement your bathroom color scheme and presentation, including floating farmhouse shelves made of reclaimed wood for toilet paper, towels and decor. Open shelves aren't the only way to go — some options feature a screened cabinet door so you can keep visible clutter to a minimum.
5. Try Different Space-Saving Shower Storage Ideas
Stop lining the rim of your bathtub with your shampoo, conditioner and body wash. There are plenty of easy in-shower storage solutions, most of which don't require any fancy installation, that you can use to keep everything within reach. While the trusty hanging shower rack that drapes over the shower head is a great all-purpose solution, floating shower shelves in brushed nickel are easy to clean and a great alternative for smaller, lighter items. You can also opt for a low-profile, attractive soap dispenser holder, tiered wire-rack caddies or corner shelves with guardrails to keep your items from slipping.
6. Buy a Compact Rolling Utility Cart
A compact rolling utility cart can be the perfect portable storage solution to roll in and out of your bathroom. With sturdy multiple tiers that can hold up to 20 pounds of weight and lipped edges to keep your items from falling out, it's the perfect way to transform a small corner of your bathroom into an innovative storage space. Consider using it for cleaning supplies, toilet paper, air freshener and other needs. You can keep it in the hallway closet and pull it into your bathroom on a need basis, or easily roll it out of the way when you need to clean.
7. Add a Tension Rod to Your Shower
Add a tension rod alongside your shower curtain rod to open up worlds of storage possibilities. With a few removable hanging hooks, you'll have a place to hang any delicate garments you need to air dry as well as quick-reach shower necessities like loofahs, body brushes, washcloths and more. Since the tension rod will be on the "dry" side of the shower curtain, you won't have to worry about your items getting wet. 
Pro Tip: You can even add tension rods to cabinets and drape squeeze bottles by their triggers, towels or hanging organizers.
8. Make Use of an Over-the-Door Organizer
Your bathroom door is a fantastic space for attachable hooks and over-the-door organizers to store towels, bathrobes and even hampers. While a simple towel rack with hooks can give you extra room for all your towels, a bathrobe and even hanging clean clothes, an over-the-door organizer with built-in basket trays is the perfect solution for stray shampoo bottles, TP rolls and other accessories that don't have a home.
4 Other Small Bathroom Storage Ideas
There's an endless number of DIY tricks or budget-friendly products you can use to hack more storage into your bathroom. Here are some of our other favorites:
Lay an attractive brass tray over the tank lid of your toilet to store TP, air freshener, baby wipes and other items.
Use transparent organizers, caddies and spacers to separate knick-knacks and small items in your cupboards and drawers.
Stack shallow and stackable modular storage units like the timeless Kartell Componibili to keep small items out of sight.
If your bathroom mirror doesn't already have a medicine cabinet, consider replacing it with a dual-purpose mirror that can house your toothbrush, face wash and anything else you'd need at the bathroom sink.
Want more home organization tips and small space hacks? Check out our following guides:
Looking for local self-storage? SmartStop can make your life simpler — and clear space in your bathroom. Find a unit near you today.