If you live in an apartment or tiny house, finding storage can be an ongoing challenge. With the average size of a U.S. studio now 10 percent smaller than it was in 2008, space has never been more limited. The good news is that you only need a few long-lasting purchases and a bit of creativity and imagination to find smarter storage solutions that will keep your floors and closets free of clutter. In this article, we'll teach you how to organize a small bedroom with our 10 favorite budget-friendly storage hacks that go a long way to making your space feel organized, cozy and open.
1. Install Floating Shelves and Nightstands
Whether you're struggling to find a home for your books, office supplies or nightstand essentials, make the most of your walls by installing floating shelves and nightstands. Not only will they clear up valuable floor space, but they can also function as a form of decor and add a charming, striking accent to your room. Since floating shelves and nightstands come in a variety of sizes, colors and materials (including ones that fit perfectly into corners), you can personalize your space by combining an eclectic mix of shelving styles and exploring endless arrangements on your walls.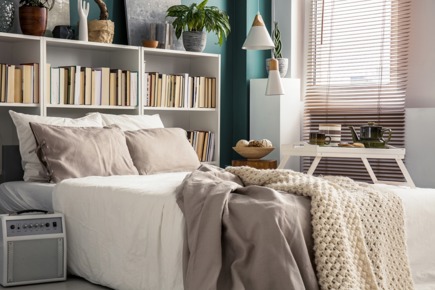 2. Find a Headboard With Storage Options
Most headboards are purely aesthetic and don't offer any benefits apart from creating a traditional visual structure to your bed frame. Headboards with storage options, on the other hand, can be a chic and functional alternative to nightstands — a tucked-away place where you can keep bedside items close at hand. The BRIMNES from IKEA offers discreet side shelves that are perfect for books, chargers, gadgets and decorative flourishes, while this freestanding bookcase headboard from Bed Bath & Beyond offers front-facing compartments in several sizes for an attractive focal point to any room. If you have extra space at the foot of your bed, consider adding additional storage with a bench or ottoman to contain your extra throw pillows, blankets, linens, and more.
3. Buy Bins to Stash Under Your Bed
A bed frame with built-in drawers is the ultimate way to maximize under-bed storage, but you can easily stash stackable bins as long as there's enough space between the floor and the bottom of your frame. With their extended length and short height, these clear 41-quart Sterilite bins have the perfect dimensions to discreetly store seasonal clothes or shoes, miscellaneous files, blankets, books and pretty much anything that you don't need to access on a daily basis. Be sure to add a label to each bin so you know exactly what's in it.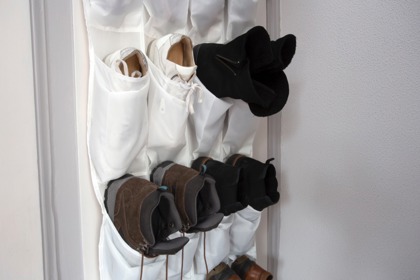 4. Add Vertical Storage to Your Doors
Your bedroom and closet doors have plenty of untapped storage potential. Rather than clutter up the floor, drape an over-the-door shoe organizer to keep all your footwear and other items (such as gloves, socks, gift wrap tubes, makeup and more) in their own individual caddies. With flexible mesh and sturdy rack options alike, over-the-door storage solutions allow you to keep pretty much any small item in an easily visible and accessible place. Want to avoid buying a dresser? Add a hanging organizer to your closet instead or purchase cascading hangers that allow you to store more clothes in the same amount of space.
5. Make Your Office Movable
Designing a "cloffice," or closet office, is one of the best ways to take advantage of an underutilized closet or small bedroom reach-in, but if you don't work much at home — or if you need minimal deskspace — consider ditching the desk altogether and investing in an affordable laptop stand or Murphy wall desk that you can fold and tuck out of sight after a workday. If you need to give your legs a rest and sit down, try moving to the living room or kitchen to fire off your emails instead.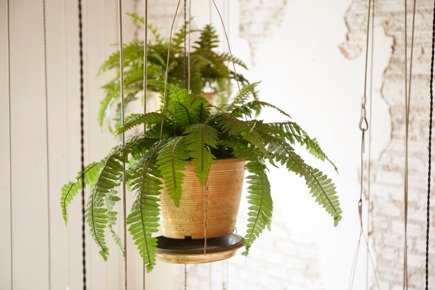 6. Hang Plants From the Ceiling
Adding plants to your room has plenty of benefits, including fresher air and even boosted productivity, but resting them on a desk or in a corner isn't always the best use of space. Instead, try hanging anything from a jade pothos to a string of hearts from the ceiling in a cute macrame planter to add dimension and green to your space, without the footprint.
7. Move Your Hamper to Your Bathroom
While this one isn't technically a bedroom hack, storing your bulky laundry hamper in your bathroom can clear up space in your actual bedroom for other storage needs. Rather than take up square footage on the floor, choose a hangable laundry bag like this one from Amazon. Made of a washable Oxford fabric for easy cleaning, this sleek container is extra large and comes with a few different stainless steel utility hook options so you can find the right one for your bathroom door. Its durable construction means you can lug it to your local laundromat without worrying about the bag coming apart on your way there.
8. Opt for a Chic Loft Bed
Loft beds might conjure up your college dorm room, but they're a surprisingly economical and space-efficient setup that can immediately open up your small bedroom. Look for an option such as the SMÅSTAD from IKEA, which comes with a desk and plenty of built-in storage options for books, shoes, clothes and more. You'll have to climb up and down a ladder to get to your bed, but it's a small price to pay for the extra space. Invest in storage cubes to keep your loft shelves from appearing cluttered and hang some small plants, lights or other decorations to add personality to the frame.
9. Use Suitcases as Storage
Not everyone is lucky enough to have hallway closets to store their luggage. Between travel plans, put your suitcases to good use by using them as storage containers for off-season clothes or items you don't need on a day-to-day basis. You can easily tuck them into a corner of your closet, slide them under your bed or even use them as a makeshift nightstand and decor if you like the way they look (vintage or leather suitcases work best for this).
10. Use a Pegboard to Organize Small Items
Small items like jewelry, keys, hats, watches, hair ties, scarves and handbags can all take up space on the tops of dressers or nightstands. Adding them to a vertical organization system such as a pegboard can free up surfaces while adding a unique and attractive visual element to your room. Best of all, pegboards are cheap and versatile enough for the entire house — you can buy a number of panels and install them in your garage and kitchen for heavy-duty storage needs.
Want to learn the best storage hacks for small living rooms? Check out our tips here.