A cluttered kitchen can be a major eyesore, especially if the space is tiny to begin with. Whether it's a counter heaped with stand mixers and spices — or a pantry that always seems too crowded — simply tossing items out won't necessarily solve your issues with space. (We get it — you might not be cooking all the time, but takeout cartons still need a place to rest!) 
In fact, all your small kitchen storage issues may boil down to where you're keeping your appliances and ingredients — and the way you're optimizing every surface, cubby and wall to ensure that your surfaces are clear and that your most-used items are easily accessible. Read on for our best small kitchen organization ideas to give you ample room to prep your meals.
1. Keep Your Counters Clear
This may seem like a no-brainer, but avoid using your counters as storage. While it's easy to let mail, fruits, salt shakers, oil bottles and appliances pile up, too many objects will only detract from the primary purpose of a counter: your cooking workspace.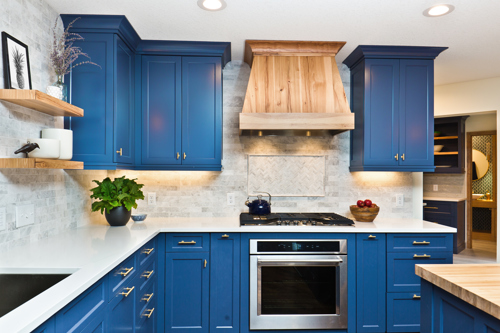 Finding a new home for any stray or lingering items will make surfaces quicker to clean and give your kitchen a more open, spacious appearance.