Dogs aren't just a person's best friend; they're an indisputable part of the family too. But if you want to treat your pooch to the finest things in life (i.e., toys, a dog bed and fancy treats), it can be difficult to know where to store everything. To mitigate this issue, why not create a custom dog room with dedicated space for all Fido's belongings? Whether you're getting ready to move into a new home or simply looking for a way to upgrade your current one, here are 10 dog room ideas that will turn a nondescript space into a canine sanctuary.
1. Plan Your Dog Room
To start, decide what you want the exact purpose of the room to be. Do you want a place to keep food and water bowls so you don't accidentally knock them over on your way out the door in the morning? Are you envisioning an all-in-one grooming station so you don't have to take your pet to the groomer anymore? Do you just want a secluded spot for your older dog to rest peacefully away from your rambunctious kids? 
Once you have a good idea of why you want to create a room, you can take the necessary steps to design one from the ground up.
2. Dog Nook
If you live in an apartment or small house, it can be hard to know how to properly accommodate your dog. The good news is that you can still design a special puppy palace even if you don't have an extra room that can be solely devoted to your canine. If you're low on space, consider designating one part of your laundry room or entryway as your dog room and putting all of their belongings there. Personalize the area by adding a cute bone-shaped rug, customized food and water bowls, or other items with your dog's name on them. Even if you only have a compact space for your dog, it's still nice to have a dedicated place where they can eat, rest and play during the day.
3. Dog Wall
Another pro tip for those short on space: if you don't have enough room to store your pup's belongings on the floor, look up. Purchase some wall racks and hooks so you can hang your dog's leash, brushes and other supplies there. It's ideal if you put the dog wall by a door so you can easily access everything each time you're stepping outside to take your dog on a walk.
4. Basement Hideout
On the flip side, if you have extra room to spare, why not create a truly magical dog room? For example, you can transform a basement into a space that mimics your pup's doggy daycare. You can even paint a mural of Fido on the wall to truly designate the space as a puppy paradise. For homeowners with more than one dog, basements are a great place to create customized areas for each dog. (Simply separate the areas with dog fences if you want each animal to have their own space and privacy.)
5. Snuggle Space
If you have a spare closet or some extra room under the staircase, consider turning that blank space into a snuggle space for your favorite pup. Simply add a rug or dog bed (and some pillows if you really want to get fancy) so your pup always has a built-in place to nap. This is a great way to put that bonus square footage to good use and create a place where your dog will truly feel at home.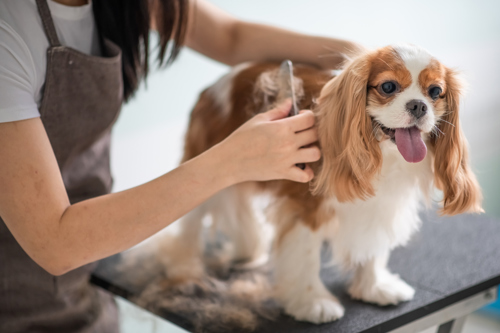 6. Grooming Station
If you own a dog that needs frequent haircuts (like a mini Goldendoodle), you might want to invest in your own at-home grooming station. To start, purchase a dog grooming table and set it up in a spare room or mud room. You can then add a cabinet (filled with all of the essential dog grooming supplies) and hang some photos of your pet on the walls. You can even buy a copy of this cute wall hanging so you always have a lint roller on hand.
7. Bathing Station
Building your own dog bath is another great way to simplify your dog's care. Don't despair if you're not a DIY person…you can also hire someone to complete the task for you. Through investing in your own at-home bathing station, you can save hundreds of dollars and lots of time carting your dog to and from the grooming facility.
8. Indoor/Outdoor Room
If you have a backyard or patio that your dog can access through a doggy door, why not create an indoor/outdoor space so your pup can move in and out easily throughout the course of the day? In the indoor area, set up the dog bed and food and water bowls. Keep items like treats and extra food on top of a counter or cupboard nearby for safekeeping. Outside, you can keep some of their favorite toys so they have plenty of room to run around and have fun on their own. (To make the space more aesthetically pleasing, you can also try your hand at creating one of these DIY pallet projects.)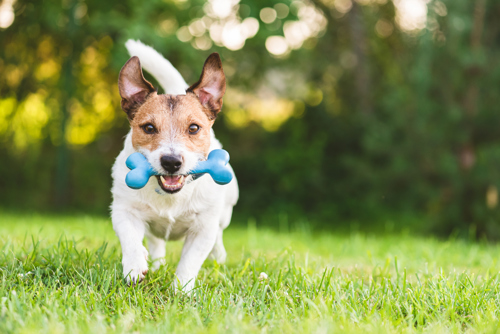 9. Backyard Dog Park
If you have extra space outside, consider putting a wading pool in the backyard and filling it with balls and toys so your pup can play anytime. You can also add some obstacle courses or a sandbox.
10. Puppy Play Area
For homeowners with extra room in the basement or garage, a puppy play area is a great addition. Turn the space into a dedicated play zone with lots of toys and a dog house so they can take a nap when they get worn out. Bonus points: having a play area will not only be the highlight of your dog's day, but you can also invite some of your friends and their dogs over for a built-in puppy play date!
11. Kibble Station
While customized dog bowls will never go out of style, creating a kibble station is a fun way to take your dog's feeding routine to a whole new level. You can purchase a floating shelf and store the food and water bowls there, or opt for a raised feeding station.