Your basement can be more than a laundry room with added storage and a furnace. Depending on the style of your house, you could have an entire extra level of space where you could be living your best life. Whether you dream of high-tech gaming heaven or a sophisticated space to entertain friends and family, these basement game room ideas will inspire you to transform your basic basement into a hangout that will be the envy of all your friends.
1. Getting Started on a Basement Game Room Transformation
Before you start getting into the actual design of your new game (or gaming) room, you'll need to take stock of where you are. If you're starting with an unfinished basement, your prep work may be more complicated, but even a partially finished basement will probably need a little bit of work. Here's a quick and dirty blueprint for tackling basement prep.
Declutter
Chances are that your basement has accumulated a lot of "stuff." Sort and organize your belongings, and then make a plan to reclaim the space it's been taking up. Do your bicycles really have to live in your basement? Is it the best place for your camping equipment in the off-season? Are you ever going to use that bedroom set you inherited when your parents downsized? Consider moving seasonal items to a self-storage unit where you can store them safely in controlled conditions. If there are items that you no longer use, check out our guide to selling on Craigslist or Facebook for tips.
Address Comfort Issues
Even if your game room is going to be the ultimate man cave, you and your guests don't want to feel like they're actually in a cave. If needed, add insulation for climate control and consider a dehumidifier if your basement rooms are damp or clammy. Not only will you feel more comfortable, but your electronics and other equipment will also be much happier, too. While you're at it, think about soundproofing your basement so you and your guests can really cut loose without disturbing — or being disturbed by — anyone else. Finally, consider whether you'll need to add new wiring to handle the demands of any equipment or accessories without overloading your circuits.
Decide How You'll Use the Space
Consider who will be using the space and what they'll be doing when they're there. That will help you visualize how to divide and separate the area. Will it be a single-purpose game room? A gathering place for teens? A home theater and gaming den? A place for active play? All of those things call for different design decisions — and if you plan carefully in advance, you can fit a number of functions into one room. You'll find more ideas for planning entertaining space in our post on reclaiming your garage.
Once you've finished cleaning, organizing and decluttering, your basement will be a blank slate, ready to become the game room of your dreams. Check out some of our favorite basement entertainment room ideas for inspiration.
2. The Ultimate Fantasy Arcade
Why head out to the arcade when you can play to your heart's content without dropping a fortune on tokens? Scour eBay and Craigslist for used or refurbished arcade games, pinball machines and foosball or table hockey tables. If you're working with a concrete floor, paint it in a bright pattern to brighten up the room or use interlocking foam tiles to provide a little cushioning beneath your feet. If you really want to get the flavor of your neighborhood arcade, create a snack nook off to one side, complete with a popcorn machine, a bar with seating and a pizza oven.
3. A Home Bowling Alley
Why yes, you can have your very own bowling alley right in your basement — and you don't have to be Elon Musk to afford it. While installing a custom alley can be pricey if you want all the bells and whistles — pinsetter and automatic ball return, for example — you can build a barebones bowling lane in your home with some lumber and serious DIY skills. Add a pool table, comfortable seating and a snack bar for the full experience.
4. A Sleek Home Theater Game Room
Basements are often the ideal spot for a home theater setup because it's so easy to achieve complete darkness for a better viewing experience. You can improve the acoustics by padding the walls or hanging heavy drapes over them to absorb excess noise, and carpeting the floors. Invest in the best large video screen and sound system you can afford and install a WiFi extender to ensure that you get a good signal for streaming movies, game streams and more. Instead of theater seats, go all out for the best gaming chairs you can find — and don't forget to add a dorm fridge and snack bar to keep everyone hydrated and well-fed.
5. A Family Workout Game Room
Who said working out can't be fun? Combine a home gym and a gaming system — or three — to create the ultimate active family game room. Set the different areas apart with flooring and furniture to create a dedicated area for playing VR games, another for your exercise bike or gym and a third for a ping pong table. Again, don't forget the WiFi extender to ensure a great signal. Add a juice bar with healthy snacks and a lounging area to cool down and relax after your exertion.
6. A Sports Den for Hanging Out
If "game time" means getting together to watch the game, this one's for you. Keep the floor simple — concrete or wood makes for easy cleanup of spilled snacks. Look to your favorite teams for game room wall decor ideas — team pennants and posters provide the perfect vibe. Display sports memorabilia in simple display cases or framed on the walls. Add a high-def big screen TV and comfortable seating with plenty of table space for setting down drinks and snacks.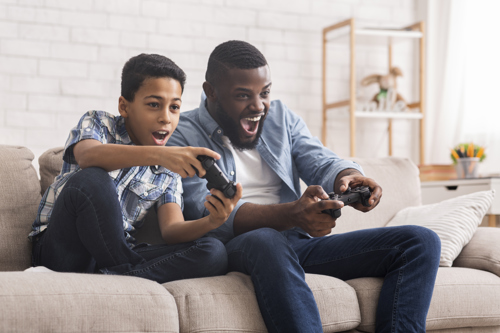 7. High-Tech Gaming Room
If your leisure time is spent adventuring in other worlds, where better to command your party than from your own high-tech gaming headquarters? Whether you adventure on Hyrule, the Starship Enterprise or WoW, you'll want the right atmosphere and all the creature comforts you need to keep you focused on winning. That means a dedicated gaming station — or more than one if you game with friends. Tuck a table and chairs into a corner for planning or tabletop gaming, and add LED strip lighting with color change modes to keep things interesting. Don't forget to plan in floor space for VR gaming so you can really get into the action.
8. An Old-Fashioned Family Game Room
The good old-fashioned family playroom is making a resurgence as families opt to spend more leisure time together. Make the most of available space with smart storage solutions for toys, board games and play equipment. Furnish the room with cozy chairs arranged for easy conversation and a game table that easily converts from table tennis to Trivial Pursuit.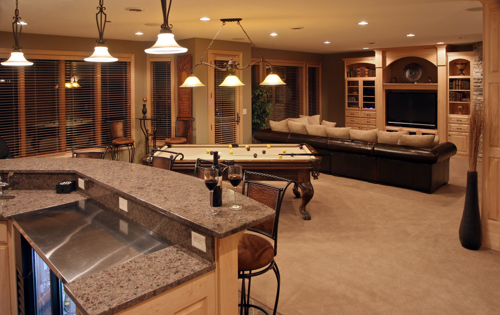 9. Neighborhood Pub Hangout
Evoke the atmosphere of your favorite pub with a few deft touches. Keep the lighting cozy and decorate with kitschy liquor adverts. Install a bar, complete with kegs and taps if that's your vibe, and provide comfortable bar chairs for hanging out. Add a pool table — with the appropriate lamp above it, of course — and tile one wall with thick cork tiles as a backdrop for dartboards.
10. A Basement Skate Park
Who's got the coolest basement hangout in town? It could be you if you build a skatepark in your basement. It's a surprisingly easy project, especially if you (or your kids) have a bunch of skater buds. You need a decent concrete floor as a base to build on. From there, you can find plans for ramps, pipes and grind boxes you can build with plywood and foot lumber. Paint a wall or two with blackboard paint and let the kids go to town decorating with their own graffiti and tags.
Whether you're reclaiming an outdated basement playroom or starting fresh with an unfinished cellar, we hope these ideas help inspire you to build your personal ultimate basement game room. You deserve the space to have your favorite kind of fun.