There are some things in life we all tend to put off as long as possible: going to the DMV, scheduling a dentist appointment and cleaning our bathrooms. Ridding your bathroom of lingering grime and germs probably isn't your go-to weekend activity, but it's an essential task that shouldn't be overlooked. Since your bathroom is where you clean up, it's important to make sure the area is free of bacteria, fungus, odors and other unwanted germs.
If you've been meaning to clean your bathroom but just haven't gotten around to it (or don't quite know where to start), you've come to the right place. Here's everything you need to know about how to deep clean a bathroom from top to bottom. By following this list, you can ensure that cleaning your bathroom is a task you no longer have to dread (although we can't make the same guarantee about the DMV).
1. Getting Prepared to Clean Your Bathroom
Before you kick off the cleaning process, it's important to declutter your bathroom. If you're not sure how to best maximize your limited storage space, consider mounting basket caddies, investing in some over-the-toilet storage shelves or buying a compact rolling utility cart.
If you find that the additional storage options still aren't sufficient, consider storing big, bulky items in a self-storage unit for future use.
Next, take inventory of your cleaning supplies to make sure you have everything you need. Here are some items that should definitely be on the list:
Clean cloth or rags

Small broom

Microfiber mop

Gloves

Toilet brush

Scrub sponge or stiff nylon brush

Pumice stone

Eco-friendly cleaning products (including glass cleaner, disinfecting wipes, tub-and-tile cleaner and all-purpose cleaning spray)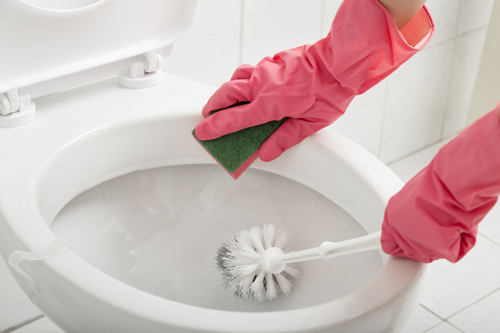 2. How to Deep Clean Your Bathroom
Before you start cleaning your bathroom, make a list of everything you want to accomplish. There's something rewarding about being able to check off each task as you complete it — and it can also make the entire project feel a little more manageable.
Pro Tip: It helps to have a killer playlist (or interesting podcast) to listen to while you work.
3. How to Wipe Down Bathroom Surfaces
Once you've picked out the perfect playlist, start by spraying the ceiling, walls and countertops with an all-purpose cleaner and then wiping down the surfaces with a clean cloth. (You can use the microfiber mop to reach the ceilings and other hard-to-access nooks and crannies.) 
4. How to Clean the Bathroom Floor
After you've wiped down the ceilings and walls, turn your attention to how to clean your bathroom floor. After you've swept the entire floor with a small broom, mix a quarter cup vinegar and one tablespoon of dish soap together, and use it as a cleaning solution. You can use a rag or towel to dry the floor afterward.
5. How to Clean the Toilet
It's now time to turn your attention to the toilet. Start by pouring a cup of baking soda into the bowl and letting it sit for a few minutes. You can then scrub down the toilet bowl with a toilet scrubber and flush the toilet. (Make sure to close the toilet lid before you flush so that bacteria and other germs don't get onto the toilet seat and into your bathroom.) If you're still seeing spots and grime in your toilet bowl, give it a good scrub with a pumice stone. You can then use an all-purpose cleaning spray to clean off the toilet lid, sides and back.
6. How to Clean the Bathroom Sink
Since you touch the bathroom faucet after you go to the bathroom, it's important to make sure the entire faucet/sink area is cleaned thoroughly. You can start by pouring baking soda or white vinegar down the drain (and running hot water over it to flush it down.) You can then spray the entire area down with an all-purpose bathroom cleaner and wipe down the sink and faucet handles with a rag or disposable disinfecting wipes. Adhere to the instructions on the all-purpose cleaning spray bottle to determine how long you need to let the spray set before taking it off to kill the germs.
7. How to Clean a Bathtub
Next, it's time to tackle the tub. First, pour hot water over the entire bathtub. Next, sprinkle baking soda (or spray tub-and-tile cleaner) over all of the surfaces. Then you can scrub the tub with a stiff nylon brush or scrub sponge. If you have a tub with lots of stains or grime, sprinkle the baking soda directly onto the sponge or brush and scrub until the stains come out. If you have a porcelain bathtub that has lots of stains in it, you can scrub them out with a pumice stone.
Tip: Don't use a pumice stone on a bathtub that isn't porcelain, as that will scratch it. Instead, you can fill a bucket with hot water and two tablespoons of dish soap, and then use a scrub sponge or stiff brush to scrub the surfaces of the bathtub.
Once the bathtub looks brand new, finish the cleaning process by spraying the tub faucet, drain, and handles with tub-and-tile cleaner and scrubbing them until they shine.
8. How to Clean a Shower
If you're wondering how to clean a shower, it really depends on what type of shower you have. If you have a fiberglass or acyclic shower, spray it with the tub-and-tile cleaner (or a mixture made of equal parts vinegar and dish soap). Remember to spray down the faucet, drain and handles as well so that everything will truly sparkle! Let it set for a few minutes, and then use a soft-bristled brush to clean around the faucets and in the corners of the tub. Clear out grime from the shower floor by sprinkling a wet shower floor with the vinegar/dish soap concoction. After letting it set for about 10 minutes, you can scrub it with a brush and then run water over the shower to rinse the gunk away.
If you have a tile shower, the best way to clean a shower is to follow the same process — but you'll also need to address any potential grout issues. To do this, you can apply a mixture of two parts baking soda/one part vinegar and use a grout brush (or a toothbrush that's seen better days) to get rid of the grout.
9. How Often You Should Clean Your Bathroom
Not sure how often you should clean your bathroom? To prevent mildew, mold and germs from building up, most cleaning experts recommend cleaning your bathroom every week or two. The good news is that once you've given it a thorough cleaning, it'll be much less time-intensive to clean it the next time. Certain tasks — like wiping down your shower, sweeping the floor, and disinfecting the countertops — should be done each time you clean the bathroom.
Make sure that the room is always completely dry after you finish cleaning it, since this prevents mold and mildew from developing. By giving your bathroom a simple cleaning every week or two, you will prevent excess grime and buildup and ensure that the cleaning process is as streamlined and simple as possible.