It's no surprise that the latest interior design trends lean into our continued craving for happiness, contentment and self-sufficiency. If you're feeling ready to make a change in your living space, no matter how big or small, dive into the top 10 interior design and home decor trends below to get inspiration for your next home makeover.
1. Barkitecture: Designing With Pets in Mind
Whether they bark or pur, our pets deserve special attention, and this year, more pet parents are dedicating interior space to their wet-nosed babies. 
With the trending ''barkitecture" movement, pet owners are less concerned about hiding their pets' toys and dishes — instead, they're finding new ways to celebrate their presence in the home. Here are some ways you can integrate your pet's life with your own existing decor and aesthetic values:
Find stylish ways to store your pet's belongings, such as stashing their toys in an attractive wicker basket on the floor of a small living room.
Put your pet's treats in chalk-labeled glass Mason jars on the counter.
Dedicate entryway wall space or a hall tree to hanging your pet's jackets, collars and leashes. 
Create an indoor dog room or play niche with a dog house and speaker (out of reach of teeth) for playing your pup's favorite tunes.
Install climbing shelves along the walls, hang toys from the mantel or build a nesting tree from sturdy driftwood and wicker "nests" for the family feline.
Invest in a pet monitor for checking in on the action, while you're gone for the day.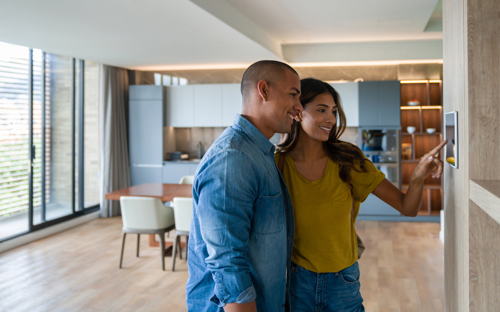 2. High-Tech Smart Gadgets for a Connected Home
Smart gadgets and appliances aren't just conveniences — the right technology can even become an integral part of the design and function of your space. Beyond robot vacuums and app-controlled lightbulbs, you have plenty of options for creating everything from tech-enabled garden systems for homegrown herbs and leafy greens to indoor drone cameras that can alert you of any suspicious activity while you're out and about. Some companies are even finding ways to make multipurpose smart home devices, such as the Amazon Astro, that can notify you of "porch pirates" as well as deliver snacks to your room, relay messages between you and anyone else at home, and even play a game of toss with your pet.
3. A Year of Biophilic Interior Design 
Biophilic design is all the rage as more homeowners yearn for ways to bring the outdoors in. Whether you live in a small apartment or a multistory home, getting started doesn't have to involve expensive skylight installations or swapping out your furniture with handmade wood and stone alternatives. 
If you live in a house with a yard, the best way to start your biophilic interior design journey is to stand at each window in your house and take note of the following: 
overgrown parts of your yard that need attention;
areas to fill with plants for all seasons, such as spring bulbs and winter kale; and
ways to create great outdoor niches that are lovely to look at and relax in. 
As sunlight direction changes with the seasons, plan to switch up your outdoor furniture's placement accordingly — even swapping out and storing pieces away, as needed. 
If you live in an apartment without a private yard, try:
extending a curtain rod wide enough to push the curtains fully open, exposing every inch of glass; 
replacing harsh, unnatural light sources with full-spectrum bulbs that mimic sunlight;
creating an indoor water garden; or even
adding a water fountain and lush tropical plants to your balcony.
4. Cottagecore Interior Design
Some of us hunger for an earlier time when life was simple, goods were handmade instead of mass-produced by machines, and individuals did most of their own baking, sewing, knitting, building, and repairing. Since 2017, when the term "cottagecore" was first coined on Tumblr, this nostalgia for a romanticized rustic, rural lifestyle has grown into a full-blown design movement, replete with vintage floral wallpaper in muted hues, lace curtains, wood walls, wool rugs, antiques and period or era-inspired artwork.
5. Interior Decor Color Trends
Your home's color scheme will always be a personal choice, but looking to the science that goes into color pairings can help you make smart, stylish choices you won't regret. Both paint manufacturers and designers work hand in hand to come up with each year's palette or color of the year, largely based on what they notice in global fashion, cosmetics and pop culture trends. Many even reflect on how major world events affect us and our need to connect and express ourselves accordingly.
For 2022, Pantone named it's blueish 17-3938 Very Peri paint as the color of the year. Laurie Pressman, Vice President of the Pantone Color Institute, describes their choice as "...a way to express and affect ideas and emotions [as well as] engage and connect…the complexity of this new red violet infused blue hue highlights the expansive possibilities that lay before us." Benjamin Moore's color of the year, on the other hand, is October Mist CC-550, "a gently shaded sage that quietly anchors a space, while encouraging individual expression through color." This year, they named 14 paint tones — luminous pales, botanical hues and refreshed primaries (including October Mist) — that blend well together to kickoff a variety of designs. If you're feeling unsinpired by the colors in your home, get a few swatches of the pairings that resonate with you most.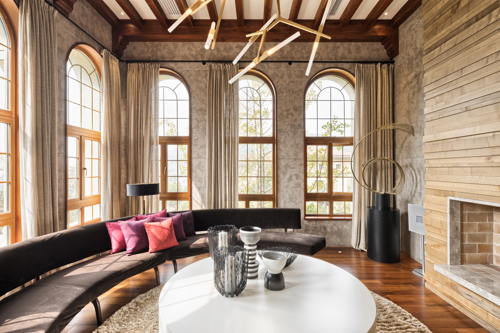 6. Curvy Design Details
Clean, straight lines have been the epitome of contemporary interior design for more than a decade, but savvy designers remain tuned to the general population's need for calming and joyful styles from the past. Cue curves, which are back on the home decor menu. Whether it's circular, swirly, curly statement pieces — including furniture, rugs, prints and built-ins — or accessories such as mirrors and mugs, curvy design has hints of vintage appeal and just enough whimsy for this year.
7. The Home Office
For many people, shopping, socializing and WFH are still mostly online, so the big 2020 "home office" trend hasn't blown over yet. This year, the goal is to create an inspiring, organized and multifunctional office. The obvious must-haves?
A large desk with plenty of storage, preferably one that lifts and lower to let you stand or sit, as desired.
An ergonomic office chair.
Good lighting.
As far as trendier office items go, you might want to invest in:
Cushy seating like a loveseat for sinking back and unwinding when you need a few moments of downtime.
Exercise equipment — which can be as simple as a set of hand weights or a yoga mat — as reminders to get up and workout.
Plants. They clean the air, boost the mood, increase productivity and much more. (This can be part of your biophilic design project, too!)
Tall shelving for tight spaces. If you think your office or closet-turned-workspace is too cramped, look up. Tall bookcases or wall shelving can save your sanity.
8. Eco Home Design
Given our climate crisis, eco-conscious living — whether it's living a more minimalistic life, DIY-ing your own cleaning sprays or shopping for long-lasting alternatives to disposable goods — is here to stay. With an increased responsibility to use sustainable, locally sourced materials, many individuals are incorporating more cork boards, flea-market finds, reclaimed wood furniture and upcycled accessories into their apartment or house.
9. In With Maximalism
While minimalism isn't going anywhere, but maximalism is making a comeback on the decor runway, with a growing number of home owners reclaiming an excessive and charismatic aesthetic that's full rich, bombastic colors, meaningful art and strategically-placed clutter (the way an old hippie musician's home porbably looked back in the day). The point? To create a kind of happiness that comes from flooding one's space with one's favorite treasures, in a way that could only be called "well-planned visual chaos." It's not for everyone, but if it sounds like your jam, go for it — minimalism isn't the only way.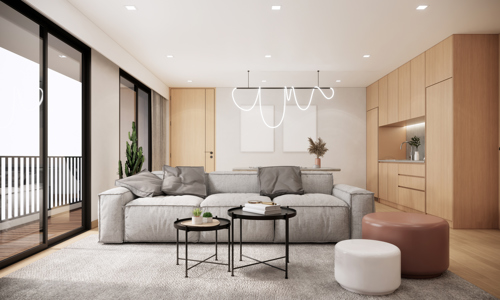 10. Japandi Design: Soft, Neutral, Lovely
J​apandi is what do you get when you pair cool Scandinavian design with warm Japanese decor. If you're having trouble grasping what this emerging hybrid interior design style looks like, imagine the Scandi concept of "hygge" — which emphasizes coziness in design — blended with Japanese "wabi-sabi," the idea that there is beauty in imperfection. Though the approaches have major differences, their fusion results in a serene, sophisticated palette for the home that balances warmth and simplicity. It's well worth considering if you enjoy the serenity of airy neutral tones and welcoming soft textures throughout your space.