There's no better way to take advantage of the summer sun than by spending it in your own backyard. With the right design, furniture and flourishes, a backyard can double as a private sanctuary and hangout spot for family and friends. And while furniture costs, new hardscape, LEDs and other upgrades can certainly make your backyard makeover expensive, there are plenty of ways to DIY your way out of unnecessary costs. Here, we'll share our favorite tips on how to turn your backyard into an oasis — with a few dream backyard ideas to share. 
1. Add Easy-to-Maintain Furniture
No patio or deck would be complete without a few stylish, low-maintenance furnishings. In addition to providing you and your guests with a space to gather comfortably, furniture can be a powerful visual anchor in your backyard. Sticking with aluminum pieces is a foolproof plan — it's lightweight, weather-resistant and requires minimal upkeep. Look for wrought and cast aluminum pieces that feature finer design details and workmanship, and buy extra pillows for maximum comfort. If you're in the mood for a DIY alternative (to save money or add a crafted charm to your deck), you can build your own eco-friendly pallet furniture pieces like a farmhouse table and Adirondacks to match.
2. Create Privacy With Plants or Screens
Live in tight quarters or want to keep your backyard out of view? Setting up a privacy screen can be equal parts functional and fashionable. Planting tall ornamental grasses can offer some waist-high shielding from prying eyes; alternatively, building your own vertical screen with hanging ivy or bamboo can add a bit of idyll to your space. For a more patterned look, try a lattice screen or rustic slat wall that you can hang small planters from or turn into lush living flower panels. For a low-maintenance option that doesn't require watering or trimming (and blocks out visibility almost entirely), grab a set of artificial wall hedges that you can attach to your fence or set up around a seating area for the ultimate privacy.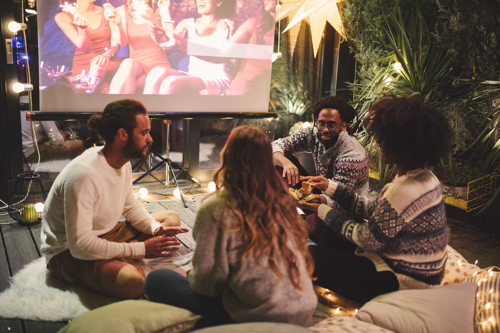 3. Set Up an Outdoor Movie Theater
You can experience the ultimate summer entertainment from your own backyard with a simple DIY movie theater. Though the expenses upfront will be far more than the cost of a few tickets, the equipment will pay for itself in no time as you enjoy access to unlimited movie nights from the comfort of your own home. To set up a movie theater, you'll need a projector, projector screen, media player (such as the Roku or Amazon Fire) and a good portable speaker, in addition to basic accessories like a power strip and extension cords. Other nice-to-haves include comfortable bean bags or outdoor loungers; a cooler for drinks, ice cream bars and other cold snacks; and trays for popcorn and snacks galore. Keeping a rolling cart nearby can help ferry food items and dinnerware to and from the kitchen.
4. Install Lights (and More Lights)
The right outdoor lights can add a cozy ambiance to any backyard. Draping string lights over your outdoor dining and seating area — and displaying sleek lanterns on your table — is a great way to gussy up your summer dinner parties. Consider brightening your space with other accents, whether it's tea candles in hanging jars, pendants or Edison-style bulbs draped over your privacy screen and fence. Wall-mounted fixtures like sconces and lanterns as well as low-voltage deck lights to attach to your patio steps can create pools of warmth that ensure that you and your guests can safely navigate your way through the dark. Where possible, opt for LEDs — they are more energy-efficient and last longer than other types of bulbs — and smart tech for voice control, dimming options and more.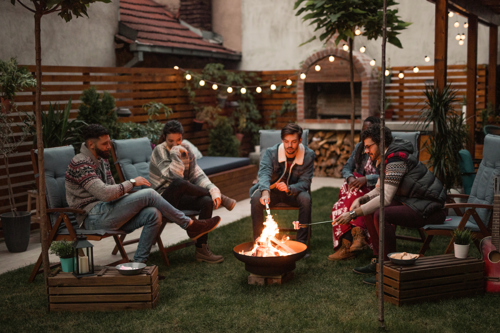 5. Build a Fire Pit or Bowl
What's more snug and homey than sitting outside on a summer night by the fire? Bringing in a fire ring or pit is as practical as it is aesthetically pleasing — it's a heat source, a light source and a natural way to keep the bugs away. (The smoke may do the trick on its own, but tossing in some herbs like lavender and citronella can create a force field that repels mosquitos and other critters.) Not everyone is up for the project of building their own fire pit or ring, and that's okay — you can always easily DIY (or buy) a few beautiful fire bowls to lay out on an existing table. If you have some extra money in your budget, you can skip all the handiwork and get a classy teak "fire table" with an adjustable flame height and temperature.
6. Create an Outdoor Bar and Grill
Nothing feels more summery more than a backyard barbecue, and creating a little kitchen nook on your patio or under a pergola is an easy step to taking your dinner parties to new heights. It can be as simple as having a propane gas grill or Blackstone griddle with a DIY countertop for chopping and prep, or something more lavish like a full kitchen station with sink, cabinets, refrigerator, pizza oven and more. Likewise, setting up a bar island or cart is a great way to keep the party alive whether it's a casual get-together or a backyard wedding.
Pro Tip: No time to plan a week-long camping trip with the family? Take the kids on a "camping" trip out in your backyard with these tips and tricks.
7. Install a Dreamy Backyard Pool
If you've ever dreamed of lounging in your own pool to keep the summer heat at bay, there's no better time to take the plunge. With services like Swimply (essentially Airbnb for private pools), you can rent out your pool to offset the cost of maintenance or make some extra cash throughout the year. There are different options to choose from, including above-ground pools (the most affordable option) and in-ground pools (much more expensive), but you can always opt for something small like a hot tub if that's your jam.
8. Create a Backyard Getaway With a Shed
Sure, a backyard shed can be a simple storage solution, but there are plenty of ways to spruce it up into a "getaway" within your house. Whether it's a home office, art studio, meditation center, game room or general entertainment den, revamping your existing shed or building a new one can elevate any backyard and be used for a range of purposes all year long. For shed makeover inspiration, check out our blog on the best she shed ideas.
A Few More Dream Backyard Ideas
Not sure what else you can do with your backyard? Try one of the following:
Construct a playground or jungle gym for your kids.
Build a small mini-golf area.
Create an oasis for your furry best friend.
If you're not a swimmer, add a fountain or pond for a visual focal point and all-day serenity.
Start a massive garden with herbs, fruits and vegetables that you can pick fresh for your guests. (You'll be known as the friend who drops off big bags of lemons every year.)
Add a pergola for overhead shade.
If you're interested in more ways to enjoy your backyard this summer, check out our blog.​