​​If you're looking for a way to turn your unused backyard shed into a chic summer oasis, why not create a she shed? Like bachelor pads and man caves before them, she sheds are specially curated spaces where you can go to enjoy a little R&R or work on one of your favorite hobbies. (Of course, this concept doesn't have to be limited to women. You can design the perfect he shed or they shed, too – anyone can benefit from creating their own backyard sanctuary!)
To get started, move all of the items that are currently in the shed into a storage unit at a local self-storage facility. Next, give the shed a thorough cleaning and, if needed, a fresh coat of paint. From there, you can get creative as you turn the shed into a space that is uniquely yours. Here are a few she shed ideas to get your creative juices flowing…but the sky really is the limit when it comes to possibilities!
1. Guesthouse
If you're short on space in your house, why not turn the backyard shed into a guesthouse so there's always room for any friends or family members who come into town? To cut back on costs, you can peruse garage sales and thrift shops for a bed and dresser. You might also want to put a mini-fridge in the guesthouse so you can keep it stocked with bottles of water or juice.
If there's enough space in the shed, it's nice to create a small sitting area with a love seat, chairs or poofs. Before your guests get into town, you can spruce up the guesthouse with a bouquet of freshly cut flowers and a handwritten welcome note.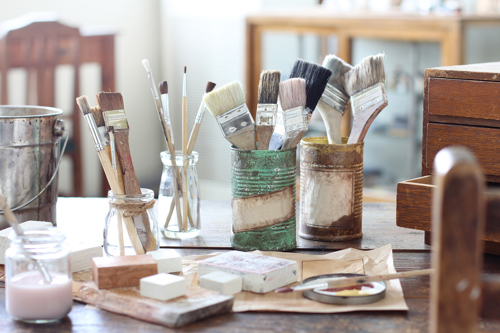 2. Art Studio
Art lovers can transform a shed into an enviable art studio with just a touch of imagination and a bit of hard work. Consider hanging some of your favorite artwork or plants on the walls to provide visual variety and keep you inspired throughout the day. Invest in high-quality art supplies, easels, canvases and other items to make sure you truly feel capable of doing your best work in the studio. Finally, make sure you have a high-quality desk and chair that can sit in for extended periods of time. Once you have the furniture in place, it's time to get started on the real work: creating some new pieces of art!
3. Plant Shed
If you have a green thumb, why not turn a shed into an area where you can pot and grow new plants? Consider hanging some shelves or bottles for a propagation station on the walls so you can ensure you have plenty of room for all your favorite new plants. If you don't have enough natural light in the shed, be sure to purchase a grow light.
Want to learn how to build your own plant pallet box? Check out 8 Simple Pallet Projects to Transform Your Patio.
4. Movie Theater
Whether you want to watch all of the Oscar nominees on the big screen or simply binge your favorite new reality TV show, it's always fun to have a dedicated movie theater. Turn your shed into a mini theater by mounting a large TV to the wall (or opting for a projector and movie screen). To really get into the spirit, invest in some cushy chairs — and don't forget to make sure you keep plenty of popcorn and candy on hand to create the ultimate movie-going experience.
Tip: Switch things up for date night with a movie in your car that's just as fun as the drive-in.
5. Dining Area
Foodies, rejoice! You can turn your shed into an elegant dining area suitable for hosting sit-down dinner parties, date nights and other special occasions. If you're going for something a bit more casual, you might want to opt for a picnic table. But if you have something more formal in mind, consider investing in a sophisticated dining set and matching dinnerware.
6. Reading Nook
Looking for a cozy little nook where you can cuddle up with a cup of tea and a good book? Transform your shed into a reader's dream spot with a hammock or hanging chair, string lights and a reading lamp. Consider adding some pillows and blankets to the space for ultimate comfort.
7. Writing Nook
Hoping to pen the next great American novel? Having a dedicated writing nook can provide you with some much-needed peace, quiet and consistency. Start by furnishing the area with a desk and chair, and then add any other writing supplies that are most helpful to you — from a whiteboard and markers to a notebook where you can jot down plot points.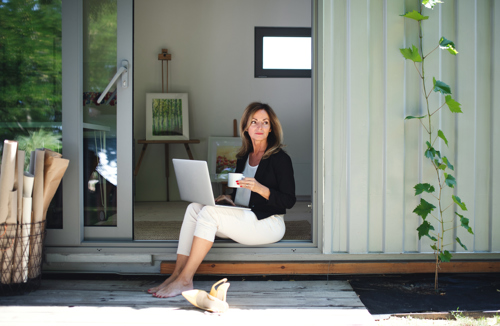 8. Home Office
With so many Americans working remotely for the foreseeable future, there's never been a better time to build a separate home office. Having a separate backyard office can provide some much-needed separation from your home and work life (as well as cut down on unwanted distractions). Furnish the space with a desk and chair, and make sure you have good WiFi so you can join all the Zoom meetings that will undoubtedly pop up throughout your day!
9. Game Room
Whether you're a Dungeons & Dragons fan or a trivia fiend, there's nothing better than having a designated game area. Start by installing some built-in shelves so you can display all of your favorite card and board games. Next, decide what kind of seating is right for your group. If you're planning to host regular Dungeons & Dragons nights, you'll want to make sure you have a designated table-and-chair setup. But if you're looking for a more casual place to play Charades, a combination of couches and chairs might be preferable.
10. Workout Studio
To make it easier than ever to get your daily exercise in, you can create an at-home workout studio. The best part about designing your own space is that you can tailor it to fit your unique workout preferences. Yogis can create a Zen retreat by bringing in a few yoga mats, a wireless speaker and a basket to stow pairs of socks or yoga shoes. Peloton fans can set their bike up in the room and mount a TV to the wall so they can ride along with their favorite instructors. To make the workout process more fun, consider inviting a friend or two over for a workout session.