When you picture yourself living your best life, what's outside your back door? Is there an herb garden? A babbling fountain in the middle of a koi pond? A fire pit surrounded by comfortable chairs? Do your dream backyard ideas include a full outdoor kitchen and a shaded deck for sunny summer days? Everyone knows that jazzing up your front yard boosts curb appeal — it's the face your house shows the neighbors and other passers-by. Your backyard, though — that's your space to wind down and enjoy some private peace and quiet. Designing the perfect backyard oasis is a labor of love and a gift to your future self, so check out these ultimate dream backyard ideas to help you get started.
Step 1: Draft Your Dream Backyard
Every plan starts with a dream, and making it come true requires a plan. Before you lay a single paving brick or plant a single bush, visualize what you want, take stock of what you have and then figure out how to make the two work together. 
Start With a Dream
When you first start imagining your new backyard, think about the way you'd like to use your backyard. These questions can help you bring your backyard oasis into sharper focus.
Who will be using your backyard? If you have children, you may need to figure in kid-friendly backyard designs and plan spaces for their play.
What kind of activities do you see yourself doing in your backyard? That will dictate what features you include in your backyard design — a hammock for lounging, a covered patio with a living area, an outdoor kitchen, a pool? This is your dream stage, so dream as big as you want.
What would you use most in your outdoor space? This will help you prioritize the elements you want to include. 
What kind of styles and designs attract you the most? There's a whole world of modern backyard landscaping ideas to help you flesh out your dream. Check out these links for inspiration.
How important are sustainability and environmental impact to you?
Inspiration: Top Backyard Design Trends for 2022
Draw a little extra inspiration from these top backyard design trends for 2022.
Transition rooms are among the hottest trends in patio design. They may be an extension of your kitchen, an outdoor living room or a lounge area. They incorporate indoor decorating ideas into the great outdoors — outdoor fireplaces, seating areas, bars and refrigerators — and integrate them into the indoor space with complementary flooring or color choices.
Environmental impact is on everyone's mind these days, and there are ways to make sustainability beautiful in your backyard. Wildflower gardens support local wildlife, xeriscaping incorporates native plants into your landscape to reduce maintenance and vegetable gardens let you grow your own produce. Other features to consider include rain barrels, permeable surfaces to reduce water runoff and shade trees or structures that can reduce your indoor energy use by helping keep the interior cool.
Lawns are thirsty critters — and high maintenance to boot. Substituting a creeping groundcover (that's native to your area) can add beauty, reduce your water use, and require a lot less time mowing, fertilizing, and maintenance.
Beyond vegetable gardens and their obvious benefits, flower beds, privacy hedges, raised gardens and herb gardens all provide ways to add appeal to your backyard. They can define paths, differentiate areas in your yard and create a flow from your back door to the outskirts of your property.
From cleverly designed storage sheds — often doubling as she-sheds, home offices or children's playhouses — to arbors and gazebos, built structures have taken their place as a major backyard design trend. 
What to do when the evenings get chillier and the sun sets earlier? Patio heaters and outdoor lighting may have been around for a while, but the pandemic kicked their popularity into high gear. A single patio heater and outdoor lighting can easily extend the months of enjoyment you'll get from your outdoor space.
Appraise Your Yard
Once you've figured out the features and design style you'd most like, it's time to get a dose of reality. That means taking stock of what you have to work with in terms of space, regulations, existing structures and budget. The best way to do that is to step outside and take a walk around your property. As you do, consider these questions to help you refine your dream and work it into a plan that incorporates what you want into what you can create.
How much space do you have? Don't panic if your backyard is small — check out our tips for landscaping small backyards for ideas and tips.
Do you have existing structures that have to stay? Storage sheds, garages and other outbuildings can reduce the amount of space you have — but they also can become focal points of your new design.  
Are there local regulations you have to consider? Check with your zoning board and homeowners association. Some have specific space and location requirements for structures, including patios, decks and gazebos or arbors. It's better to know in advance so you can plan around them than to have to tear it down when you're done.
What kind of sun and shade does your backyard get? Knowing which areas of your yard get sun and which are usually shady can help you plan what and where to plant, as well as decide on the placement of things like sunshades and pergolas.  
How much time do you want to devote to maintenance? We already touched on the amount of time and energy it takes to maintain a lawn, but they're not the only backyard features that require regular upkeep and maintenance. If you're a low-maintenance kind of person, you might want to take these tips into consideration:

Choose hardy perennials for flower beds rather than annuals or tender bulbs.
Maybe skip the swimming pool unless you can afford a pool service.
Large water features, like ponds and waterfalls, require regular cleaning and maintenance to keep everything alive and healthy.
Choose weather-proof furnishing and fabric to avoid having to run out with covers — or to move everything under cover — whenever it rains.
Opt for permeable surfaces like pea gravel rather than concrete or pavement.

What's your budget? Don't despair if you're on a tight budget, though. There are tons of budget-friendly backyard ideas that look like you spent big bucks.
Where will everything go in the off-season? People often overlook storage until they realize they didn't plan enough into their design. If you change your patio decor with the season — or need somewhere to store your boat where it's not taking up major real estate in your back or side yard, an offsite personal storage unit may be the ideal solution.
Plot Your Design in a Backyard Planning App
You could sketch your backyard plan out on paper if you have the drafting skills and talent to do that — but modern backyard landscaping ideas deserve a modern solution. If you guessed there's an app for that, you'd be half right. In fact, there are quite a few apps that can help you plan, shop for, and create the backyard of your dreams. These are all free, and most have a pretty shallow learning curve.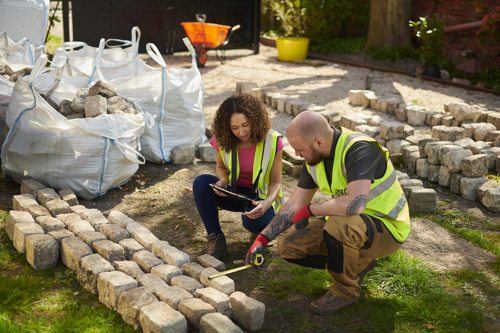 Step 2: DIY or Hire a Contractor?
Your next question is a biggie — are you going to do this yourself, or hire someone to do it for you? The HGTV backyard makeover shows have a lot of us thinking we can build that patio in a weekend, but even the pros hire contractors on big builds. That shouldn't discourage you from attempting your own DIY, though — just be realistic about what you can accomplish, how long it will take and what it will cost you. Here are some things to consider when deciding what to tackle yourself, and what to get help with.
Just starting out? This is actually a great time to bring in a contractor for a consultation. A professional landscaper can walk through your backyard with you, point out what needs to be done and may even offer ideas and inspiration you wouldn't have considered on your own. Expect to pay a consultation fee, which will usually be deducted from any work you decide to hire them to do.
You can split the difference — DIY the jobs you can handle, but bring in a contractor for big jobs, or jobs where safety is of primary importance. For example, it may make sense to hire someone to grade a sloping backyard or build the foundation for a second-floor deck. 
When doing a DIY vs. contractor cost comparison, be sure to count in all the costs, including the cost of buying or renting equipment you'll need but don't have, such as a compactor to help you level the substrate for a paved patio.
If you're handy, or have friends willing to lend a hand, consider DIY for projects like building a patio, digging garden beds, putting up fences and adding finishing touches, like living walls. Check out our blog post on DIY pallet ideas for your patio for some projects that provide a big impact at a small cost.
You don't have to do it all at once. When you DIY your backyard, you can work on one small area at a time when you have the time and budget for it. Do, however, make your whole plan before you start so that everything flows together naturally.
Step 3: Time to Get to Work
Your planning is done, your materials are ordered and you're ready to go! Not so fast. There are a few things you should do before you can actually start installing anything. 
Clear out anything that doesn't belong. This is where a personal storage unit can come in really handy, especially if you're planning to make use of your storage shed as a kids' playhouse or theater.
Designate a staging area for all your materials, and organize them in the order you'll need them. You won't be tripping over patio pavers as you try to drag over another bag of sand for the patio bed.
Make a work plan. It should include all the important tasks, in the order in which they must be completed. Well before the day of the work, be sure you have everything you need to actually accomplish your task. The last thing you want is to have all your friends standing around while you make another run to the hardware store for a tool you forgot.
Organize your work crew. If it's an all-hands-on-deck job, make sure everyone knows the plan and what their part in it is. 
Rent a dumpster for the day. If your job includes clearing out brush, tearing down old fencing, or any other wrecking crew tasks, a dumpster will keep things running smoothly. Just load it up, and call when all your junk is ready to be carted away.
Snacks. Do not forget snacks and lots of water. Just about any kind of backyard building thirsty work. Make sure you have a cooler full of cold drinks and some snacks on hand to keep everyone energized and hydrated. 
Inspiration: Backyard Design Tips for (Just About) Any Backyard
Every backyard is different, and there are things to consider when planning entertainment spaces, kids' play spaces, gardens and other backyard design elements. Check out these pro tips to help you create the perfect backyard for you and your family. 
5 Tips for Choosing Backyard Plants
Choose plants that are native to your area. Not only will they require less care, but they'll also better support your local wildlife. 
Check in with a locally owned nursery rather than a big box garden center. They generally understand the climate and can recommend the best plants for your needs.
Choose plants that will flower at different times of the year, and plant them around evergreen bushes and shrubs that will look good year round. You'll have an ever-changing display of color.
When choosing plants, think fragrance as well as appearance. There's nothing like the scent of lilacs in the spring and jasmine in the summer to whisper relaxation. Remember herbs when planning a fragrance garden, too. Place lavender and rosemary along garden paths where the scent will be released by people walking by, or mint by the back door or near seating areas.
Always consider the fully mature size of trees and shrubs when deciding where to place them. Keep in mind that plants placed too close to a house can undermine the foundation over time.
5 Tips for Small Outdoor Spaces
Keep decor and features in scale for the space. A small birdbath set in a ring of flowers might be just the right touch where a large water fountain would overwhelm the area.
Use vertical space to make the area seem bigger. Living walls and upright trellises can train morning glories or other vining plants upward, adding color without taking up much ground space.
Use paving bricks and small platform decks to give the illusion of different areas. Consider using shaped paving stones to create a circular seating area, and add a 6-inch platform for a "barbecue deck" nearby.
Choose accent pieces that bring in the aesthetic you want. You may not have room for pink flamingos and palm trees, but you can give a nod to tropical kitsch by choosing strings of lights in those shapes, for example.
Make use of every space. The strip of land along the driveway can become a delightful path from the front of the house to the backyard with a small border of plants and some solar pathway lights along the side.
5 Tips for Kid-Friendly Spaces
When designing family-friendly backyards, pay extra attention to your "flooring." Gravel is lovely to look at, but harsh on the knees — and far too tempting to little hands. Opt for woodchips or playground-grade rubber mulch.
Turn the trees into playgrounds. Build a treehouse, hang a tree swing, or add a ladder to help little legs get up onto comfortable limbs for sitting and reading.
Give them their own gardening space. Kids love growing things, but they can wreak havoc on your carefully planned flower beds. Set aside a small plot just for them to plant and tend. For extra fun, make it a three-sisters garden to add a "secret hideaway" for the little ones.
Turn an old garden shed into a playhouse. All it takes is some paint and shelving to reclaim a decrepit storage shed and turn it into a backyard retreat for the kids.
If your backyard includes a barbecue, fire pit or water features, keep safety at the front of your mind. Make sure there's plenty of space around them, and consider setting them off from the rest so kids don't accidentally get too close.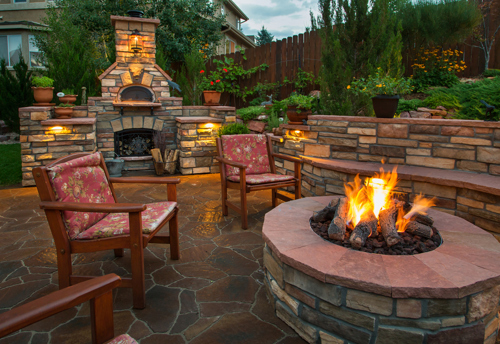 5 Ideas for Garden Design Elements
Still not sure what to include in your backyard? Here are five common design elements — and ideas for how to incorporate them into your plan.
Fire is fascinating (and ever so trendy). From DIY fire pits built of paving stones to propane fire pits, there are dozens of ways to bring flickering flames into your backyard. Do check your local fire ordinances before putting in the cash or labor, though. Cities often forbid them.
Water adds a delightful dimension to any backyard landscaping design. You don't have to build a full-fledged pond to enjoy it, either. Birdbaths and solar-powered fountains — some small enough to fit on a tabletop — can provide a lot of benefits with little work.
Use solar lighting for accent lighting and safety. The newest solar stake lighting is literally plug and play — just stick a spike in the ground where you want lights and voila. Line paths with lights to help people find their way in the dark, and affix solar LED strips to the edges of steps to reduce the risk of tripping. 
Turn a shady corner into a backyard haven with a hammock or hanging swing hung from the branch of a tree. No tree? No problem — pick one with a frame.
Consider replacing fences with living walls or privacy hedges. They'll provide privacy, help cool your backyard, and reduce noise from the street and neighbors. There are loads of inexpensive backyard privacy ideas that won't make your home look like an industrial prison.
Turning your backyard into your dream getaway can be a big project, but with planning and a little help, it's very doable. You can start small with a kitchen herb garden beside your back door, and add on a project at a time. Before you know it, your backyard will be ready to host any kind of get-together, even the ultimate backyard wedding.