More than a mile above sea level, Aurora captures the essence of outdoor adventure in Colorado, characterized by mild summers and awe-inspiring winter landscapes. The city itself is responsible for the upkeep of more than 100 total parks — representing over 6,000 total acres of protected, open expanses.
Whether you're looking to golf or ski, enjoy upscale dining or trek wooded wetlands, Colorado's third-largest city deserves your consideration if you're thinking about a move. More than 388,000 people call Aurora home, a city recognized for more than its fair share of business and nature-based awards. Among other achievements, Aurora has recently seen its park system named 24th best in the entire nation, and also earned distinctions for its public safety, volunteer programs, hard-working employees and ethnic diversity.
1. Cost of Living in Aurora
Life in one of Colorado's outdoor playgrounds is more affordable than you might expect. Many necessary costs rank near, or even below, national averages, and a sufficiently comprehensive healthcare network in the area allows you to identify coverage options that help keep costs low and treatment quality high.
Reference the below price details, for even more information on estimated living costs for Aurora residents:
Home prices in Aurora can average $410,206, well above the national home price average of $269,039. However, Aurora homes are also characterized by a 10.7 percent value increase in the past year alone, indicative of a strong local housing market.
Rent costs in Aurora depend on the size of your home and your family, and the neighborhood in which you're choosing to rent. Rent in Aurora can average $1,393 — a 3 percent increase over last year's totals.
Gas pricing in Aurora can vary slightly according to your location. Currently, per-gallon prices average between $2.67 and $2.79 per gallon, still below the $2.85 national average.
Utilities cost an average of $96.10 per month in Aurora, 17 cents less than the average cost of utilities in all of Colorado.
While costs in Aurora can reach expensive heights, some remain below national averages. And of course, increased housing and rental costs in Aurora are indicative of the area's quality and surrounding attractions.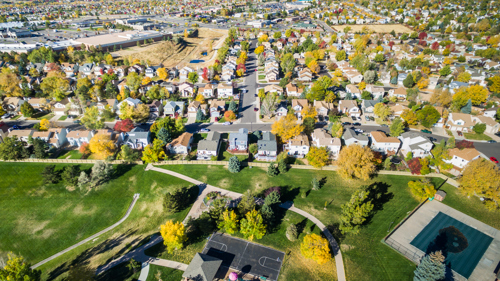 2. Neighborhoods in Aurora
No matter where you're looking to move in Aurora, local neighborhoods can deliver everything you're looking for: quality housing for the whole family, peace when you need it and unbeatable proximity to Aurora's top attractions, eateries and outdoor adventures.
Reference the below neighborhood options in Aurora, for specifics on some of the area's top places to live.
Tallyn's Reach routinely rates as one of the top neighborhoods in Aurora, home to more than 11,000 residents and minutes away from some of the highest-rated public schools in all of Arapahoe County. Though the median home price is well above the Aurora average, the area itself contains more than enough coffee shops, parks and trails to compensate.
Prides Crossing serves as one of the neighborhoods of choice for young professionals, where most residents own homes that are minutes from some of Aurora's best outdoor parks. Median home value in Prides Crossing rates below the Aurora average, and family-run restaurants nearby mean you'll never have to travel far for authentic cuisine.
Eastridge Ptarmigan Park is the place to be if you're someone who needs to live close to all the action. Only a few minutes from the city's restaurants, bars and assorted nightlife activities, Eastridge Ptarmigan Park also offers a neighborhood of more than 2,600 residents who enjoy picnics and other frequent community activities.
Dayton Triangle is ideal for residents looking to maintain more of an urban home feel during their time in Aurora. It plays host to more than 12,300 individuals and counting, where residents are 38 minutes from Denver but only seconds from bars, cafes, shopping outlets, and indoor and outdoor fitness opportunities.
Dam West is characterized by a moderate nightlife and culinary scene, sufficient entertainment for the more than 2,000 individuals thriving in a quiet, comforting environment. Real estate prices remain below Aurora averages, earning residents a bargain suburban experience that still offers proximity to thrilling attractions and the area's parks.
The above neighborhoods offer a wide variety of available amenities in Aurora. Whether you're looking to live seconds from local entertainment, or you want to stay sufficiently removed from the hustle and bustle of downtown living, there's a premiere Aurora neighborhood that can accommodate your needs in Colorado.
3. Aurora Job Market
The Aurora job market reflects the quality of its citizens and the diversification of its businesses. Common careers in Aurora include hospitality, engineering, retail, healthcare and various industrial enterprises.
Aurora currently maintains a local 4.9 percent unemployment rate that ranks considerably below the 6 percent national average unemployment rate.
The below job titles and associated salary ranges reflect only some of the positions available in Aurora.
Human resources analyst — $51,000 to $61,000 per year
Budget analyst — $40,000 to $74,000 per year
Golf course superintendent — $31,000 to $99,000 per year
Diving coach — $34,500 to $53,000 per year
Heavy equipment mechanic — $36,000 to $62,000 per year
No matter your interests and salary preferences, there's a position in Aurora that allows you to put your skills to work. Feel free to reference common Aurora employers below, for a better understanding of some of the area's largest businesses and hirers.
Zoom Video Communications (Telecommunications), $55,000 to $212,000
Metropolitan State University of Denver (Higher education), $45,000 to $76,500
Slalom (Business consulting), $40,000 to $270,000
Newmont (Gold and copper management), $35,000 to $110,000
Fidelity Investments (Financial management), $35,000 to $170,000
Whether you see a preferred employer in the above options or not, rest assured that Aurora residents can choose from a wide variety of potential businesses when it comes to employment. In Aurora, it's easy to pursue a career in hospitality, retail, financial asset management, industry, business management and other fields.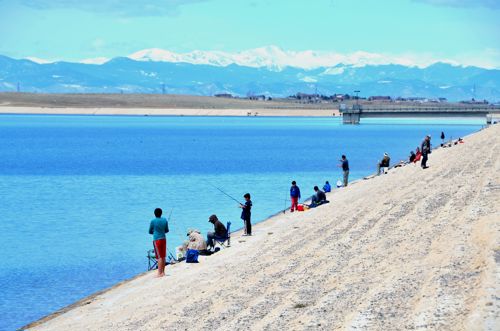 4. Things to Do in Aurora
Suffice to say, there's no shortage of things to do in Aurora. Whether you want to lose yourself in outdoor adventure or experience the highest-quality restaurants that Colorado can offer, Aurora's portfolio of attractions has you more than covered.
Check out the various suggested activities below, for options that can satisfy a wide variety of interests in Aurora residents and visitors.
Outdoor Activities
The variety of outdoor activities in Aurora represent perhaps the strongest options for enjoyment, anywhere in the area. You only need to step outside before you're consumed by the Aurora wilderness, no matter the season. From hikers to bikers, dedicated walkers to casual skiers, there's an outdoor activity for everyone to enjoy in Aurora.
Pedego Electric Bikes Southlands: Rent an electric bike for personal or family exploration — or a guided tour — to see Aurora at your own pace. Bikes are riveting to ride and allow you to pedal as much or as little as you'd like while a battery picks up the slack.
12 Mile Stables: No matter the experience you're looking to tailor for yourself or your family, 12 Mile Stables is ready to deliver. Offering hayrides, horse rentals, day camps for children and riding lessons for all skill levels — on 3,300 total acres of Cherry Creek State Park land — 12 Mile Stables is an excuse to enjoy a door outdoors, and a trusted location to board your horse for any amount of time.
Aurora Sports Park: Featuring 220 total acres of land available for recreational use, Aurora Sports Park plays host to a variety of youth sports activities, competitions and tournaments. Offering 23 soccer fields and 12 baseball fields, the park itself is a destination for sports-lovers, whether you're looking to catch a softball game or enjoy some hands-on recreation as a family.
Mile High Harley-Davidson: Like many other Harley-Davidson locations across the country, Mile High Harley-Davidson is far more than a motorcycle vendor. Featuring a packed events calendar, extensive showroom, parts and services departments, and rental opportunities, Mile High Harley-Davidson is every bit an experience worth your time in Aurora.
Golf courses: Booking a tee time is easy in Aurora, given the variety of golf courses across the city itself. Whether you're looking for a PGA-inspired layout or a laid-back round of 18 holes with friends, golf course networks like Aurora Hills and Murphy Creek welcome golfers of all skill levels.
Parks and Attractions
Outdoor immersion continues in Aurora, with a range of parks and attractions that can easily hold and keep your interest. Trailheads and wildlife refuges, museums to reservoirs all have their place in Aurora, Colorado, attractions that await your discovery and approval in one of Colorado's finest cities.
Wings Over the Rockies Air and Space Museum: Whether you're looking to learn more about space exploration or take in one of the many live events that take place on its grounds, Wings Over the Rockies Air and Space Museum deserves your time in Aurora. Featuring in-person and virtual visitation options, this museum is accessible with affordable pre-purchased tickets.
Rocky Mountain Arsenal National Wildlife Refuge: On more than 15,000 total acres, the Rocky Mountain Arsenal National Wildlife Refuge has survived farming and manufacturing to today serve as a protected sanctuary for all sorts of life. Visit today and spot bald eagles, bison, burrowing owls and more across combined woodland, wetland and prairie landscapes.
Cherry Creek Reservoir: More than 880 acres of pristine land make the Cherry Creek Reservoir a recreational adventure that's perfect for residents and visitors alike. Open 12 hours a day — from 6:00 a.m. to 6:00 p.m. — Cherry Creek Reservoir offers enough walking, hiking, boating and fishing opportunities for a lifetime of exploration and comfortable outdoor recreation.
Aurora Reservoir: There's no shortage of possible activities at Aurora Reservoir that can occupy your time. From scuba diving and fishing to swimming and boating opportunities, the Aurora Reservoir has an activity that accommodates your preferred pace of life. Stop by the Senac Creek Nature Center onsite, to learn more about the wildlife and trails that characterize the lands.
Cherry Creek Trail: Featuring more than 12 miles of easy hiking, Cherry Creek Trail offers a dog-friendly hike that individuals of any skill level can enjoy. Especially popular during the summer and fall months, Cherry Creek Trail offers relaxed recreation for anyone looking to introduce themselves to the great Aurora outdoors.
Food and Drink
After a long day on your feet, the various restaurants that call Aurora home are more than enough to punctuate a good day with great meals. Among other distinct flavors, Aurora is known for its grilled foods and its world-class cocktails. Look for those items, and more, to headline the menu of any well-deserving Aurora eatery.
5. Things to Know Before Moving to Aurora
Before you finalize a move to Aurora, it's important that you take the time to familiarize yourself with everything that the area offers. Though it's difficult to get to know a city without having lived there, the following list of notable items should give you a better idea of what you can expect from Aurora, Colorado.
Aurora's semi-arid climate means four distinct seasons.
During a typical year, Aurora can see 62 inches of snow. If you don't know how to drive in snow, it's something you'll learn quickly!
You can't beat the mountains. Outdoor recreation is all bolstered by proximity to the Rocky Mountains, where residents and visitors can walk, hike, bike, ski, snowshoe, ride snowmobiles and more.
Commute times can be significant. Especially during tourist season, residents can expect to wait for pedestrians, green light and fellow drivers.
Roughly 195,000 individuals work in Aurora, making the location a major hiring epicenter for residents.
With 98 miles of trails, it's worth repeating: you can't beat the mountains when it comes to quality outdoor recreation.
Even though many individuals drive their own cars, Aurora's Regional Transportation District offers bus, railway, car and airplane transit services to and from popular Aurora destinations.
No matter where you're moving to or from, the process itself can be taxing. At the same time that you're preparing your entire family — and yourself — for a new life in a new place, you're overseeing the packaging and movement of all of your possessions. That's why local storage options can help ease this process tremendously, helping individuals to prioritize possessions and relegate unnecessary items to secured, temperature-controlled storage units until they are needed.
Storage locations in and near Aurora, Colorado include:
Thanks to multiple storage options, residents of Aurora can better manage possessions across storage locations whenever necessary, without cluttering up homes with any unnecessary items.