Las Vegas is one of America's fastest-growing cities. Though many people may think of the Neon Capital of the World as a place to visit for a weekend at a time, there are plenty of reasons it's also a great place to live. Away from the crowded entertainment mecca along the Strip, Las Vegas is actually home to a sprawl of quiet, suburban neighborhoods that are perfect for families, couples and solo professionals alike. If you're thinking about moving to the city and don't know whether to rent or buy, we'll offer tips based on the average price of a home in Las Vegas, average rent and other considerations to make your decision smoother.
1. What's the Average Home Price in Las Vegas, NV?
The average home price in Las Vegas, NV, according to housing market data from August 2021, is $370,000 — 22.3 percent higher than it was last year. Compared to the general U.S. median (which is $380,271), homes in Las Vegas are about 2.7 percent less expensive. Here are some other important data points to consider:
Median days on market: 20
Homes sold above list price: 51.9 percent
Homes with price drops: 11.4 percent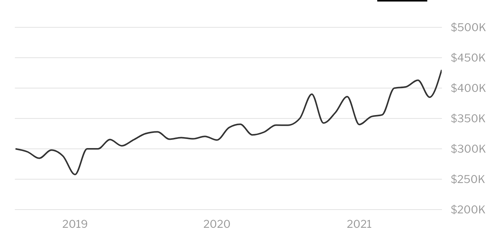 The average housing price in Las Vegas, NV from 2019 to 2021.

A Typical Mortgage Payment
For a $370,000 home with a 30-year loan and 3.03 percent interest rate (the current national average, as of September 2021), you'll be paying a 20 percent down payment of $74,000 and monthly mortgage payments of $1,562, including homeowner's insurance, property taxes and HOA fees. Note that the median household income in Asheville as of 2019 is $58,713.
Did you know? In Las Vegas, 62 percent of all occupied homes are owner-occupied, while only 37 percent are renter-occupied.
Reasons to Buy in Las Vegas, NV
There are plenty of reasons Las Vegas is considered one of the best cities in the U.S. to invest in real estate. Here are a few reasons you may want to buy instead of rent:
A strong housing market. Home prices have increased by 22.3 percent since last year, and the trend isn't slowing down. Buying now could help you get in before prices continue to surge, and turn a profit down the road.
Affordable housing. With the average home price being slightly lower than the U.S. median, Las Vegas is a great place for first-time home buyers.
Low taxes. Nevada has no personal income tax, and property taxes in Las Vegas are historically low by national standards. In fact, Las Vegas and Birmingham are the only two metropolitan areas where annual property taxes amount to less than $1,000 a year (the median is $696 in Las Vegas).
Low closing costs. Closing costs are also on the lower side — back in 2012, Nevada's closing costs dropped to the seventh-lowest in the country.
2. What's the Average Rent in Las Vegas, NV?
The average rent in Las Vegas, NV is $1,341, as of August 2021 — a 19 percent increase since August 2020. This is cheaper than the average mortgage by more than $200 per month. It's also slightly less expensive than nearby Henderson ($1,650 per month) and Spring Valley ($1,373 per month) and slightly more expensive than nearby Winchester ($1,092 per month). Here are some other key stats:
Average apartment size: 892 square feet (close to the one-bedroom average)
Breakdown of monthly rent across properties:

$501-$700 = 1 percent
$701-$1,000 = 19 percent
$1,001-$1,500 = 47 percent
$1,501-$2,000 = 28 percent
>$2,000 = 4 percent
Here is the average rent across 10 neighborhoods in Las Vegas, NV (from high to low):
Mountain Trails: $2,001
Red Rock: $1,987
The Paseos: $1,803
Queensridge: $1,624
Bradley Ranch: $1,560
Canyon Mist Estates: $1,560
Silver Spur: $1,471
Grand Teton Village: $1,431
The Strip: $1,068
Arts District: $980
Reasons to Rent in Las Vegas, NV
Though buying a house can be a smart move in Las Vegas, there are reasons people may want to rent instead. Here are a few reasons to wait before settling down:
Uncertain job market. Clark County's unemployment rate of 8.8 percent is much higher than the U.S. average of 5.2 percent, though many jobs are being generated in Las Vegas. You may want to think about your long-term career goals and growth before you plant down roots.
Amenities without the maintenance. Pools, gyms and more can all rack up high costs for homeowners, but apartment renters can enjoy their building's amenities without paying for maintenance.
Explore neighborhoods. If you're not familiar with neighborhoods in Las Vegas — or have never lived in a desert — you may want to spend some time renting to explore the city and find the neighborhood that best fits your needs. There's also a learning curve to living in the desert, and taking the time to adjust can equip you with the knowledge to better choose a house later on.
3. 5 Things to Know Before You Buy a House in Las Vegas
Buying a house in Las Vegas comes with a number of considerations, especially if you're a first-time prospective homeowner. Here are seven things to keep in mind:
Work Around the Intense Heat
Las Vegas experiences intense heat, with temperatures sometimes climbing above 109 degrees Fahrenheit during the hottest months. The following tips can help you minimize your discomfort:
To prevent your future living space from receiving the full impact of the sun and heat, avoid buying a house that faces east or west (and if you do, invest in solar screens over your windows and doors to spare your electricity bill).
Think about your commute, too. Though it's not always possible to control which direction you drive in for work, commuting west in the morning and east in the afternoon will help you feel much cooler in the summer.
Try not to buy a house with the master bedroom over the garage — it will get extremely hot. Likewise, avoid getting a garage with windows.
If you want to enjoy outdoor grilling, you'll likely need to install an outdoor awning. Standing in the direct sun when it's hot is too much. An awning can cost between $1,385 and $4,145 to install.
Make sure the AC unit in your prospective house is on the newer side. If it's more than 15 years old, try to negotiate a lower price on the house — you may need to invest some money into upgrading it.
Think Twice About a Pool
Having a pool sounds like a great idea if you're living in the desert, but maintenance costs can quickly spin out of control, so factor it into your budget carefully. In fact, the average annual cost of maintaining a pool (cleaning, purchasing the necessary chemicals, etc.) can run up to $5,000 a year. To offset the cost, consider renting out your pool hourly via Swimply, the "Airbnb" of backyard pools.
Install Solar Panels
With the amount of sun that hits Las Vegas homes — 310 sunny days a year — many residents use solar panels to lower the cost of their utilities. Unobstructed south-facing roofs can make the most out of sunlight, though having them wherever you are is a great way to save in the long run (and be a bit more environmentally friendly). To calculate your potential savings, use Google's Project Sunroof calculator and enter in your potential home address. Be sure to shop around and get multiple quotes from solar providers.
Keep Scorpions at Bay
If it's your first time moving to the desert, you may be unfamiliar with the types of pests you'll see. In Las Vegas, scorpions are common, though only one of the 25 species roaming about is venomous (the bark scorpion). To prevent scorpions from loitering around your home, you'll need to eliminate standing water, seal cracks and crevices around doors and windows, inspect dark spaces on a regular basis, clear brush and debris from your home's perimeter and turn off outdoor lights at night to prevent crickets (which scorpions eat) from sticking around.
Protect Against Monsoons, Winds, and Earthquakes
Summer monsoons in Las Vegas can cause flash floods and strong winds, and the city's position on top of multiple fault lines makes it prone to the rare (and often minor) earthquake. Due to the surrounding mountain ranges, Las Vegas is protected from the dust storms or "habobs" that residents in other deserts may experience. You may want to consider some of these extreme weather events as you're purchasing homeowner's insurance.
Tip: Be careful while driving in the rain. Since Las Vegas is on the drier side, roads absorb a lot of the oil from cars. When floods happen, driving can be treacherous.