One of our missions as a company is to actively seek out and maintain energy-efficient systems for our operations in order to reduce our carbon footprint. As of August 2020, we are proud to announce that we have made the first step towards this transition with our Mt. Pleasant location in South Carolina.
The 61.38kW project was designed and installed in cooperation with Warner Energy. We also plan to implement similar installations at several of our locations through the U.S. and in Canada within the next couple of years.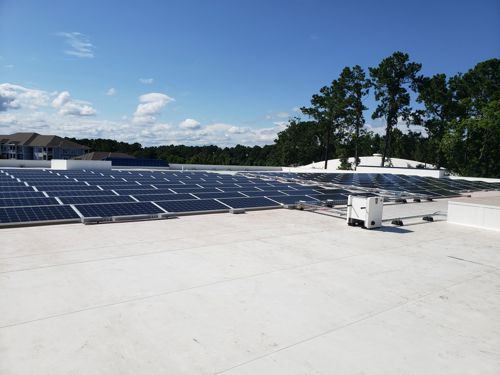 "This solar panel installation at our Mt. Pleasant location is the first of many projects we have planned in the coming months and over the next few years," said Michael McClure, our CEO. "As property owners, we have an obligation that extends to our customers, our business partners and our surrounding communities to act as a responsible, ethical corporate steward. Over time, we expect our broader green-focused initiatives and other value-added capital investments will generate material energy and cost savings, and this launch represents a great first step in the right direction."
This project, which started in March, began generating power last week, and is expected to generate 81,500 kwh of energy per year, or enough to power approximately 90% or more of the self storage property's electricity needs. 
The energy generated at this location is equivalent to:
Offsetting the greenhouse gas emissions of 12.4 passenger cars for an entire year, or one car for 142,000 miles.

Sequestering the equivalent carbon dioxide as would be absorbed by 75 acres of forest.
This is only the first of many projects to be completed with the mission of a greener, brighter future. We plan to complete nine more solar panel installations before January 2021.
For more information on this project, read our press release.