In the 1990s, the Portland City Council selected "The City That Works" as the city's official slogan. If you ask most people to name Portland's slogan, though, they'll tell you that it's "Keep Portland Weird." It's an excellent take for a city that prides itself on its diversity — not just of people, ideas and cultures, but just about everything. The fact is, if there's something you love seeing, doing or taking part in, Portland, Oregon probably has a delightful little niche where you'll fit right in. Whether you're planning to raise a family, start a business or enjoy your retirement years, living in Portland is one of the best ways to do it. 
Living in Portland, OR: An Overview
More than anything else, Portland is defined by its neighborhoods — nearly 100 of them, each with its own distinct vibe. From the chic, upscale shops of the Pearl District to the tree-lined residential streets of St. Johns and the indie Bohemian charm of the Southeast quadrant, Portland really does have something to offer everyone. You'll find a thriving music scene, a dynamic arts and theater community, and foodies of all types and stripes. If your idea of heaven includes a dynamic nightlife, friendly neighbors, and a literal world of shopping and dining choices, all wrapped up in some of the most beautiful scenery on the planet — not to mention a community dedicated to preserving its natural beauty — Portland is the place for you.
Population
Home to just over half a million residents, Portland, Oregon regularly makes it onto various "best cities" lists — and with good reason. Located between the Columbia and Willamette Rivers, Portland lies about an hour from the Pacific Ocean to the west, and is surrounded by mountains of the Oregon Coast and Cascade Mountain ranges, making it the perfect city for those who love the great outdoors. While the area has a reputation for its rainy season, in reality, Portland enjoys four distinct seasons, each of them offering a bounty of outdoor activities to enjoy. Whether you ski, hike, swim, fish or enjoy more extreme sports, you'll find a supportive community that shares your passion.
Population: 641,162
Diversity: 75.3% white (non-Hispanic), 5.9% Black or African American, 8.9% Hispanic or Latino, 8.7% Asian (non-Hispanic), 0.8%  American Indian/Alaskan Native
Primary language: English
What Portland lacks in racial diversity, it makes up for in its depth and richness of creative culture. The city has a thriving LGBTQIA+ community and welcomes people who enjoy living life a little differently. Its reputation for friendliness is well-deserved, as is the attraction it holds for creatives, whether their craft is music, art, beer and wine, jewelry, or performance — or even art that defies categorization. 
Weather
Highest temperature: 85°F (August)
Lowest temperature: 36°F (January)
Warmest months: mid-June to mid-September
Coolest months: mid-December to mid-February
Portland's winter months are cool, but seldom cold, with temperatures averaging around 36 degrees during the coldest months. They are also pretty wet. The months from November to April average about 15 rainy days each. October to April are also typically cloudy, with some kind of cloud cover 70-75% of the time.
On the other hand, the spring and summer months are delightful. From June through September, the temperatures average in the high 70s to mid-80s, and seldom climb above 90 F. The humidity is typically low, and the chance of rain on any given day is less than 20%. 
Needless to say, the comfortable temperatures, sunny skies, and low relative humidity make Portland a wonderful place to visit from June through September.
What's the Cost of Living in Portland, Oregon?
Portland has long been one of the more affordable areas in the Pacific Northwest, and while the cost of living is trending upward, the costs of living in Portland are still lower than they are in other nearby metro areas. While the median housing sale price is $600,000, one can still find not-so-hidden gems in many neighborhoods listed for less than $300k. The housing stock runs the gamut from palatial estates to single-family detached homes to townhouses and semi-detached homes in neighborhoods throughout the city.
How Expensive Is Renting in Portland?
Considering Portland's charm, renting in the city is surprisingly affordable, especially in comparison to other PNW cities. The average rent for a one-bedroom apartment is $1,680, which is just above the national average, but lower than other nearby cities and towns. Rents are highest in and around downtown, but even in the high-rent district, it's possible to find tidy studio apartments closer to the $1,000 mark.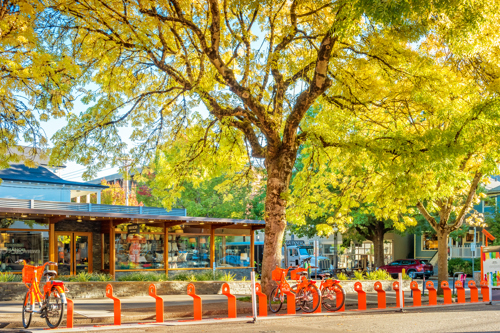 The Best Neighborhoods in Portland
The city of Portland is divided into six quadrants — North Portland, Northeast Portland, Northwest Portland, South Portland, Southeast Portland and Southwest Portland — and a total of 95 officially recognized neighborhoods. Each neighborhood has a distinct style and vibe, but all of them exude charm and friendliness.
1. Hillsdale - Best Neighborhood for Young Families
Located in Portland's Southwest quadrant, Hillsdale is a quintessential small suburban oasis in the middle of a thriving urban center. With tree-lined streets, sweeping lawns and comfortable single-family homes, the neighborhood is ranked as one of the best places in Portland to raise a family. In addition to highly rated public schools and recreational opportunities, Hillsdale is home to one of the most popular weekly farmers' markets in the area.
Population: 17,340
Average household income: $108,956
Median house price: $572,885
Median rent: $1,389
Places to check out: 

Hillsdale Farmers Market
George Himes City Park
Gigi's Cafe
Wilson Pool
Sasquatch Brewery
2. Northwest District - Best Neighborhood for Young Professionals
Portland's Northwest District is a collection of neighborhoods that includes Nob Hill, the Pearl District, Old Town Chinatown and Forest Park. Urban and upscale, it's an area that's both trendy and chic, perfect for young professionals and those who enjoy the glitter and sparkle of city living. The blend of traditional and modern make it especially appealing to those who like all of its amenities within easy walking distance. 
Population: 22,106
Average household income: $90,702
Median house price: $617,531
Median rent: $1,409
Places to check out: 

Northwest Children's Theater
Forest Park
Pittock Mansion
Powell's City of Books
Saturday Market
3. Hayhurst - Best Neighborhood for Raising a Family
Located in Southwest Portland not far from Hillsdale, Hayhurst has a similarly suburban vibe that's especially appealing to families. Tree-lined streets and older single-family homes contribute to the small-town USA vibe that's bolstered by a number of area parks and shopping centers. 
Population: 8,949
Average household income: $92,967
Median house price: $501,439
Median rent: $1,454
Places to check out: 

Laughing Planet
Dragon Herbarium
Gabriel Park
Multnomah Village
4. Foster-Powell - A Diverse Melting Pot on the Rise
Foster-Powell, located in the Southeast District, has seen its share of ups and downs, but it's definitely a neighborhood on the rise. The once gritty little neighborhood has seen a lot of growth and improvement over the last few years and is now one of the most diverse sections of the city. The area has a high concentration of recent immigrants, including those from Russia, Ukraine and Southeast Asia. Foster-Powell is still in transition, making it a good time for young entrepreneurs and professionals to score property at bargain basement prices in an area that's appreciating more each year.
Population: 8,815
Average household income: $66,597
Median house price: $339,228
Median rent: $1,350
Places to check out: 

Emmert Cali Saigon Mall
Carts on Foster
Kern Park
5. Hawthorne - Hipster Heaven
Hawthorne, located in Southeast Portland, isn't one of the officially recognized neighborhoods, but the area is definitely deserving of separate recognition. The area, just under two square miles, runs through sections of Richmond, Mt. Tabor, Sunnyside and Hosford-Abernathy, but it has a vibe all its own. The busy business and entertainment district attracts tourists from near and far, drawn by the incredible variety of eateries, sweet shops, apothecaries, theaters, coffee shops, book shops, thrift stores and brewpubs that have sprung up along Hawthorne Boulevard. Hawthorne is the epitome of everything that makes Portland weird in a wonderful way, and it's a place you don't want to miss if you visit or plan on living in Portland.
Population: 12,953
Average household income: $88,161
Median house price: $611,213
Median rent: $1,390
Places to check out: 

CineMagic Theater
Quarterworld
Red Light Clothing Exchange
Excalibur Comics
What Are the Best High Schools in Portland, Oregon?
The Portland Public Schools district is one of the most highly rated school districts in the state of Oregon. It comprises 63 elementary schools, 34 middle schools and 11 high schools, and includes traditional, charter and magnet schools. 
The Job Market in Portland
The job market in Portland is hot — and it's expected to stay that way for the foreseeable future. That should come as no surprise when you consider the major industries that fuel Portland's economy and how tied they are to the country's economic future. From high tech to health tech, specialty manufacturing to the import/export trade, you can expect the Portland job market to continue steadily growing for some years to come. 
Here are some places you can find open positions in Portland, OR: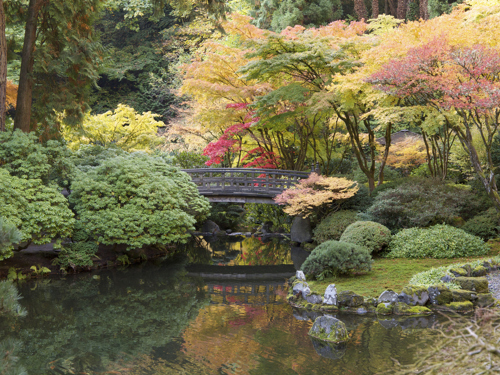 The Best Things to Do in Portland, Oregon
Portland's location makes it the ideal spot for outdoor activities of all kinds. With a plethora of parks, miles of hiking trails, and two rivers, there's always something to do in the great outdoors. For those who prefer their entertainment indoors, Portland offers theater, art galleries, skate parks, breweries and coffee shops, along with some of the most varied and fascinating shopping experiences to be had anywhere in the world. 
Outdoor Activities
Parks and Attractions
Places to Eat
Transportation
Portland is one of the easiest and friendliest cities to navigate on foot, by bike or via public transportation. The public transit system is managed by TriMet, and includes bus, light rail and streetcar. Buses are fully accessible, have bike racks and generally run on a 15-minute schedule. The MAX light rail system connects downtown to the airport and the greater Portland region. There are five MAX lines, with 90 stations and more than 60 miles of track. Like the buses, the light rail runs as frequently as every 15 minutes on most routes. The Portland Streetcar runs on two loops, connecting the east and west, north and south areas of the city.  One ticket covers all three modes of public transportation.
In addition, Portland has a wide, interconnected network of bike trails, bike paths and bike lanes, as well as a robust bike share program that makes biking accessible to most residents. 
It's important to note that parking is often at a premium in and around downtown and other metro centers in Portland. Portland is committed to being pedestrian- and bike-friendly.
Planning Your Move
Thinking of moving to Portland, OR? Check out our guides to learn everything you need to know about packing, staging your home, and moving:
Be sure to download our checklists, too: