Set on Lake Michigan in Illinois, Chicago is known for its striking skyscrapers, green spaces, art museums and Chicago-style pizza and hot dogs. As the third-largest city in the U.S. (behind New York and Los Angeles), Chicago doesn't always get as much recognition as its coastal cousins. However, the city has plenty of opportunities for career advancement and entertainment that make it well worth a second look. Perhaps best of all, its residents radiate the down-to-earth authenticity that the Midwest is known for. If you're thinking about moving to Chicago, here's everything you need to know.
Living in Chicago: An Overview
Originally incorporated as a city in 1837, Chicago benefitted immensely from the trading opportunities created by America's westward expansion. By 1854, the city was the largest grain port in the world, and fur traders often used the local port to ship commercial goods. Several decades later, the Great Fire of 1871 burned much of the city to the ground…but it rose from the ashes and regained its status as a Midwestern powerhouse. In 1884, Chicago made history as the home of the very first skyscraper in the country (which was a 10-story, steel-framed building). 
Today, Chicago is a racially diverse city, with nearly half of its residents being non-white. It also has one of the most active LGBTQ+ nightlife scenes in the country, concentrated in Boystown and Andersonville. This year, Chicago was named the Best Big City in the U.S. for the sixth consecutive year in the Conde Nast Traveler Readers' Choice Awards. 
Population: 2,7,46,388 (2020)
Diversity: 47.7% white (non-Hispanic), 29.2% Black or African American, 28.6% Hispanic or Latino, 6.8% Asian (non-Hispanic)
Primary language: English
Weather
Highest temperature: 82°F (July)
Lowest temperature: 22°F (January)
Warmest months: June to September
Coolest months: December to March 
Winters in Chicago are not for the faint of heart. (Word to the wise: Prepare for snowstorms and below-freezing temperatures.) While its notoriously brutal winters may chill you to the bone, its breezy, humid summers make up for it. As soon as the first rays of summer sunlight hit, residents pour out of their homes and apartments to soak up the sunshine in the city's parks and public spaces.
What's the Cost of Living in Chicago?
Chicago has sometimes been called the most affordable big city in the U.S. due to its competitive wages and lower cost of living. In fact, it was ranked as the most affordable housing market in the country according to the North American House Affordability Index from Oxford Economics. So while it's still pricier than smaller towns and rural areas, it's much more affordable than big cities like Los Angeles, New York and San Francisco.
The Best Neighborhoods in Chicago
Chicago's skyscrapers are located in a downtown area called the Loop. Its residential areas extend to the north, south and west, and Lake Michigan is to the east. From buzzy neighborhoods to low-key suburbs, Chicago has plenty of neighborhoods that will appeal to people in every stage of life. Here are some of the best neighborhoods in Chicago. 
Lincoln Park
Named after Chicago's largest park, Lincoln Park is located right on the waterfront and just a mile from downtown. With manicured gardens, a lily pond and even an indoor botanical garden, it's a great option for anyone who loves being close to nature. Beloved by young working professionals and couples looking to start a family, Lincoln Park is one of the most expensive neighborhoods in the city. Consequently, it's no surprise that the median income is over $130,000. 
Cost of living: $640K for the median home price
Places to check out: Lincoln Park Conservatory; Lincoln Park Zoo; Chicago History Museum; Alfred Caldwell Lily Pool; Dave's Records
West Loop
A former meat-packing district and industrial zone, the West Loop has become one of Chicago's buzziest neighborhoods. Home to some of the best restaurants in Chicago (including several that have Michelin stars), the West Loop is a constantly evolving area. (But you can always expect to see redeveloped green spaces, art galleries and high-rise luxury condos popping up.) It's popular among young professionals and families who are looking for a safe, walkable, and fun place to live. The median household income is over $125,000.
Andersonville
Located around 10 miles from Chicago's downtown Loop, Andersonville is a historic suburb known for its Swedish heritage, which is still on display in its bakeries, cafes and antique shops. Andersonville has been called the "shop local capital of Chicago" thanks to its influx of locally owned businesses, and its 19th-century row houses added to the charming, down-to-earth vibe. Andersonville also has a large LGBTQ+ community, and it's a great option for anyone who wants to live in a tight-knit community. The median household income is over $81,000.
Lake View
If you love the Cubs, Lake View is the neighborhood for you. Sports lovers will have easy access to Wrigley Field (a Major League baseball stadium that is home to the Cubs). But there's plenty to do even if you're not a baseball fan. Lake View has a wealth of theaters and green spaces, as well as diners, coffee shops and restaurants with a waterfront view. The median household income is over $103,000. 
Romeoville
If you don't want to live in the heart of the city, there are plenty of great suburbs to call home. Case in point: Romeoville, which is located around 45 minutes outside of Chicago. Once home to a quarry that supplied materials for early road construction and buildings (including the Illinois State Capitol Building), Romeoville earned the nickname "Stone City." Today, it's popular among families and retirees who want a more laid-back suburban lifestyle, complete with single-family homes and backyards. The median household income is around $85,000.
The Job Market in Chicago
From 2019 to 2020, Chicago's employment rate grew by over .5%, and there are now 1.36M employees in the city. These are the most common industries:
Health Care & Social Assistance, $61,540
Professional, Scientific, & Technical Services, $61,430
Educational Services, $54,192
Retail Trade, $53,390
Accommodations & Food Services, $34,332
Here are some places you can find open positions in Chicago: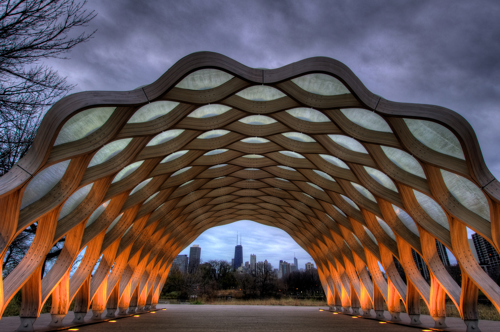 The Best Things to Do in Chicago
From riverboat architecture tours to Michelin-starred restaurants, Chicago has an endless roster of must-try activities. Here are some of the top activities that will help you get better acquainted with this Midwestern mecca.
Outdoor Activities
Architecture tour: To truly soak in all the sights of the city, book a Chicago river boat architecture tour. Taking place both during the day and at night, the guided tours will introduce guests to the history behind Chicago's most eye-catching skyscrapers. There are many different tour providers to choose from, so you can easily find a time that works best for you.
Navy Pier: Located on the shoreline of Lake Michigan, this 3,300-foot pier features several carnival rides, a food court, and a children's museum. Come at night to see the skyscrapers light up the skyline, or opt for a daytime trip so you can enjoy the panoramic water views. It's also a great place to take out-of-town guests who want to get a feel for the city.
Fox River Trail: Located around 45 minutes from Chicago in Algonquin, Fox River Trail features over 40 miles of biking and hiking trails. Unwinding along the river, the wooded trails provide ample opportunities to see wildlife (including bald eagles). Plan an autumn trip so you can see the fall foliage.
Parks and Attractions
Places to Eat
Other Things to Know About Chicago
Chicago is an incredibly walkable city; in fact, Redfin named it the sixth most walkable city in America. Because it has a violent crime rate that is 164% above the national average, people sometimes feel hesitant about visiting or moving to Chicago. However, as long as you live in a safe neighborhood and remain aware of your surroundings, Chicago can be a great place to call home. Here are some other important things to know about living in The Windy City.
Illinois has a flat 4.95% income tax rate, and the sales tax rate in Chicago is 10.25%.
Prepare for the brutal winters in advance by purchasing warm winter clothes and walkable boots.
Chicago is the busiest aviation center in the U.S., which means it's incredibly easy to get in and out of the city whenever you want to travel somewhere else for business or leisure.
In the 1920s, gangsters like Al Capone rose to infamy in the city, and you can learn more about their experiences through booking one of Chicago's crime tours.
Transportation
Chicago has one of the best public transportation systems in the U.S., so you can easily get around without a car. Residents can use the Chicago Transit Authority's bus and train service, take a train to work via the Metra Commuter Rail, or bicycle along one of the city's many bike lanes. 
Planning Your Move
Thinking of moving to Chicago? Check out our guides to learn everything you need to know about packing, staging your home, and moving:
Be sure to download our checklists, too: