Once considered a kitschy look best left in the 1970s, bohemian (or boho) design has experienced a surge in popularity in recent years. Known for being a carefree, laid-back aesthetic, it's a great choice for those who want to experiment with a playful, worldly style. Since there are no hard-and-fast design rules when it comes to boho décor, you can have fun creating a one-of-a-kind look that perfectly matches your unique personality and design aesthetic. From eclectic wall hangings to rugs galore, these 10 boho room ideas will turn a bland room into the boho hideaway of your dreams.
1. Embrace Color
The sky's the limit when it comes to color. While most interior designers start with white or cream walls, they often complete the look with an accent wall (think black, blue, red or another jewel tone). But bohemian inter​​ior design is all about personalization, so make sure you choose whichever paint colors resonate with you most (Very Peri, perhaps?). If preferred, you can use peel-and-stick removable wallpaper to liven up the walls.
2. Mix and Match Accent Pieces
Once your walls have been finished, it's time to bring the rest of the space to life. From botanical prints to quirky sculptures, you can incorporate other interior design styles (such as Scandinavian, Moroccan, mid-century modern or cottagecore) to give the room a glamorous feel. Incorporating pieces from various cultures will elevate your space and help it feel like a true boho escape. You might also want to look at thrift shops and flea markets for old-world design pieces that you can't easily find elsewhere. To make a bold statement, consider springing for some metallic coffee tables or bookends.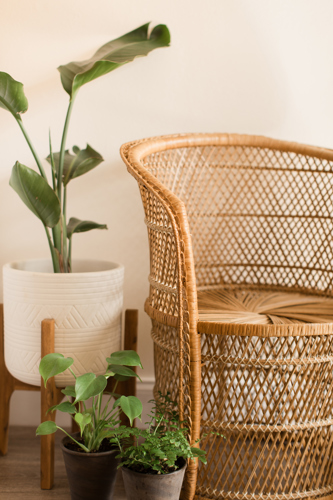 3. Incorporate Rattan and Natural Woods
To guarantee sweet dreams for years to come, why not turn your bedroom into a boho chic bedroom? Since wood and rattan are both popular in bohemian décor, you might want to start with a curved rattan bed frame or a light-colored wood bed frame. For a low-cost alternative, consider using pallets as a platform. Simply sand some pallets (to remove any splinters), lie them under your mattress and viola! You have a chic bed that fits your room's new aesthetic. Alternatively, you can invest in rattan chairs or wooden rockers for your living room.
4. Remember That Texture is Your Friend
To make a room feel truly bohemian, you need to incorporate plenty of texture. In the bedroom, consider mixing and matching a combination of ruffled and ruched duvet covers, tassel throws, and pom pom blankets. For a bohemian living room, consider draping chunky knitted blankets or throw blankets over the couches or chairs. You can even use faux fur on the bed, couch or floor to bring the whole look together.
5. Use Rugs as a Decorating Staple
Most people think of rugs as an afterthought. But when it comes to boho interior design, rugs should be used liberally to add pops of color and texture throughout the entire room. For example, you can lay a rug over one end of your couch for some visual variety, and place a few brightly colored rugs near the fireplace to create a designated focal point. We recommend layering a few of the rugs one on top of the other to create even more visual variety. While the rug colors should complement each other, they don't need to fully match. You might even want to hang a textured rug (or tapestry) behind your sofa, bed or ceiling as an alternative to wall art.
6. Sprinkle Pillows and Poufs Throughout
When it comes to decorating, you can never have too many pillows or poufs. For a true boho look, top your bed with a variety of giant, soft pillows that match your rug, drapes or other accent colors. If you're not a big pillow person, you can opt for one long, large velvet pillow on your bed instead. And if you're trying to save money, you can use pillow covers instead of purchasing a whole new set. This is a cost-effective way to switch up the look without breaking the bank. Leather or sequin poufs are another great way to elevate your living room or bedroom with minimal effort and money.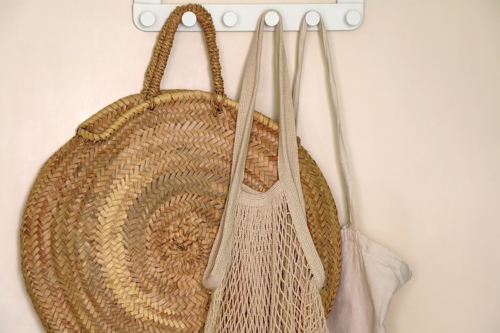 7. Opt for Plenty of Wall Hangings
If you're trying to figure out which wall hangings to opt for in your bedroom or living room, keep this simple boho decorating tip in mind: more is better. You can hang adorned mirrors and vibrant artwork to jazz up the walls, or opt for macrame plant hangers or handmade tapestries. You might even want to consider creating a gallery wall filled with various photographs, artwork and prints. Some ultra-hipsters even opt to hang hats on the wall. Have fun experimenting with various options and possibilities until you land on the aesthetic that feels right for you.
8. Invest in the Right Lighting
Nothing kills the vibe more than a generic overhead light. ​​Bamboo pendant lighting or beaded or woven rattan lights are a great alternative. But if you live in a rental and can't change out the overhead light, you can swap in smaller light sources throughout the room. For example, you can use wall sconces, lanterns and smaller nightstand lamps to create a soft glow. String lights are another must-have boho lighting look: simply string them above your headboard or across your living room walls to make the room feel even more cozy and chic.
9. Have Fun With Shapes
Bohemian design is all about embracing the unexpected. One of the best ways to make your bedroom or living room feel truly boho chic is to get creative with the types of shapes you include in the space — from geometric mirrors and wall hangings to curvaceous centerpieces.
10. Use Plants to Complete the Look
After you've finished decorating your bedroom or living room, add plants throughout to create a clean, simple look. You can purchase large painted ceramic pots, macrame wall hangings or wicker baskets to up the boho ante throughout any room. Make sure to integrate various kinds and sizes of plants for a truly striking look.