Moving is already a stressful experience, but moving with kids who aren't involved in the decision-making process can add another layer of stress and anxiety. Whether it's your first or fourth time moving as a family, it's important to see the transition from your child's perspective, involve them as much as possible and take the necessary steps to minimize friction during the transition. In this guide, we've included 11 foolproof ways you can help your kids (teens, toddlers and every age in between) cope with moving.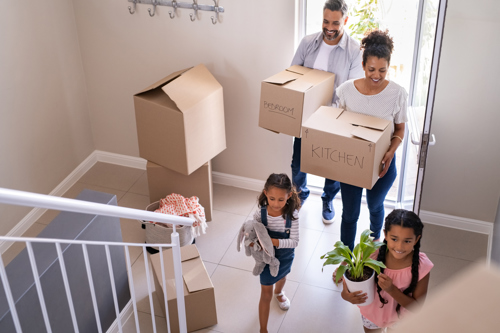 1. Explain Why You're Moving
Whether it's a new job opportunity or you've decided to plant new roots in a bigger home, it's important to explain to your kids why you're moving. Even if things are less than favorable — perhaps you've been evicted and are moving out of necessity — taking the time to sit with your kids and talk about the move can help address any anxieties, worries and frustrations they may be experiencing. If your child is a baby or toddler, use simple sentences and make sure to gauge their nonverbal reactions to understand how they're feeling. Even if your child is a teen, don't neglect to have a conversation with them. They'll need just as much time to adjust to the news. Hold an open forum for the family to address any concerns about why you're moving, and what that means for them. 
If your child is a baby or toddler, emphasize stability by explaining that they'll be bringing all of their belongings (nothing will be left behind). Remind them again while you're packing their room. Use toys, dolls or stuffed animals to act out an explanation of the move. 
If your child is a teen, be honest and direct with the reasons behind the move, and ask them questions to learn how they're feeling. Stay neutral while they express themselves, and make every effort to create a space where they feel heard.
2. Get Your Kids Involved in the Moving Process
Involving your children, both older and younger, in the moving process can empower them when they feel most helpless and make them feel like an important part of a team effort. As you prepare your moving to-do list, consider creating or identifying projects that the kids can help with, or possibly handle themselves. Even the smallest task can make a big difference from their perspective. Tasks for your children might include:
Younger kids: packing up a box of items from their room, cleaning up various messes (you can devise a game to keep them engaged, if necessary) or involving them in light tasks such as taping boxes
Older kids: being an errand buddy for things like picking up boxes and donation runs, helping manage the to-do list and taking care of a younger sibling
3. Keep Your Kids Engaged in Solo Activities
Alternatively, there may be times when it's not practical or even safe to involve your kids in the moving progress. On days like these, find ways to keep your kids occupied. Letting them enjoy more screentime than they usually do is a surefire way to hold their attention. You can also explore other options such as clearing out or "child-proofing" one room and setting up games, toys and other activities or letting your kids spend the afternoon on the driveway playing with easy-to-clean chalk and bubbles. 
4. Take Your Kids to Visit the New Neighborhood
This won't always be an option, but if you can, take a walk or drive around your new neighborhood with your kids. A visit like this can give them a clear sense of where they're going and make the destination a familiar scene rather than a big question mark. Ask them questions about what they think of the neighborhood and its surrounding areas, pointing out any playgrounds and ice cream shops for the young ones and after-school hangout spots like pizza shops and parks for the older kids. If you can't visit physically, pull up Google Earth and take a digital trip around your new street. You can also look up nearby restaurants, movie theaters, bowling alleys or other fun activities and make a plan for a family outing once you arrive.
Pro tip: If you haven't settled on a new address yet, take your kids with you during open houses and ask them their favorite things about each home, without necessarily promising that they'll get to pick where you ultimately move.
5. Host a "Moving Away" Party
It doesn't matter if you're moving around the block or across the country — a moving away party is a thoughtful way to celebrate the upcoming move and all the friends your child has made in your current home. You can either have the gathering in your backyard or at a local venue, though hosting it at home can be a great final way to commemorate your space. Incorporate themed decorations to reflect the place you're moving to, such as palm tree garlands if you're bound for California or paper snowflakes and Statue of Liberty stickers if you're going to New York. Find opportunities to create keepsakes, whether it's busting out the Polaroid camera, having a guestbook so all the attendees can sign their names or even giving guests their own small gift — chosen by your child — so that they too have something to remember you by. 
6. Minimize Change to Your Daily Routine as Much as Possible
When faced with the chaos of moving, sticking to your usual family routines may not seem like the biggest priority. But it's important to cultivate a sense of security and predictability in the weeks leading up to your move, and avoid changing anything up too quickly. In addition to maintaining your kids' normal dinner, nap, homework and sleep schedules, allow your child to continue going to after-school clubs or sports, and keep up their music lessons until the very last week before you move. Once you're in your new space, try to introduce familiar routines and surroundings as soon as possible.
Pro tip: If your child is younger, pack their room last before you move and unpack it first when you get to your new house (even if means setting up a bed and a few stuffed animals) to create a sense of continuity and familiarity. 
7. Make the Move Seem Like an Adventure
It sounds cliché, but as frazzled as you may feel during the process, try to create a positive, excited attitude about moving. During dinner, cleaning or other family activities, highlight to your kids all the things they can look forward to about their new home: the weather, the proximity to the beach or parks, etc. Help them understand that they're not the only ones leaving friends and familiarity behind — and that even though you're feeling those same things too, you're looking forward to all the new adventures and friendships you'll be able to experience. 
8. Help Your Kids to Stay in Touch With Friends
In the digital age, moving to a new city or state doesn't mean goodbye forever. Help your child keep in touch with their old friends by setting up an email address and scheduling a Zoom or virtual call after the move so your child can give a tour of the new house. Keep friends' addresses in a paper or digital note so your child can send them letters, postcards or other gifts for birthdays and holidays.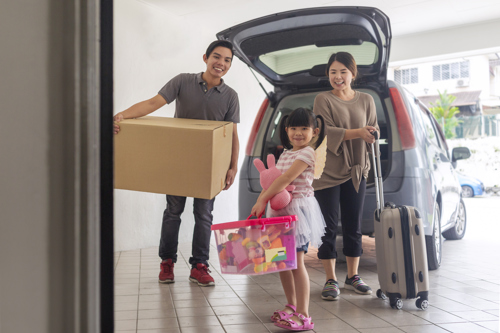 9. Pack a Bag for the Moving Trip
Put together an easy-to-access moving day bag full of any special items that can help your kids feel comfortable during the plane ride or drive to your new home. (You can even include a special toy or treat for them to open when you get to the new house as a surprise.) Some things to include in your moving day bag can include:
Special toys or keepsakes
A change of clothes or light layers
DVDs and other entertainment materials
Snacks
Daily-use toiletries like toothbrushes, hair accessories or diapers 
10. Hire a Babysitter or Nanny on the Day of the Move
Moving day presents a number of stressors of its own, especially if you're coordinating with movers or facing unexpected delays and difficulties. It's an environment that can easily even make an adult anxious, so imagine how frightened and upset your child might be if they see strangers taking your belongings out of the house and don't understand why. To keep things on schedule and protect your child (and pet, if you have one) from the commotion and potential hazards of moving day, it may be a good idea to hire a babysitter or nanny. Create a list ahead of time of your child's favorite snacks, games, movies and books to keep them engaged in fun activities all day long.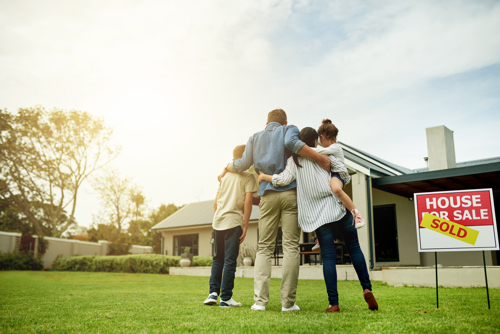 11. Say Goodbye to Your Old House
On your last day, you should take some time to physically say goodbye to your home with your kids. You can do this in a variety of ways — go from room to room and say your favorite things about each one, what you'll miss the most or what you won't miss at all. If your house is sold, you could write a letter to the next family with highlights of your experience. This time is for you and your kids to be mindful and appreciative of all that you have enjoyed about your old house, and experience a moment of closure. 
If you're moving with kids, these tips can help you maximize not just their moving experience, but yours as well. By answering any questions they may have, making them an active part of the moving team and creating ample time for closure, you can make moving accessible and exciting to your kids, no matter what their age. 
How to Make Moving Easier: Resources to Help You Move