As if the shorter days and dropping temperatures weren't enough, the stress of planning for the holidays can take a huge toll on your energy level and mental health. While making time for hot chocolate and cozy baths is key, you can also keep cabin fever at bay and ring in the new year by picking up a hobby (or three). Here, we'll share some of our favorite beginner-friendly outdoor and indoor hobbies for winter for solo adventurers and small groups alike.
1. Learn Recreational Snow Sports
From fat biking to skate skiing to snowkiting to snowshoeing, you have plenty of recreational snow sports to try. And while downslope skiing and snowboarding are the most popular cold-weather pastimes, there are plenty of cheaper alternative activities to practice. Love walking and low-impact aerobic exercises? Take up snowshoeing, the fastest-growing winter sport in the world — all you'll need are snowshoes and (optional) poles.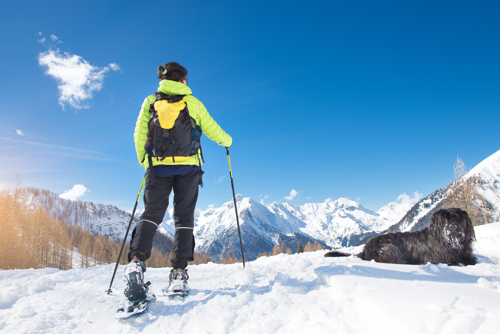 If you live in an area without access to nearby slopes, consider investing in a fat bike, which looks kind of like a cross between a moped and a bicycle. You can use your fat bike all year round to navigate tricky terrain, but riding it through powder makes for an intense cardio workout.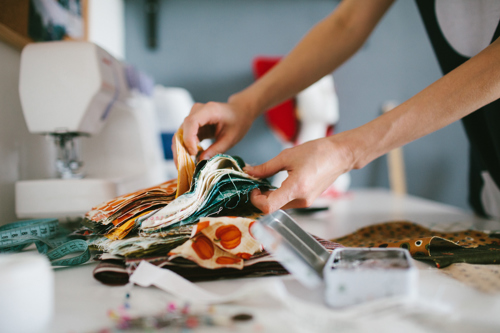 2. Make Your Own Rugs and Textiles
Who doesn't love cozying up on a warm rug when it's cold? This year, try your hand at making your own. Not only is a DIY rug cheaper than what you'd find at your favorite home or bedding store, but you can customize your textile to the exact color, shape and design to fit your home style. If you end up loving this indoor winter hobby, you can even make custom rugs or wall pieces as holiday gifts for your friends and family. To make smaller pieces that you can hang on the wall or use as accents throughout your home, check out the punch needle technique. All you'll need is a punch needle, monk's cloth, yarn and a hoop (or frame). For larger pieces, consider investing in a tufting gun, which uses a mechanical shuttle to hook the yarn through the cloth to help make your designs come to life in less time, with less effort.
3. Add to Your Party Game Collection
Cards Against Humanity, Monopoly and Life are party staples, but there's a whole world of tabletop fun that you can dive into. As far as indoor hobbies for winter go, party games are relatively inexpensive and can last forever, and it's always a good idea to have several on hand. If you're looking to play with a partner or a roommate who loves the outdoors, check out Parks, a New York Magazine-featured game where players take on the role of hikers who navigate different trails and collect memories of the places they visit. For a three-person-plus gathering, try your hand at Quickwits, a fast-paced card game where players name items within certain categories and descriptions as quickly as they can.
4. Create Room for Planned (and Random) Acts of Kindness
Giving back to strangers and peers, even in the smallest ways, can feel especially rewarding right now. Show your local healthcare workers some love by sending a card (a digital one works just fine), with an added gift card of your choice to bring them a little more joy. Working remotely? Take the time to send an email, Slack message or other thoughtful note to your coworkers.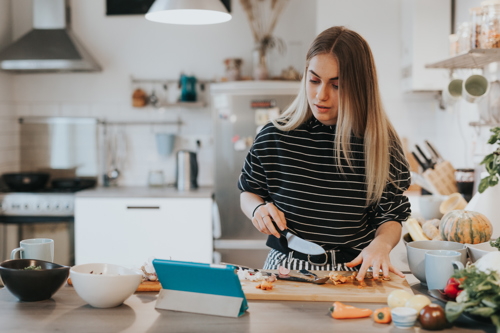 5. Take an Online Cooking or Baking Class
Step up your home cooking game by taking an online culinary class. There are plenty of free videos on YouTube to get your creative juices flowing — channels like Tasty, New York Times Cooking, and Tipsy Bartender let you to follow along with Samin Nosrat as she makes the perfect lasagna, learn a 100-year-old tamale recipe from the oldest Mexican restaurant in L.A. and top it all off with a Blue Moon mango margarita. If you want to plan a date night and take a cooking class from a seasoned pro, look into Christopher Kimball's Milk Street, where Milk Street teachers and recipe developers run 60-90-minute classes on Zoom. Want access to lessons from multiple world-renowned chefs? Sign up for Masterclass — the "Netflix" of learning — and get tips on everything from knife skills to recipe preparation from the likes of Gordon Ramsay, Thomas Keller, and Alice Waters.
6. Start a Side Hustle From Your Home
Whether you're looking to earn a bit of extra income or make your passion your full-time job, the winter months are the perfect time to plan out the logistics of your biz. In addition to drafting up a business plan, you'll want to think carefully about your potential products or services, competition, startup costs, profit forecasting and all the creative elements, including your business name and logo design. If you're an artist, you might want to start your operation on a platform like Etsy, which streamlines the process of setting up shop so you can focus on your craft.
To learn more about the top-performing Etsy business categories — with some ideas and how you can stand out from the crowd — check out our guide: 7 Creative Etsy Shop Ideas for Your Next Side Hustle.
7. Work on Upcycling or Eco-Friendly Projects With Your Friends
The new year is always a good time to reflect on ways you can minimize waste. As you begin to stow your winter furniture and decorations into storage and do a general appraisal of your home goods, take stock of any items that you can give a second life with a bit of DIY magic. Whether it's getting your friends together for an at-home spa night (turning leftover coffee grounds into a soothing face-and-body scrub), using empty glass candle jars for trinket storage, or turning empty wine bottles into vases and corks into a hot pot coaster, there's no better time than winter to wrap yourself in a cozy blanket and get crafty — while doing a small part to help out the planet.
8. Read a Book (or Start a Book Club)
Since you're already staying warm indoors, why not start that hardcover you've been hearing about? With plenty of online recaps of the "best" books of the year and forecasts of next year's most promising releases, winter is the perfect time to pick up a new read — and order two or three extras as gifts for your friends. If you're starting a book club, set a collective annual reading goal, with a manageable minimum (one book per month is a good place to start). You can make the experience social, fun and enriching by tracking progress in a group chat and hosting monthly Zooms or in-person get-togethers where everyone can share their thoughts.
9. Find Storage for Your Winter Hobbies
Picking up winter hobbies doesn't have to take up space. If you want to store your snowshoes, skis or holiday decor once the season ends, consider keeping them safe in a storage unit. Instead of cluttering valuable space, you can put any unneeded items in a SmartStop Self-Storage unit, which is secure, clean and climate-controlled to protect your belongings. We have affordable storage options around the U.S. and Canada to meet your storage needs, without fine print or strings attached. Visit our blog to learn more about tiny house ideas and the smarter way to store your household items!