With little-to-no cold weather, a thriving economy and numerous attractions to enjoy, San Antonio, Texas, is a popular place to live. Compared to other cities in the state, San Antonio boasts a lower cost of living, despite providing access to many of the same benefits.
1. Cost of Living in San Antonio
In most respects, San Antonio's cost of living comes in lower than national averages for housing, utilities and healthcare. The city also comes in under the national averages for aspects like:
Home prices: $175,400
Rent: $881 (one bedroom)
Utilities: $123
Self Storage: $60-$200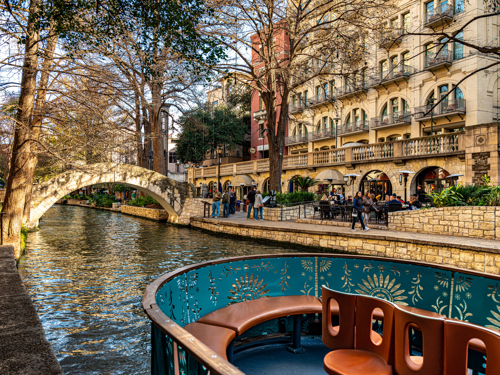 2. Neighborhoods in San Antonio
San Antonio is home to many unique neighborhoods, each with its own aesthetics and attractions:
Alamo Heights — Alamo Heights is located just north of downtown and features the Broadway Cultural Corridor, which includes the McNay Art Museum and a plethora of upscale entertainment options. This area is ideal for someone who wants to be centrally located and avoid a lot of downtown's hustle and bustle.
Downtown / River Walk — The River Walk, located downtown, is one of San Antonio's biggest tourist attractions, where you'll find plenty of restaurants and entertainment options. If you want to be in the heart of the city, this is where you'll find it.
Eastside / Sunset Station / Dignowity — Located on the city's east side, these neighborhoods feature older, vintage homes and provide easy access to a wide variety of dining and entertainment options.
Stone Oak — Founded in the 1980s and located on the far north-central side of San Antonio, Stone Oak is an exclusive master-planned neighborhood of upscale homes that spans 12 different subdivisions.
Boerne —  Boerne (pronounced burn-ee) is located on the far northwest side of metropolitan San Antonio and features well-manicured streets, a historic downtown filled with shops and restaurants, and several annual festivals.
Helotes —  Helotes is also on San Antonio's northwest side but meaningfully closer to the city. With less than 9,000 residents, Helotes evokes a rural feel with many parks and solid schools.
Schertz — Schertz is a family-friendly suburb that sits on San Antonio's northeast side and spans three different counties (Guadalupe, Bexar and Comal). The city boasts a large concentration of families and an excellent school system.
3. San Antonio Job Market
The average annual salary for a San Antonio resident is $115,000. This includes a low of $29,000 and a high of $513,000. Compare this to national averages of $48,516 per year at the low end and $145,500 at the higher end.
San Antonio is home to top companies like Southwest Research Institute, Valero Energy Corp., Toyota, the H-E-B supermarket chain and the Fortune 500 company USAA. You'll also find several military bases, including Lackland Air Force Base, Fort Sam Houston, Camp Bullis and Randolph Air Force Base.
Given this, some of the most common occupations in San Antonio and their average annual salaries include:
Nursing Assistant / Aide: $27,500
Waiter / Waitress: $21,420
Customer Service Representative: $33,100
Retail Salesperson: $28,350
General Office Clerk: $34,730
Zooming in and taking a closer look at San Antonio's top employers, including their average high and low salary ranges, these numbers change to:
4. Things to Do in San Antonio
With a metropolitan population of 2.5 million people, San Antonio is chock full of fun and exciting things to do during your free time.
Outdoor Activities
There are several outdoor activities you can enjoy in San Antonio, including: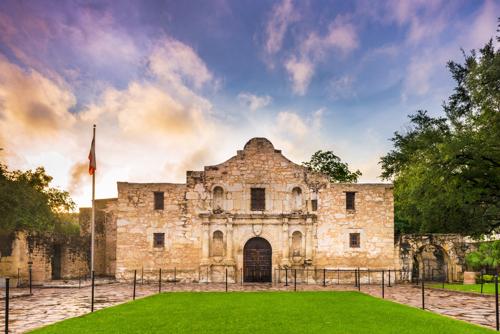 Parks and Attractions
When it comes to parks and other attractions to visit in San Antonio, some of the most popular include:
Food and Drink
There is a wide variety of culinary options in the San Antonio area. Below, you'll find some of the more popular options.
5. Things to Know Before Moving to San Antonio
The fact of the matter is that no city is perfect. Here are a handful of things you need to know before moving to San Diego.
Traffic — With more than 2.5 million residents, metro San Antonio's roads can become especially clogged during rush hours. To avoid this, you'll want to drive during off-peak times and avoid freeways.
Public Transportation — San Antonio is a car-centric city. While their VIA Metropolitan Transport system serves much of the region, you'll want access to a car for maximum convenience.
Tourism — While there are millions of permanent residents, the city of San Antonio welcomes more than 34 million visitors annually. Fortunately, most are relegated to the downtown and River Walk areas.
Weather — San Antonio's rainfall varies but generally averages around 30 inches per year. Sometimes, heavy storms can create flash floods and make driving difficult. Also, summers are especially hot, with August high temps hovering around 96° Fahrenheit.
Pests — Many pests call San Antonio home, including termites, spiders like the brown recluse and black widow, mosquitoes, and cockroaches. Fortunately, most of these creatures remain out of sight, especially during hot summer months.
There are a lot of things to keep track of when it comes to moving, including truck rental and related supplies (e.g., moving blankets and dollies), as well as a safe, secure location to store your belongings in the interim. The good news is that SmartStop has one location in the San Antonio metro region at 8239 Broadway St, which boasts a variety of helpful features, including air cooling, climate control, indoor parking and outdoor vehicle storage.