To make space for the things you want in life—whether it's a new career or more stamina at the gym—you may find it helpful to look to legends like Mike Tyson for advice. Over his 20-year career, Tyson showed America what being a champion looks like, winning 50 of his total 58 fights and becoming the first heavyweight boxer to simultaneously hold the WBA, WBC and IBF titles. Was Tyson simply born with the natural gifts of speed and strength? Or did he work tirelessly to ensure his steady rise to victory? To find out, we looked to Mike Tyson's life and some of the best Mike Tyson quotes on productivity to see what we could glean from his long and prosperous career. Whether you're looking to enter the boxing ring yourself, or your worst opponent is your own procrastination, these Mike Tyson motivational tips will have you primed for a knockout.
1. Practice Daily Affirmations
"As a 13-year-old and 14-year-old kid, [trainer Cus D'Amato] would sit me down and put me under hypnosis and he would tell me that I'm the most ferocious fighter that God ever created...and I'd go through all those affirmations: 'Day by day, in every way, I'm getting better, better, better.'"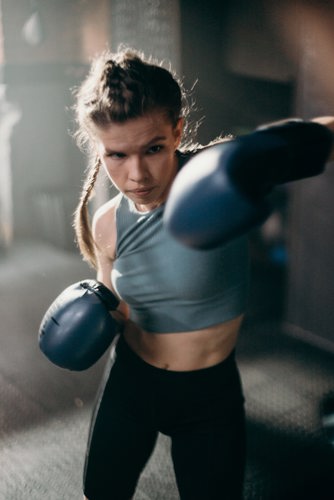 In his book, Iron Ambition: My life with Cus D'Amato, Mike Tyson explains how a daily routine of hypnosis, visualization and affirmations helped to create his productive and victorious mindset. Science backs him up too. Research shows that self-affirmation enhances performance and makes us receptive to our mistakes. You can try this at home by setting aside some time each day to visualize yourself having achieved your ultimate goal. What would that look like? If your ultimate goal is writing an award-winning screenplay, you might visualize yourself onstage at the Academy Awards. If your goal is becoming a heavyweight championship, visualize yourself in that ring. You may find it even more helpful to create an actual picture using magazine cutouts or drawings and display your goal picture where you can see it frequently. Pair this visualization with an affirmation, a verbal expression that supports your goal. Repeat this affirmation several times every day and expect results to flow in.