With summer break right around the corner, it's the perfect time for teenagers to transform their bedrooms from kid-centric spaces to elevated environments. Whether it's a complete overhaul or a minor update, renovating a bedroom is a great way to express an evolving personality and create a more functional living space in the process. Here are nine teen bedroom ideas for parents and teens to tackle this summer.
1. Create a New Theme
From getting a driver's license to a summer job, teenagers have many exciting milestones to look forward to. To help them better reflect their changing personalities and preferences, why not give their room a new look too? You can start by creating an online mood board with them and playing around with new design possibilities. 
If your teen is ready for an all-new aesthetic, you can then brainstorm new themes. For example, if travel is their biggest passion, you can paint a safari mural on one of the walls or frame some photographs from favorite trips. If theater is their new go-to hobby, consider creating collages with playbills from recent performances. Coming up with a new theme is a fitting way to usher in the next chapter of their life.
2. Put on a Fresh Coat of Paint
When it comes to reimagining a space, you don't always have to start from scratch. Oftentimes, a fresh coat of paint will be all it takes to make a room look close to new. If you have a teenage daughter who wants to leave her frilly pink room behind or a son who wants something a little more understated, start by repainting the walls. To give the room even more pizzazz, you can add a mural to one of the walls. And you can even do something really bold and unique, like creating a metallic accent wall. You can use the new color(s) as a springboard to reimagining the rest of the room.
3. Add a New Furniture Set
Say goodbye to your teen's twin bed! To help them feel more like a grownup, it's time to invest in a new set of furniture. Trading a twin bed in for a full or queen bed is a great place to start. You can also swap out light nights in favor of nightstands with lamps. Lots of childhood artifacts lying around? Put some of their stuffed animals and toys into storage to clear up space. Updating their room with a new furniture set is a great way to more accurately reflect who your teen is today (and who they're becoming).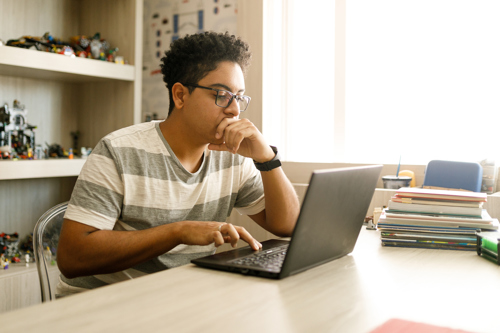 4. Design a Homework Nook
As teens get older, their homework loads will inevitably increase — which means they may benefit from having a personalized homework haven. Consider designating one corner of the room as their homework station, and then work together to customize the space. To start, let your teen pick out a desk and chair from a local furniture shop or consignment store.
You can then purchase all of the homework supplies they may need (from pencils to calculators) and organize them on the desk. Having all of your teen's homework supplies in one designated space will make it easier for them to keep track of their homework assignments.
5. Invest in New Storage Options
To help your teen keep their room looking neat and organized, make sure they have ample storage space. This is especially important for those with small teen bedrooms. Bookcases and adjustable wall shelves are a great place to start since you can easily put trophies, plaques and other teenage memorabilia on the shelves.
If you're really pressed for space, consider putting a desk underneath a bunk bed. (If you prefer to stick with a traditional bed, you can buy plastic bins and put seasonal items like winter clothes and sports gear underneath.) Adding a bench, desk or ottoman with built-in storage is another great way to make the most of a small space. You can even spring for more creative storage options like refurbished lockers or colorful stackable bins. Updating your teen's storage solutions will help them easily keep track of everything, which is especially important when they're living in a small space.
6. Make an Outfit Station
If your teenager is a fashionista, they'll love being able to create their own outfit station. Start by hanging an over-the-door hook, rod and plastic accessories organizer on their bedroom or closet door. Next, attach a mirror to the door.
Each night as they're getting ready for bed, your teen can then hang their clothes, shoes and jewelry on their doorway outfit station. The next morning, they can double-check the final look in the mirror on their way out the door in the morning. This is a simple yet fun way to personalize their space (and it's especially helpful if they have a small bedroom with limited closet space).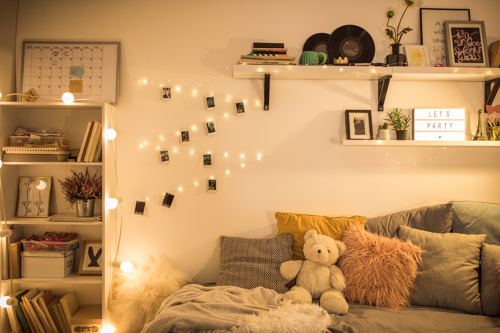 7. Purchase Some New Accessories
Another great way to transform your teen's room without breaking the bank is to invest in some chic accessories. Consider planning a shopping day for you and your teen, and give them a budget so they can pick out whichever pieces resonate most with them. From choosing a colorful, cozy rug to choosing some new artwork and wall hangings, accessories are a great way to elevate a space. Don't forget about fun final touches like string lights, decorative pillows and comfy blankets. To add even more allure to the room, consider purchasing some plants, lamps or candles. While each of these items can be relatively inexpensive, when you combine them together you can create a truly inviting space.
8. Invest in Smart Tech Devices
To usher in a more connected living experience, why not purchase some smart tech home gadgets? You can start by installing motion-activated sensors that can turn the lights and air conditioning on and off whenever your teen walks into the room. You can also install door and motion sensors that sound an alarm when unexpected motion is detected to provide an additional layer of home security. Your teen might also benefit from having a device like Alexa so that they can check the weather for the day to decide what to wear, play music as they're getting ready in the morning or listen to audiobooks.
9. Add More Privacy
If you're looking for other small teen bedroom ideas, don't forget about creating a more private living space. To help your teenager feel more grownup, you can find ways to help their bedroom feel more private. For example, you can purchase a four-poster bed and put curtains around it. This will not only give them some much-needed privacy if they want to finish a book late at night or sleep in on the weekends…it will also help the room look more mature and sophisticated. You can also hang curtains and blankets from the ceilings to create a separate hangout nook. If you have a small bedroom, doing this can create more distinction between spaces.