Hyde Park, NY may be known to history as the home of Franklin Delano Roosevelt and his family, but these days, it has a new claim to fame — one of America's most charming places to live. Nestled in the Hudson River Valley, Hyde Park offers an optimal mix of natural beauty, historic charm and a very reasonable cost of living. It's a combination that's attracted mid-career professionals, young families, and retirees who enjoy outdoor activities, laid-back living, and easy access to the greater New York/New Jersey metro area.
Living in Hyde Park, NY: An Overview
Hyde Park is currently riding the wave of new popularity, thanks to its discovery as a "hidden jewel" by major East Coast newspapers — it's been featured in the New York Times and the Boston Globe recently, in addition to being named one of the most charming places and safest cities in the U.S. The presence of the Culinary Institute of America coupled with the growing allure of Hudson Valley's wineries and breweries have made it a hotspot for foodie tourism. They've also made it a magnet for young families and retirees planning their "second careers" in their own businesses. 
Population: 21,021 (2020)
Diversity: 79.8% White alone, non-Hispanic/Latino, 10.0% Black alone, 3.4% Asian, 7.8% Latino/Hispanic, 4.1% two or more races, .1% American Indian/Alaska Native
Weather
Highest temperature: 83°F (July)
Lowest temperature: 19°F (January)
Warmest months: late May to mid-September
Coolest months: early December to early March
In Hyde Park, you can expect warm, wet summers and cold, snowy winters. Do expect at least a few clouds in the sky regardless of the time of year, though September ranks as the month with the clearest days — 63% clear, mostly clear, or partly cloudy — and February the cloudiest, with more than 60% of the days being mostly cloudy or overcast. 
The best time of year to visit Hyde Park is mid-June to mid-September, when temperatures range in the high 70s to low 80s, and skies are often clear and sunny.
What's the Cost of Living in Hyde Park, NY?
For a small town that offers so much access to nature, history and cultural sites, Hyde Park is surprisingly affordable. The overall cost of living score is slightly higher than the U.S. cost of living, but significantly less expensive than the New York/New Jersey Metro area. The cost of housing is a significant factor there — the median home cost and median rent are considerably lower than similar homes in nearby cities. 
Average number of days on the market: 84
Rent (one-bedroom): $1,459 per month
Utilities: $109 per month
How Expensive Is Renting in Hyde Park, NY?
The median rent in Hyde Park is much lower than in nearby metro areas, with one-bedroom apartments averaging about $1,450 per month. The homeownership rate is high — about 75% of the residents own their own homes. That said, the charming town boasts a variety of rental properties available, including single-family homes scattered throughout the different neighborhoods. Those who prefer living in rental communities will find several highly rated apartment complexes on the riverfront, as well as townhouses, condominiums and complexes in and around East Park. East Park is also home to a number of upscale mobile home communities that include a mix of owner-occupied units and units available for rent. 
The Best Neighborhoods in Hyde Park, NY
Historically, Hyde Park and its surrounding small towns were the preferred getaway for some of the most famous titans of industry and finance in the 1920s. For decades, the town consisted mostly of the East Coast elite families, and the locals who provided services for them. That changed significantly during the post-WW2 era, and again in the 1970s to 1990s, as suburban developments grew across the country. Today, Hyde Park is a lively mix of people from all walks of life who share a love of the outdoors and a desire to enjoy community living at its finest. Here are some of the best neighborhoods in Hyde Park.
Haviland
Haviland grew up during the suburban expansions in the 1940s and 1970s, and the neighborhood vibe reflects that. With a healthy mix of single-family homes and small apartment buildings, the hamlet of Haviland is the essence of suburban living. Haviland has become popular with young, active retirees and growing families. While many of the neighbors are college-educated professionals who work in executive or management positions, there are also many adults who work in manufacturing, sales, or retail jobs. Despite the wide range of income and life experience, the neighborhood is welcoming and friendly, with backyard barbecues and local holiday parades being part of the social fabric of the community. 
Population: 3,634
Places to check out: Top Cottage — FDR's Getaway Cottage; Roosevelt Hyde Park; Greenfields Park
Hyde Park Town
Historically, Hyde Park was famous as a vacation retreat for the titans of the Gilded Age, and the mansions they built are still focal points of the little town. It has the friendly vibe of a small, New England town, where stately mansions and more modest homes sit within blocks of each other. Downtown Hyde Park is rapidly becoming a magnet for young entrepreneurs who value the small-town feel and back-to-nature beauty of the Hudson River Valley. With more than 30 miles of hiking and biking trails, a number of state parks, and a summer adventure camp nearby, Hyde Park offers a wonderful mix of history, culture, food — the Culinary Institute of America is located here — and outdoor activities to please any young creative or active retiree looking for a place to set down roots.
Population: 1,988  
Places to check out: Springwood — Franklin D. Roosevelt's Home; Val-Kill — Eleanor Roosevelt's Home; St. James' Church Historic Graveyard Tours; Vanderbilt Mansion
East Park
Located southeast of Hyde Park Town, East Park is a collection of small, very affordable, residential communities. The homes vary from single-family suburban houses to mobile home parks, which are a healthy mix of family-friendly and 55+ communities. With many nearby grocery stores and other amenities, East Park offers the convenience of suburban living within easy distance of numerous state parks, historic sites, and outdoor activities.
Population: N/A
Places to check out: Ti Yogi Bowmen Archery; Cranberry's at Tilley Hall; Crum Elbow Creek
Rhinebeck
For those who crave an artsy, funky atmosphere, the village of Rhinebeck is just a short drive north of Hyde Park. A well-known haven for artists, makers, and creators, the little town has been listed as one of the country's most charming towns by the Tempo 24/7, rates an A- on Niche.com, and is generally regarded as one of the safest places in the country to live. The scenic, tree-lined main street features niche shops, art galleries, and trendy eateries — but it basks in downhome charm that invokes comparisons to Mayberry. With its laid-back atmosphere and artistic community, it's an equally ideal spot to raise a family or live out your retirement dreams.
Population: 7,596
Places to check out: Northern Dutchess Botanical Garden; The Center for Performing Arts at Rhinebeck
Staatsburg
With stately homes and rolling parklands, the tiny town of Staatsburg is, according to Neighborhood Scout, a retiree's dream neighborhood. Rated one of the safest places to live in the United States, Staatsburg is largely upper middle class, professional and older — more than 60% of the residents are 55+. The very same things that make Staatsburg attractive to active older adults are also a magnet for households with school-age children and young professionals. While national profiles tend to focus on the neighborhood's historic sites, residents point to the outdoor activities and cultural opportunities as a major plus to living in Staatsburg.
Population: 554
Places to check out: Staatsburg State Historic Site; Mills Mansion; Margaret Lewis Norris State Park
The Job Market in Hyde Park NY
Most people who live in Hyde Park, NY work in health care, accommodation and food services, or public administration, as well as in the retail sector. Hyde Park is home to the Culinary Institute of America, which employs teachers, administrators, and food service professionals, and also accounts for a large population of students in the area. The area also offers a lot of opportunities for people in technical services, particularly in information technology and public administration. The concentration of nearby national parks and outdoor recreation areas also provides a lot of opportunities for those employed in the health, wellness and outdoor recreation fields.
Professional, Scientific, and Technical Services ($118,875)
Information Services ($85,606)
Public Administration ($80,000)
Education Services ($29,643)
Accommodation and Food Services ($8,666)
Here are some places you can find open positions in Hyde Park, NY: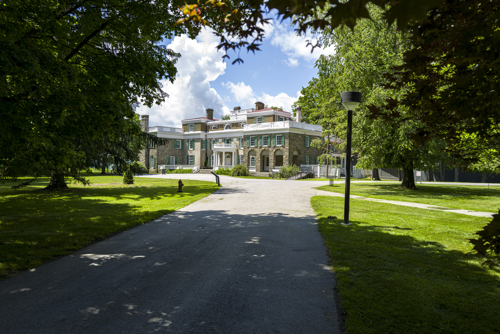 The Best Things to Do in Hyde Park NY
Hyde Park's location in the middle of the scenic Hudson River Valley made it the vacation getaway for some of the wealthiest titans of the Gilded Era. The unspoiled beauty of the surrounding area continues to draw those who love outdoor sports and recreation, but hiking, boating and fishing are just a small part of the activities in Hyde Park. From tours of historical mansions to treasure hunting in some of the nation's best antique shops, Hyde Park and the surrounding towns in Dutchess County offer a wealth of ways to enjoy life.
Outdoor Activities
Paddle the River. Explore the Hudson River Valley from the water. With its myriad creeks, streams and waterways, the Hudson River offers kayaking experiences for everyone from complete beginners to experienced boaters. 
Go for a Hike. With 75 trail systems — including a leg of the Appalachian Trail — Hyde Park offers hiking experiences ranging from comfortable walks along the river to aerial obstacle courses high above the forest floor. 
Go Fishing. The upper Hudson River is a dream for freshwater fishermen. With miles of streams and dozens of fishing spots — both well-known and well-kept secrets — the parks and preserves surrounding Hyde Park are an angler's treasure chest, chock full of smallmouth bass, catfish and walleye trout. 
Camping. Whether you fancy a glamping vacation or a rugged wilderness trek, the national and state parks in the Hudson River Valley have the perfect hookups for you. Depending on location, many offer year-round camping for those who enjoy ice fishing, snow-shoeing and other outdoor winter fun.
Biking. Like most of the Hudson River Valley, Hyde Park is well-equipped for adventure bikers. With multiple bike trails, ranging from easy rides to rugged mountain ascents, you and your bike will get a real workout.
Parks and Attractions
Get to Know the Roosevelts. Hyde Park is best known as the home of Franklin Delano Roosevelt, the nation's only four-term president. Much of the town is dedicated to preserving his memory and that of his family. In addition to Springwood, FDR's childhood home, Hyde Park is also home to the president's getaway cabin, his presidential library, and his wife's home. 
Bask in Gilded Era Luxury. Once the luxurious home of wealthy financier Ogden Mills and his wife, Ruth Livingston Mills, the Staatsburgh National Historic Site preserves their Gilded Age lifestyle for posterity. There are tours of the mansion's 79 rooms, as well as tours — self-guided and otherwise — of the 192-acre estate daily. 
Roller Skating. Hyde Park Roller Magic is a throwback — an old-school, but thoroughly modern roller rink that hosts everything from birthday parties to late-night skate night dates. They also field a roller derby team, the Hudson Valley Horrors. 
Get Artsy. The Artists Collective of Hyde Park is more than an art gallery. It's a vital and thriving community of artists who host gallery shows together, as well as public events, such as Paint and Sip nights and Open Mics for the local community. 
Join Fellow Foodies. The Culinary Institute of America's flagship campus is located in Hyde Park, making it a must-stop for any foodie on vacation. In addition to campus tours, the CIA also offers classes for food and wine enthusiasts, dining at student-run restaurants and shopping at the Craig Claiborne Bookstore. The breathtaking grounds and mansion are also available for weddings and events.
Places to Eat
Take a Brewery Tour. Given its agricultural past, it's no surprise that Hyde Park has a thriving brewery culture. There are several spots you can enjoy an afternoon or evening brewery tour, complete with sampling some of the nation's best IPAs and ales.
Visit a Vineyard. The Milea Estate Vineyard is one of the newest vineyards on the Dutchess County Wine Trail. Sip wines on the patio with its spectacular view of the vineyard and mountains, and enjoy the Winemaker tasting tour for a special treat.
Culinary Institute of America. The CIA hosts an assortment of world-class restaurants that allow students to try out their skills in an assortment of cuisines. You can easily spend a week just sampling the different restaurants that are part of the culinary complex.
Enjoy Retro Diner Dining. Featured in Guy Fieri's Diners, Drive-ins and Dives, the Eveready Diner is more than food — it's a step back into the golden age of diners. The retro-themed diner is awash in neon lights, but the cooking is as down-home good as it gets. 
Try Authentic Italian Food. Hyde Park has historically been home to a thriving community of Italian immigrants, and they've made their mark on the local dining landscape. From pizza casual to night-on-the-town regional Italian cooking, there's no shortage of authentic Italian cooking for pasta enthusiasts.
Transportation
Most people get around Hyde Park and Dutchess County in private automobiles, and most households own at least one vehicle. WalkScore.com, which rates cities around the country on how easy it is to do errands and get around without a car, has assigned a walkability score of 45 to Hyde Park, NY.
In terms of public transportation, the town is served by LOOP Route C of the Dutchess County Public Transit service. Buses run from Poughkeepsie to Tivoli once an hour Monday through Saturday, making several stops in Hyde Park along the east bank of the Hudson River. In addition, for NYC to Hyde Park train service, commuters can access Amtrak and Metro North Rail at the Poughkeepsie Amtrak Station to travel to New York City in less than two hours. 
Planning Your Move
Thinking of moving to Hyde Park, NY? Check out our guides to learn everything you need to know about packing, staging your home and moving:
Be sure to download our checklists, too: