For dads (or all the father figures in your life) who like to tinker with drill bits or utility knives and fix things up around the house, Father's Day is the perfect time to treat them to the latest gadget or upgrade a worn-out tool in their set. This year, we've decided to make gift-buying easy for you by linking to products from every dad's favorite one-stop shop: the Home Depot. For those of you who are fully accustomed to two-day shipping on Amazon, keep in mind that shipping may take longer on Home Depot's site, so be sure to order your gift at least a week or two in advance of Father's Day.

Read on for our 12 favorite Home Depot gifts for dads.
1. Cordless Drill Kit
A power drill is a staple of any toolkit, handy for small at-home installations or repairs as well as larger woodworking and DIY projects. If your dad is still relying on screwdrivers or an ancient cordless drill that doesn't live up to the job, consider upgrading his drill kit. This is a gift that can save him hours of time and be put to good use for years to come.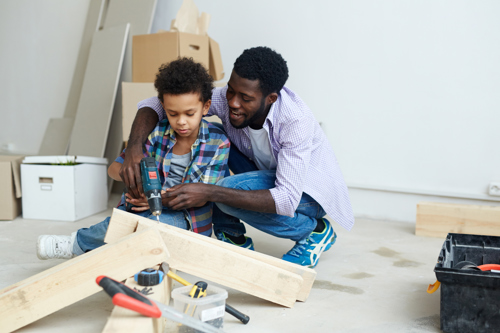 Shop the DeWalt cordless compact drill from Home Depot. Price at time of publication: $99*.
3. Leather Tool Belt
Help your dad get his tools organized with an elevated, durable tool belt designed with premium leather materials — the perfect gift to last a lifetime. Tool belts can help him work faster by keeping his DIY essentials close at hand, save space (toolboxes and tool backpacks can be bulky and dominate an entire work table) and store small items in a single place so he'll never misplace them again.
Shop Husky two-bag, 10-pocket work tool belt from Home Depot. Price at the time of writing: $44.97*.
4. Point and Line Laser Level
Using a manual leveling tool once in a while isn't too much of a headache, but it's still a much less precise and efficient method then using a laser level.  This year, upgrade your dad's toolkit with a state-of-the-art laser leveling tool — and say bye to lopsided pictures forever. Laser leveling tools work by emitting a beam of light on any wall to give your dad a straight-line reference, freeing up his hands to actually do the hanging.
Shop the Bosch laser self-leveling tool from Home Depot. Can be used from up to 50 feet away and attached to multiple surfaces. Price at time of publication: $149*.
5. Wine Fridge
For the dad who loves a glass of good wine with dinner, investing in a wine cooler or fridge can take his amateur sommelier dreams to the next level and preserve the quality of his collection. This is also the perfect gift that keeps on giving — you can feel good about buying him new varieties to add to the fridge. Wine coolers tend to run on the expensive side, so consider splitting this one with your siblings or other family members. (Or, check out our guide on nine other wine coolers and fridges for a range of budgets.)
Shop the Magic Chef 50-bottle stainless steel wine cooler from Home Depot. Price at the time of writing: $359*.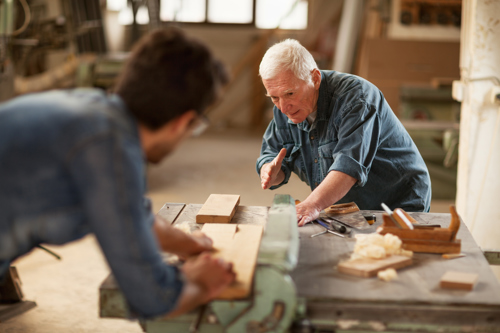 6. Circular Saw
A circular saw is a woodworking essential for the carpenter dad. This handy power tool features a round blade that can be mounted to a table or held in the hand — allowing dad to be able to cut through materials ranging from concrete board to lumber. To make the gift extra personal, come up with a couple of backyard pallet projects or patio ideas to work on with him.
Shop the Mikita brushless/cordless circular saw kit from Home Depot. Price at the time of writing: $249*.
7. Digital Tape Measure
A tape measure can come in handy for just about any home improvement project, but you can transform measuring into an exact science by getting dad a digital tape measure. These models don't use tape (which can develop kinks over time and lose their accuracy) and instead have laser technology that makes readings exact, every single time.
Shop the General Tools 50-foot laser tape measure from Home Depot. Price at time of writing: $24.83*.
8. Butane Torch
There are plenty of uses for a trusty butane torch: lighting camping stoves, assisting in projects related to brazing, soldering or plumbing, and more. But when it's too rainy or windy to fire up the grill, a butane torch is also the perfect way for dad to get a sear on a sous-vide steak or melt cheese on a patty for burger night. While both butane and propane torches are safe to use for food, butane is slightly more fuel-efficient and usually comes in smaller, more portable sizes.
Shop the Benzomatic butane torch from Home Depot. Price at the time of writing: $29.97*.
9. Work Boots
If your father figure is in need of a new pair of boots for his job or household improvements, look no further than Timberland's waterproof work boots. Designed with a steel safety toe, seam-sealed waterproof leather, electrical hazard protection, and a sturdy outsole that's resistant to slips and scruffs, these performance-oriented shoes are the perfect gift for dad to don anytime he's working around (or outside) the house. Plus, this piece of high-quality footwear is tough enough to last several years of heavy use. 
Shop the Timberland waterproof work boots from Home Depot. Price at the time of writing: varies based on size. 
10. Coffee Grinder
If your dad is still buying pre-ground coffee from the grocery store, take his morning cup to the next level with a conical burr grinder that can mill down whole beans for maximum freshness and flavor. The best machines come with a wide range of settings to customize the grind size for French press, pour-over and other extraction methods, and are compact enough to stand next to your dad's coffee maker on the counter.
Shop the OXO 16 oz. conical coffee grinder from Home Depot. Price at the time of writing: $99.99*.
11. Cordless Lawnmower
Cordless lawnmowers (which lack the clutch, belt and other gear of their corded counterparts) offer a range of pros: they're less noisy, less heady, don't require gas (read: they're more eco-friendly) and require minimal maintenance. Best of all, they're just as sturdy and capable as your standard lawnmower. For Father's Day this year, make landscaping a breeze for dad with a cordless tool that takes the chore out of yard work.
Shop the RYOBI cordless lawnmower from Home Depot. Price at the time of writing: $199*.
12. Smart Suitcase
Get dad ready for this year's travel plans with new smart luggage. From suitcases equipped with built-in chargers (and multiple USB ports for simultaneous charging) to RFID-blocking interior pockets that thwart identity thieves, even the humble carry-on is catching up with the digital age — and giving travelers more convenience and peace of mind in the process.
Shop the DUKAP Intely Hardside Spinner (which comes with a digital scale to track the weight of your suitcase) from Home Depot. Price at the time of writing: $143.15*.
13. Other Home Depot Gifts for Dad
There are plenty of other great home improvement gifts you can get dad at Home Depot, including:
An upgraded toolbox to help him consolidate his gadgets
An oscillating tool to help him consolidate several space-eating tools
A leaf mulcher to prepare trimmings for composting​
*Prices are accurate at the time of publication.