If you're searching for a secret summer oasis or a picturesque spot to host dinner parties, look no further than your backyard patio. With a little creativity and TLC, you can transform a bland patio into a gorgeous alfresco hideaway that you'll look forward to using day after day. Here are a handful of tips that will make even the most basic patio feel luxurious, without breaking the bank.
1. Add a Water Fountain
Few things can elevate a backyard like a water feature or fountain. Thankfully, installing one doesn't have to be a hassle. Spend some time perusing pictures online and in magazines to determine which look is right for you, and then try your hand at building one yourself (or hiring a handyman if you don't feel quite up to tackling the task). If you love bird watching and are looking for other backyard ideas on a budget, you might opt to install a birdbath instead. Either way, installing a water fountain or feature on your patio is a great way to beautify your backyard.
2. Construct a Hardscape
If you're ready for something a little more permanent, why not construct a hardscape? Made from either natural or manmade elements, hardscapes can range from walkways and stepping stones to brick walls and outdoor kitchens. Hardscapes can make your patio more functional, better distinguish specific spaces for eating or entertaining, and ensure privacy. One of the most popular hardscapes to start with is a pergola, which can provide much-needed shade on hot days. Trellises are another go-to option since you can string them with flowers or lights to make your backyard even more inviting.
3. Create an Outdoor Dining Area
Whether you want to host backyard barbecues or sit-down dinner parties, you can easily turn a patio into an outdoor dining area. If you're in search of backyard patio ideas on a budget, the good news is that you can easily go thrifting to find the right furniture pieces. (Or, if you're feeling adventurous, you can even try your hand at making your own dining table for less than $60.) If you live in a rainy area, you might want to hang a canopy overhead to protect the furniture from the elements. Next, you can set up an outdoor bar and grill and voila! You've created an inviting space that friends and family alike will love.
4. Invest in Outdoor Artwork and Sculptures
In search of the perfect backdrop for the aforementioned upcoming dinner parties? Spend some time on the hunt for outdoor sculptures and large-scale pieces of artwork that will serve as both a backdrop and conversation starter. If you can't find anything that's quite right, try your hand at painting your own canvas and hanging it up yourself.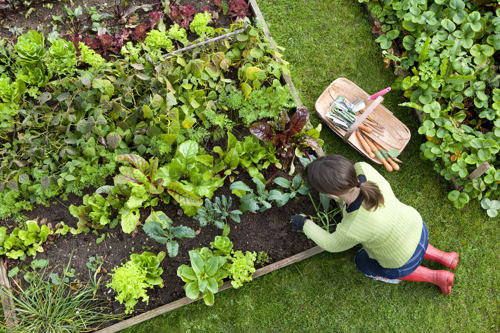 5. Set Up Raised Garden Beds
Gardening typically conjures up images of planting seeds directly into the ground, thereby making it an unattainable prospect for people without a plot of land. Thankfully, raised garden beds allow you to plant a garden anywhere — even on your patio. After deciding whether raised ground beds, supported raised beds or containerized raised beds are right for you, you can fill them with some of your favorite garden seeds or plants and then tend to your garden all summer long. If you're pressed for space, you can make a wood pallet herb or garden wall instead. You can also fill the planters with flowers so you'll always have a fresh bouquet for the house.
6. Create a Mini Orchard
If you're more of a fruit person, why not make a mini orchard on your patio? You can purchase miniature potted trees so they're easy to take care of or move as needed. This not only adds some much-needed greenery and shade to your patio; it also makes it easy to grab a lemon or lime for your dinnertime garnish. From apple trees to peach trees, you can enjoy the literal fruit of your labor for years to come.
7. Make a Cocktail Station 
Start spring off on the right foot by creating your own backyard cocktail station. If you don't already have a bar cart, you can purchase a glass or metal one and then top it with some of your favorite spirits and mixers. Add some potted plants or fresh flowers for a bright pop of color that ties the entire look together. After setting up your cocktail station, you can experiment with mixing up some new cocktails to share with friends. It just might become the go-to reception choice for backyard wedding parties!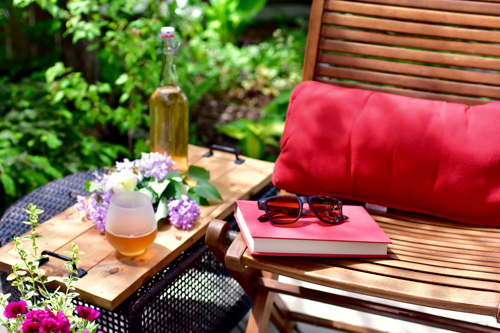 8. Set Up a Reading Nook
Looking for the perfect place to curl up with a freshly made cocktail and a juicy summer novel? Bring your own reading nook to life by stringing up some lights, adding outdoor furniture and tying the aesthetic together with pillows or throw blankets. You can also opt for a more minimalist look by using a poof, bean bag or blankets instead. Bonus points: your reading nook can easily double as a sunbathing station if you want to soak up some sunshine! Make sure to leave some extra space so you can easily customize it for other outdoor activities—from rousing rounds of Charades to pumpkin-carving parties.
9. Make a Stylish Storage Area
Running out of space in your house and garage? Turn the patio into a sleek storage station with the help of some wall hooks and chic bins that have extra storage space inside. This can be a great option for families with young kids who need personalized spots for each family member to keep their bikes, sports gear and other items. If you need to switch up the items on display to correspond with the seasons, you can keep the excess items in storage until you're ready for them.
10. Create a Chic Sleep Area
While dreaming up a new entertainment zone can be fun, sometimes there's nothing better than catching some Zs. You can guarantee sweet dreams all summer long by turning your patio into a sleep station. Start by deciding which piece of furniture you want to be the central piece (we recommend either a hammock or daybed). Next, peruse a local home goods store to find some matching pillows and blankets that will spruce up your sleep station. The end result is sure to become a beloved spot for afternoon catnaps or nighttime stargazing sessions. If you'd rather have an area to sit and catch up with friends, you can set up a porch swing instead.